New York Yankees, A.J. Burnett Nightmare About to End with Trade Looming
February 12, 2012

Nick Laham/Getty Images
The New York Yankees are close to cutting ties with A.J. Burnett.
Yankees GM Brian Cashman has been trying to find a team desperate enough to take the bait, and it looks as though he has. 
The Pittsburgh Pirates and Yankees are in serious negotiations to make a deal for Burnett. Joel Sherman suggests that the ball is in the Yankees' court and that they are making sure no better offers come along.
The Pirates are the only confirmed team in negotiations with the Yankees, although it has been hinted that a couple more teams might be talking with them.
The Yankees originally wanted Garrett Jones from the Pirates, but the Pirates would not allow him to be a part of the trade. They countered with two prospects.
Jon Heyman has reported that the Yankees are not happy with the prospects that the Pittsburgh Pirates are offering in return for Burnett. However, he believe the deal will still get done. He estimates that the Pirates will pay $13-15 million of the $33 million that remains on his contract.
The Yankees are looking to cut all of the drama associated with Burnett. Although they will take on a chunk of his salary, the Yankees will gladly pay another team to deal with him.
Burnett has a 34-35 record in New York with an abysmal 4.79 ERA. It is time for a change for the Yankees as well as Burnett.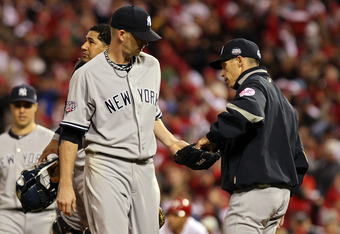 Nick Laham/Getty Images
Burnett's stay in New York has been one big soap opera. What inning will he break down? When he breaks down, how quickly will Girardi pull him? How will Burnett react as he's walking off the mound?
All those troubles are about to be a mere memory for Yankees fans if the trade goes through.
A trade will allow the Yankees to make serious offers to Hideki Matsui and Johnny Damon, as well as to re-sign Eric Chavez if they still wish to do so.
Although New York signed Russel Branyan and Bill Hall last week to minor league deals, Matsui or Damon would still be the better option. A return of Godzilla or Damon would delight Yankee fans. Raul Ibanez has also been mentioned to fulfill the Yankees' need of a left-handed bat.
New York needs to get the deal done. If the Yankees wait too long, they risk the Pirates changing their minds. Fans will never let Cashman live it down if he doesn't pull the trigger soon.