New York Giants: Victor Cruz's Top 6 Catches of the 2011-2012 NFL Season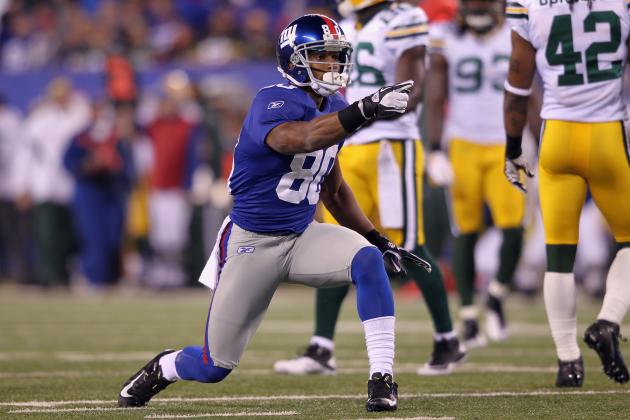 Nick Laham/Getty Images

Victor Cruz is everyone's favorite player. He may not have the Calvin Johnson like skill set or the massive hands of Hakeem Nicks, but he has a skill for making big plays, and there's something to say for that.
Cruz came out of nowhere this season and put his place in Giants history by setting a single season receiving record with 1,536 yards.
Cruz, who salsa danced his way into the favor of New York, has made some unbelievable plays this season.
Lets go through the best of Cruz's unbelievable season.
Begin Slideshow

»
Anyone think that seems familiar?
This play is shockingly similar to the Super Bowl Eli Manning to David Tyree pass. It's not nearly as memorable or important, but it was a great play on both halves.
The catch itself in this play is nothing special, but the combination of Eli's spin move and the jump ball that Cruz wins make this 44 yard-catch special.
There's no salsa dancing here, but one heck of a throw and catch.
It's hard to know how this pass was completed.
Going straight through the Patriot defense, Victor Cruz records his first ever NFL playoff touchdown reception.
After sailing through a passing lane that was just not open, the ball somehow lands in Cruz's hands after a bobble or two to put the Giants up 9-0 in the Super Bowl.
This catch would prove to play an important role in a low scoring game and was one of Cruz's four catches for 25 yards.
Victor Cruz may be the most elusive person on the planet. Cruz specialized in turning little 10 yards passes into touchdowns.
With Eli hitting him in stride, Cruz was off to the races making every other person on the field look like a 350-pound nose tackle.
In a game where Cruz had 178 yards, you could tell that he brought his A-game to this final Dallas game.
It was Cruz turning small plays like this that into big touchdowns that helped make this season a Super Bowl-winning season for the Giants.
If you didn't believe me when I said the Cruz was agile, you've probably changed your mind.
It's one thing to run past defenders, its a whole different skill level to be able to make them tackle each other.
On this 74-yard touchdown, you could blame the Eagles for terrible tackling, but you just can't leave Cruz with room to run.
Cruz's 110-yard performance would help elevate the Giants to an important 26-29 victory over the dream team Philadelphia Eagles.
You probably would have thought this play was going to be No. 1, but it lacked a certain Cruz-ness that was exemplified all season.
As amazing as tipping the ball over defenders and then running into the end zone for a score is, its a play that any top-tier receiver could make.
Anyway, after this play, Cruz became the official spokesman for keeping your eyes on the ball. On a play that should have never happened, Cruz jumps, tips the ball and makes a one-handed grab for the score.
This eight reception 161-yard game was about when salsa dancing became a Victor Cruz thing. It also marked a breakout point in Victor's career.
When I was talking about agility, I wasn't joking.
When you look up a juke in the dictionary, this is there.
This 99-yard touchdown is just a great play that showcases Cruz's extreme speed and agility. Cruz ties a league record and then celebrates with a salsa dance.
This play would be a big factor in the Giants' Christmas Eve victory over the Jets.