2012 NFL Draft Prospects: Setting Early Odds for Defensive Rookie of the Year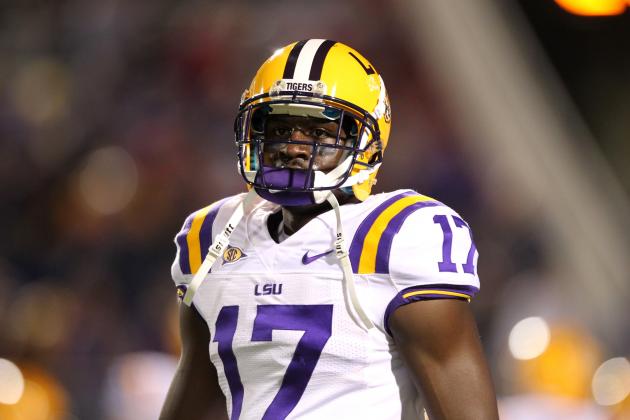 Joe Murphy/Getty Images

While it is early for even the pre-draft process for the top 2012 NFL Draft prospects, it is never too early to start looking ahead to the 2012 NFL season and how the upcoming class of rookies will contribute next season.

I broke down the Defensive Rookie of the Year race for next season, although these odds will certainly change once these players are actually drafted by teams. Their fits and how that fit will enable them to immediately impact their team, will play a large part in their success as rookies.

The top candidates on the defensive side of the ball are much less clear than they are on the offensive side of the ball. That said, these are my best projections based on the prospects' abilities to contribute early at the next level.
Begin Slideshow

»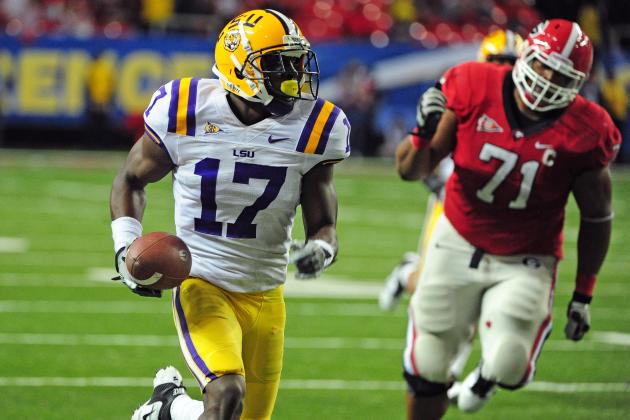 Scott Cunningham/Getty Images

Odds: 4-1 (25%)

LSU cornerback Morris Claiborne is the best defensive prospect in the 2012 NFL Draft.
Claiborne will make an immediate impact on whichever secondary he gets drafted into.

Former teammate Patrick Peterson was the fifth overall pick of the Arizona Cardinals in the 2011 draft, and he was able to make a big impact in his rookie season, as the NFL's best punt returner and also as a starting cornerback.

Claiborne has the skill and athletic ability to make an impact as a returner, but he is an even better prospect as a cornerback than Peterson was coming out.
Claiborne is a lockdown cover corner with great ball skills, and I expect him to make his presence clear quickly by intercepting and knocking down passes, making it difficult for opposing wideouts to make plays in the process.

With Claiborne's ability to make an impact in the secondary, and his big-play ability whenever he finds a way to get the ball in his hands, he is surely the odds-on favorite to be next season's Defensive Rookie of the Year.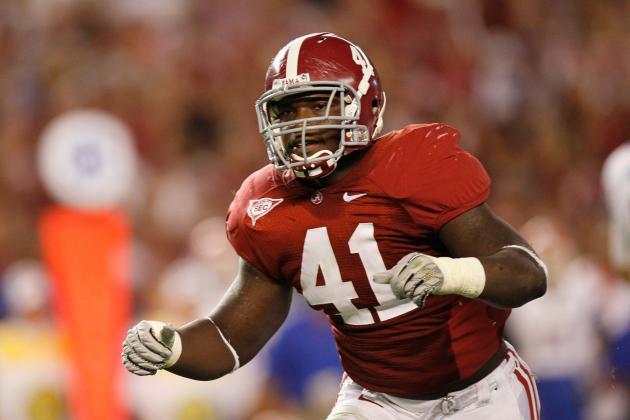 Kevin C. Cox/Getty Images

Odds: 5-1 (20%)

Alabama's Courtney Upshaw may not be prototypical in his combination of size and speed, but he is simply a playmaker.
Regardless of where Upshaw lines up on the field, he wreaks havoc, and he should make an immediate impact at the next level.

Upshaw's best fit is as a 3-4 outside linebacker, the position he played at Alabama.
If he is somehow drafted by a 4-3 defensive team though, he should still be very successful, but will have to make the unfamiliar transition to a 4-3 outside linebacker or defensive end, which could result in a slower start to his career, and might take a season for him to get used to the possible transition.

Upshaw's chances of being Defensive Rookie of the Year certainly depend on what scheme he ends up in, but then again, Von Miller won the same award with the Denver Broncos this year, after having to make the transition from 3-4 outside linebacker to the same position in the 4-3, an unfamiliar position for him.

That being said, Upshaw is not quite the caliber-type of prospect that Miller was, but regardless of where Upshaw ends up, he should be one of the most productive rookies next season.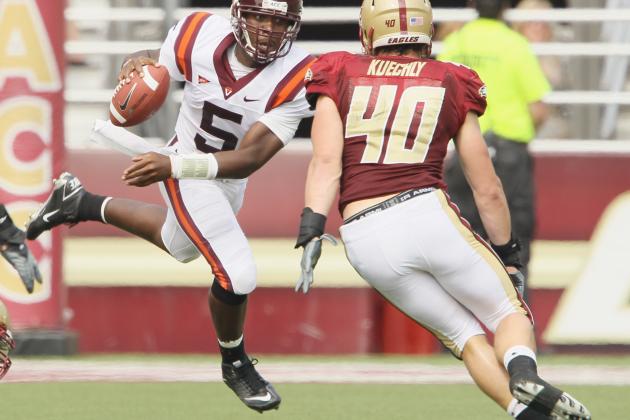 Elsa/Getty Images

Odds: 20-3 (15%)

Luke Kuechly may never be a star at the next level, but he is one of the safest picks in the 2012 NFL draft, and a player who is almost certain to be productive at the next level.

No defensive prospect in the 2012 draft class had more collegiate productivity than Boston College's Luke Kuechly.
Kuechly was second nationally as a true freshman with 158 tackles, and then led the nation the next two years with whopping totals of 183 and 191 tackles.

Luke is always around the football making plays, and while a lack of athleticism could limit his playmaking ability at the next level, his instincts and consistency will go a long way towards him being a productive starting linebacker from his rookie season into the long term going forward.

Kuechly's ability to step in and make tackles should immediately make him a threat for Defensive Rookie of the Year.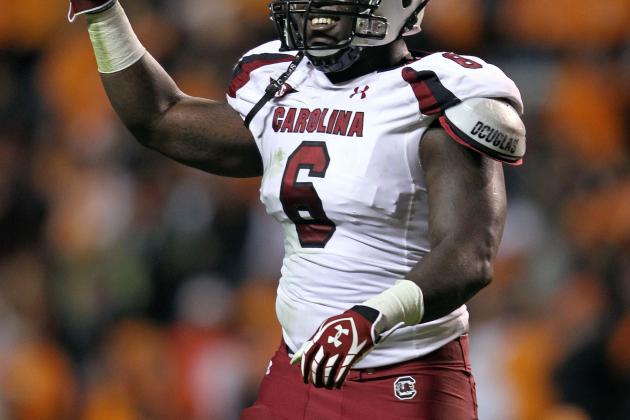 Andy Lyons/Getty Images

Odds: 8-1 (12.5%)

At 6'2'' and 276 pounds, South Carolina's Melvin Ingram has no true position.
However, he displayed impressive athleticism at the Senior Bowl, and displayed that wherever he lines up, he is going to be able to make an impact on the football field, especially rushing the passer.

Ingram is a very good athlete for his size, and has a knack for making big-impact plays. Ingram may be an underdog in this Defensive Rookie of the Year race, given that he fits no prototype and will have to fit into a role at the next level, but there is reason to believe he will make an impact early upon the National Football League, which is why he has decent odds.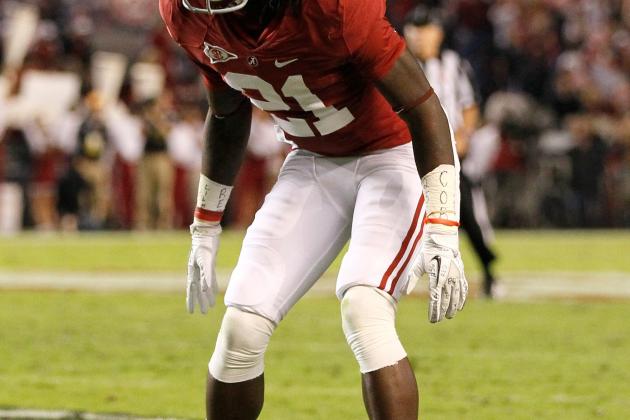 Kevin C. Cox/Getty Images

Odds: 15-1 (6.67%)

Alabama's Dre Kirkpatrick is more raw as a cornerback than that of LSU's Morris Claiborne. That being said, he is a terrific talent with the ability to contribute as a rookie at the next level.

Kirkpatrick is an athletic cornerback with terrific size, plays with great physicality and tackles well.
He should be able to step in as a starting cornerback as a rookie, and be a steady cog in a secondary.

Kirkpatrick does not have the game-changing big-play ability that Claiborne does, which hurts his chances in the race for this award, but he should make an impact as a rookie, both effectively in coverage as well as in run support, given his ability to hit and tackle.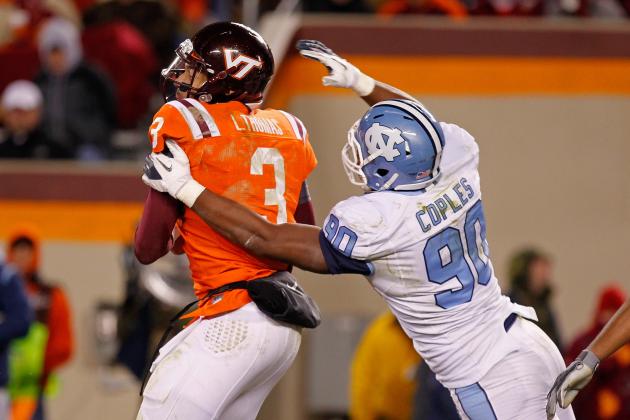 Geoff Burke/Getty Images

Odds: 20-1 (5%)

Quinton Coples is probably too raw to make a huge impact as a rookie, but Coples has the upside to be a terrific defensive end in the National Football League.

While he had an underwhelming senior season, he does have great size and athleticism and clearly displayed that he has the talent to be a dominant defensive lineman at the next level, both as an interior and outside rusher.

When Coples is on his game, he is tough to block.
Of any of these players, Coples has the most upside and star potential. It is unlikely that he will be the best player out of this group or be the Defensive Rookie of the Year, but he has a chance.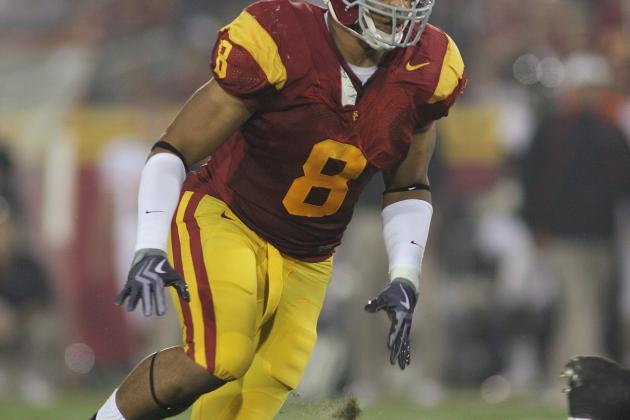 Jeff Golden/Getty Images

Odds: 20-1 (5%)

Another pass rusher who has not received as much hype, but was worth a mention on this list, is USC's Nick Perry.

Perry is an athletic defensive end with pass-rushing ability, but his productivity never matched his potential during his three seasons with the Trojans. Expected to emerge into a star, Perry only managed four sacks as a sophomore before getting 8.5 sacks as a junior.

That said, Perry is a player who should be expected to start living up to his actual potential over time, and at least be a productive pass rusher at the next level, even if only in a situational role.
Perry is unlikely to be Defensive Rookie of the Year, but could sneak up on the league and have a big year, much like Aldon Smith did this past season for the 49ers.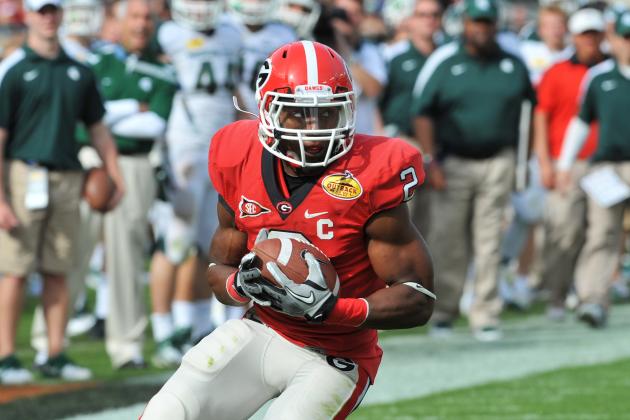 Al Messerschmidt/Getty Images

Odds: 25-1 (4%)

Like Morris Claiborne, Georgia cornerback Brandon Boykin is an all-around playmaker at the cornerback position.

Boykin is one of the best returner prospects in the draft class, and he is a great athlete who is very dangerous to make a big play whenever the ball is in his hands.
Boykin is not the dominant coverage back that Claiborne is, but he is a steady, consistent defensive back who should be able to contribute as a nickel back as well as a punt returner in his rookie season.

Boykin's multiple abilities give him a chance to make a run at the award.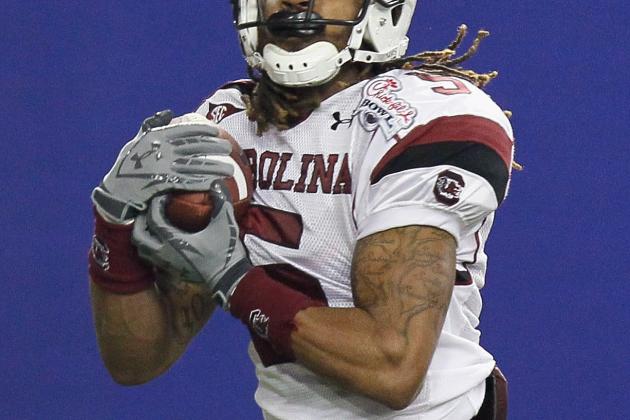 Kevin C. Cox/Getty Images

Odds: 25-1 (4%)

One more cornerback who is a sleeper in the race for this award is South Carolina's Stephon Gilmore.
Gilmore was a productive, playmaking cornerback for the Gamecocks defense, and should be able to emerge as a very good second or third cornerback at the next level.

He is athletic, a consistent cornerback, and has effective ball skills.
Gilmore should make some plays in his rookie season, and while he is a long-shot in the Defensive Rookie of the Year race, he was worth a mention.

---

Also check out early odds for next season's Offensive Rookie of the Year race.

Thanks for reading!

For more coverage of the 2012 NFL Draft, follow me on Twitter @Dan_Hope.