Cleveland Browns 2012 Offseason Needs and Ways to Address Them: Quarterback
February 10, 2012

Jared Wickerham/Getty Images
With the 2012 offseason upon us, it is time to discuss the Browns' team needs. The first one I will touch on is the quarterback position.
Team president Mike Holmgren and general manager Tom Heckert have already specified that they will be looking at quarterbacks in free agency and the draft this offseason, and that they plan to bring in one or two to compete with the incumbent Colt McCoy. McCoy had an average-at-best second season in the NFL. He passed for 2,733 yards, 14 touchdowns, and 11 interceptions while completing just 265 out of 463 pass attempts (57.2 percent).
The two biggest issues with Colt McCoy's game are his lack of throwing velocity and accuracy. People talk about arm strength and you instantly think of quarterbacks bombing it downfield. Throwing the ball a long way is nice, but the velocity that a quarterback is able to put on his passes is what really matters.
Throwing velocity allows quarterbacks to be able to throw into tight windows they will consistently face in the NFL. A lack of throwing velocity is magnified in a city like Cleveland due to the windy, rainy and sometimes even snowy weather. If a team is going to be playoff regulars in the NFL, they better be able to win in their division. With Pittsburgh, Cincinnati and Baltimore in the Browns' division, it is going to be extremely difficult to win games if the quarterback does not have good enough throwing velocity to make the throws in inclement weather.
Ball placement is the most important trait for a quarterback to have. If a quarterback is able to consistently hit his receivers in stride, that can be the difference between a five-yard gain and an 80-yard gain. Ball placement also allows quarterbacks to throw the ball to a spot where only his receiver is able to get the ball. Many of Colt McCoy's passes this past season were either behind, below or above the receivers. In a West Coast offense like the Browns', it is vital that the quarterback leads the receiver or throws the ball to where only the receiver can catch the ball to maximize yards-after-the-catch.
It is nearly impossible for receivers to get yards-after-catch if they are constantly being forced to adjust to inaccurate passes. The Browns were near the top of the NFL in drops this season. Some drops may be attributable to the inconsistent focus on the receivers' part, but often times, it was due to Colt McCoy's inconsistent ball placement.
Dropped balls are unacceptable at any level of football. If the quarterback throws a catchable ball, the receiver needs to catch it. However, in the NFL, passes just being catchable isn't good enough—they need to be perfect. Until Colt McCoy, or the quarterback that replaces him, is able to throw with greater accuracy, don't expect big things from the Browns offense.
Colt McCoy was certainly held back in 2011 by inexperience and injuries on the offensive line, a decimated running back corps, and inexperience coupled with a lack of explosiveness at the wide receiver position. There were issues all over the offense. However, throwing velocity and ball placement have nothing to do with the players around a quarterback. If Colt McCoy can improve those two facets of his game, he will have a chance to beat out the quarterback(s) that the Browns front office brings in and develop into a franchise quarterback in the NFL.
My prediction for who the Browns will bring in is Robert Griffin III. According to most scouts and people in the know, Griffin is regarded as the second-best quarterback prospect in the 2012 NFL draft class behind Andrew Luck. Griffin possesses all the physical tools along with the unmistakeable "it" factor. The Heisman Trophy winner took college football by storm in 2011 when he completed 291 of 402 passes for 4,293 yards and 37 touchdowns, while only throwing six interceptions. He also rushed 179 times for 699 yards and 10 touchdowns for Baylor.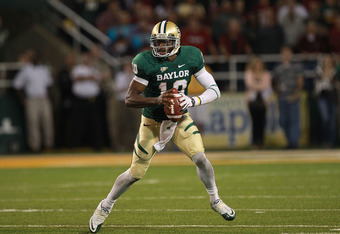 Ronald Martinez/Getty Images
Griffin's greatest asset is his throwing accuracy down the field. Griffin has an extremely strong arm, but he complements it with a great deal of touch. His average yards-per-attempt was an insane 10.7 in 2011. On top of all of that, Griffin graduated from Baylor in three years and plans to go to law school in the future. As you can see, Griffin has plenty going in his favor as a prospect on and off the gridiron.
However, Griffin comes with some questions as well.  He is only listed at 6'2" and 220 lbs. and doesn't have a very big frame. The lack of size wouldn't be a big deal if he didn't rely so heavily on his athletic ability, but he does. As we've seen over the years with Michael Vick, being a smaller running quarterback take its toll in the NFL. The only full 16-game season that Vick has played in in his nine-year career was the '06 season.
Another reservation I have with Griffin is the fact that he is coming from a Baylor offense where he wasn't asked to read defenses pre-snap with any regularity. The offense would often line up then look to the sideline after the coaches had properly assessed the defense and situation. I realize that these sorts of offenses work in college, but in the NFL, franchise quarterbacks must be the field general.
Griffin also has extremely inconsistent footwork, but that can certainly be improved with coaching and more reps under center.  An issue that goes along with the footwork is his less-than-perfect ball placement on short timing throws. However, this issue should also improve over time as long as his footwork improves. Griffin has all the talent and ability to answer these questions. We all just have to wait and see to find out.  
The Browns hold the fourth pick in the 2012 NFL draft, and RGIII is projected to be a top-five pick. If the Browns front office loves Griffin, they may be inclined to trade up with the Rams and take him at two to ensure they get their guy. Other quarterback-needy teams such as the Redskins, Dolphins and Seahawks may be planning to trade up in front of the Browns for Griffin.
On the other hand, the Browns front office may have no interest at all in the former Baylor Bear and may plan to trade the pick to a desperate team for a hefty ransom. There is no way to predict how the Browns will go about addressing the quarterback position until the time comes, but we can expect a much clearer picture once free agency has run its course.