Cleveland Browns Offseason 2012: The Philadelphia Link and Other Thoughts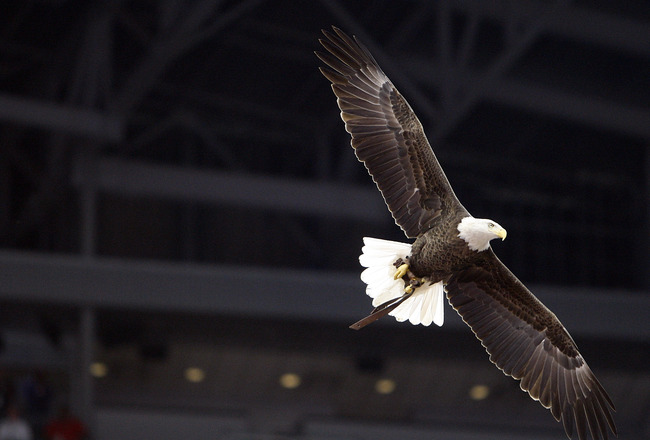 Could more former Eagles land in Cleveland?
Bob Levey/Getty Images
It began with the addition of general manager Tom Heckert. A very much sought-after GM prospect who actually turned down an offer with the Cleveland Browns in 2009, before he accepted the same position the following year, when Mike Holmgren became President.
Heckert was VP of player personnel and then became GM of the Philadelphia Eagles. His tenure in Philly was 2001 through 2009.
Last year, Pat Shurmur became the latest head coach. Shurmur was the quarterbacks coach of the Eagles from 2002 through 2008.
And this year, Brad Childress comes aboard to serve as offensive coordinator. Childress had the same title in Philly after being promoted from quarterbacks coach. He coached for the Eagles from 1999 through 2005.
The three were all on the same staff between the years of 2002 and 2005. They all have history with each other and now have the task of making the Cleveland Browns relevant again in the NFL.
What else could happen this offseason?
(This is not to be taken literally, as it is purely fun speculation.)
Could Donovan McNabb Sign as a Free Agent?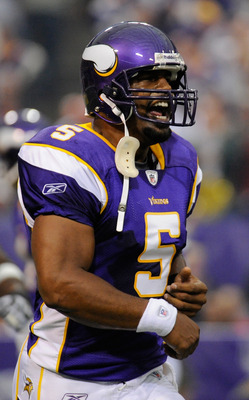 Could he help mentor Cleveland QB's?
Hannah Foslien/Getty Images
I know this sounds crazy, but this is just a wild thought. The Browns could use a veteran signal-caller, even if for nothing more than to provide leadership and insight.
Donovan McNabb was drafted by the Eagles in 1999 and played there until 2009. During his time in Philly, Brad Childress was his position coach and later, offensive coordinator. Upon Chilly's promotion, Pat Shurmur became his position coach until 2008. And Tom Heckert was GM for eight of the years McNabb was the quarterback.
They all have a familiarity with one another, the play styles, etc. McNabb could be valuable in ways other than a passer and, if needed, provide insurance as a back up.
What if he was brought in to be a mentor after they...
Draft Robert Griffin III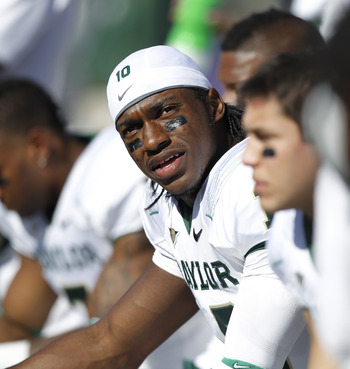 Future Franchise QB?
Joe Robbins/Getty Images
The Browns draft Robert Griffin III with the fourth pick overall and groom him under the tutelage of Donovan McNabb. This would obviously leave Colt McCoy as the odd man out.
Griffin reminds me more of a McNabb-style QB than a Vick-style. He would be a wonderful mentor to RGIII, helping him learn the playbook, the calls, the coaching styles and the NFL game.
Who would be the opening-game starter? It could be Seneca Wallace or McNabb himself. Regardless, it would only be for a year, at most, before Griffin takes over—if it isn't from day one.
Sign Free-Agent WR DeSean Jackson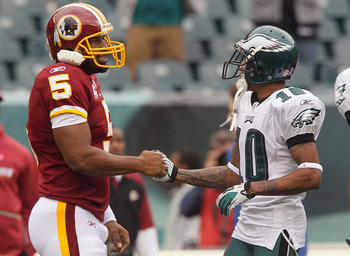 A reunion in Cleveland?
Jim McIsaac/Getty Images
Ahh...another Philly connection. DeSean Jackson may have worn out his welcome in Philadelphia. He was drafted by Tom Heckert in 2008, was a target of McNabb's for two years and played one year while Shurmur was still a QB coach.
Jackson is dynamic, a speedy deep threat and would be a great addition to Greg Little on the offense.
Could the signing of McNabb and the potential drafting of RGIII be enough to lure a player like D-Jax?
It's fun to think about.
Could It Happen?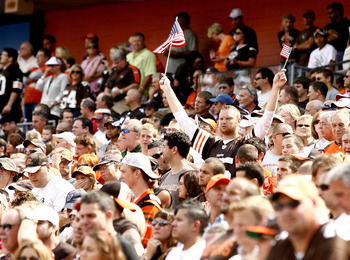 Matt Sullivan/Getty Images
Of course, it could happen. And if it did, the Cleveland Browns will have hopefully solidified the QB position and added a playmaking WR.
At No. 22 on draft day, they could take the best player available—whether it be an LB like Zach Brown, a DE like Whitney Mercilus, a CB like Chase Minnifield or an OL like Mike Adams.
I know I would feel very confident if that scenario played out for our beloved Browns. How could you not?
But then again, it could happen in a similar fashion with Peyton Manning and Pierre Garcon. Or could it?
Keep Reading

Cleveland Browns: Like this team?