2012 NFL Mock Draft: Where Robert Griffin III and More Game-Changers Will Land
February 10, 2012

Sarah Glenn/Getty Images
Robert Griffin III may end up being the best overall player taken in the 2012 NFL Draft, and yes, that statement is including consensus No. 1 overall pick Andrew Luck.
Griffin III has all the intangibles that you're looking for in a quarterback, but he also has a trait that you can't teach: He's a game-changer.
Griffin III just has that "it factor" that allows him to make spectacular plays with his athleticism, and I fully believe that trait will translate perfectly into the NFL.
He's going to single-handedly win some games for whichever team is lucky enough to draft him, so obviously many are going to try to be in the position to do so.
Griffin III isn't the only game-changer in the first round of the 2012 NFL draft though.
Here's my latest first round mock draft, emphasis on the game-changers:
1. Indianapolis Colts: Andrew Luck, QB, Stanford
Luck to the Colts is a given at this point. Peyton Manning is on his way out, and Luck is on his way in. He'll be the franchise for as long as the Colts want him, which I assume will be a while.
2. TRADE Washington Redskins: Robert Griffin III, QB, Baylor
This is the first big move that I see happening, so let's park on the 'Skins and RG3 for a moment.
There's no doubt in my mind that Griffin III is a game-changer. He can make all the throws that Luck can, but he has the added dimension of being a Michael Vick-esque runner.
The Redskins desperately need a franchise quarterback, and if they find ways to utilize all of Griffin's skills correctly they can put themselves right back on the NFL map.
3. Minnesota Vikings: Matt Kalil, OT, USC
You'll see this pick everywhere, and that's because it makes sense. Vikings need to protect Ponder, and Kalil has all the right tools to be a franchise left tackle. He's not perfect, but he can develop into a great player.

4. Cleveland Browns: Trent Richardson, RB, Alabama
Many people would argue that you shouldn't take a running back with such a high pick, but I completely disagree in this case, as Richardson has the potential to be a star.
Chris Graythen/Getty Images
He's got everything that you look for in a stud running back. He's quick to the line of scrimmage, can make cuts, has great field-vision, can catch the ball out of the backfield and he can even block.
Richardson is essentially the perfect prospect, and he has that game changing breakaway speed that can make him one of the most dangerous weapons in the NFL.
The Browns are going to love this pick, and don't be surprised when Richardson is being named amongst the NFL's top running backs.
5. Tampa Bay Buccaneers: Morris Claiborne, CB, LSU
Claiborne can be a shutdown corner, and the Buccaneers need the defensive help.

6. St. Louis Rams: Justin Blackmon, WR, Oklahoma State
Blackmon has a chance to really stand out with the Rams and become a star. Also the best part is that by trading back with the Redskins they still got what they wanted, plus a little bit more coming their way
Bleacher Report's NFL Draft lead writer Matt Miller projects that the Rams would be getting the 'Skins first and second-round picks in 2012, as well as a first rounder in 2013.
If the Rams are able to resign Brandon Lloyd, they will have the perfect one-two punch for young quarterback Sam Bradford. Lloyd is more of a deep threat, which would be a perfect compliment to Blackmon, who projects to be more of a possession receiver that can make things happen after the catch.
At 6'1'', 215 pounds he's got a good build that allows him to be physical off the line of scrimmage, and he has the natural game changing ability to make great catches and pick up yards after the catch.
7. Jacksonville Jaguars: Alshon Jeffery, WR, South Carolina
Blaine Gabbert needs a legitimate No. 1 receiver, and Jeffery has all the tools to be that guy.

8. Carolina Panthers: Michael Brockers, DT, LSU
Brockers possesses the potential to be a stud on defense and this is obviously an area of need for the Panthers.

9. Miami Dolphins: Riley Reiff, OT, Iowa
I believe the Dolphins are going to address the fundamentals here. They need to give their potential new quarterback plenty of protection.

10. Buffalo Bills: Melvin Ingram, DE, South Carolina
The Bills are going to play a 4-3 defense this season, which changes their draft needs a bit. Ingram is a smaller player, but he's incredibly fast and he has the ability to make plays.
He will be a bit undersized at defensive end, but I think he has the talent and speed to make up for it.

11. Kansas City Chiefs:  Jonathan Martin, OT, Stanford
Offensive line needs help, and Martin is going to be a solid addition for KC.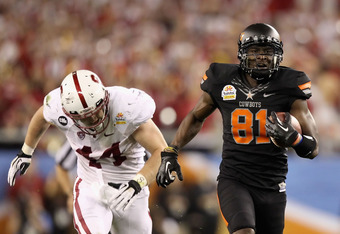 Christian Petersen/Getty Images
12. Seattle Seahawks: Courtney Upshaw, LB/DE, Alabama
Upshaw is a guy that I see fitting into this Seahawks defense as a pass-rushing defensive end. He's fast and powerful, and even though he was a linebacker in college, he can play with his hand on the ground.

13. Arizona Cardinals:  David DeCastro, OG, Stanford
Easily my favorite player in this draft. He's going to be an all-time great at guard. The Cardinals won't be able to pass up on his value, especially with Martin and Reiff off the board.

14. Dallas Cowboys: Janoris Jenkins, CB, North Alabama
Jenkins has some issues in his past that need to be discussed, but he does have first-round talent. The Cowboys need help in the secondary, and he's going to be their man.

15. Philadelphia Eagles: Zach Brown, LB, North Carolina
The Eagles really needed help tackling last season, so Brown will be a welcomed addition.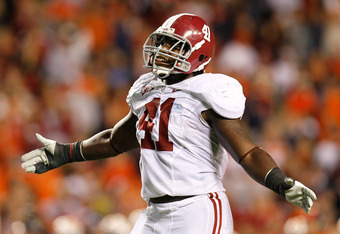 Kevin C. Cox/Getty Images
16. New York Jets: Michael Floyd, WR, Notre Dame
The Jets need an upgrade at the wide receiver position for once, and Floyd can be a very powerful weapon.

17. Cincinnati Bengals: Dre Kirkpatrick, CB, Alabama
Big need filled here with a player that slipped because of some character problems. For all intents and purposes this is a steal.

18. San Diego Chargers: Cordy Glenn, OT/OG, Georgia
Glenn is an extremely versatile player that can help the Chargers at either guard or tackle.

19. Chicago Bears: Mike Adams, OT, Ohio State
Adams is simply huge at 6'8'' 320, and that's something you can't teach. The Bears need to protect Jay Cutler, and they potentially have a star in this pick. He just needs to develop a bit more.

20. Tennessee Titans: Quinton Coples, DE, North Carolina 
Coples has the raw talent and ability to be great, he falls this far because of motivation concerns. If the Titans can get him going, he could be a huge steal.

21. Cincinnati Bengals: Chris Polk, RB, Washington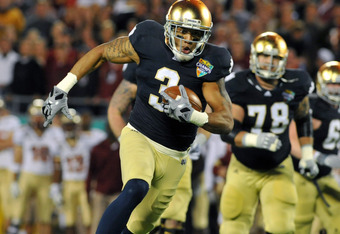 Al Messerschmidt/Getty Images
There are plenty of reasons to like Polk here, and he has the potential to be an absolute stud and game changer for the Bengals.
At 5'11'', 225 he has the typical mold of a bruising down-hill running back, and he plays like one. The thing I really like about Polk is that he is always running with his shoulders in front of him, giving him a ton of forward momentum.
He's a bruiser, but he still has very good field vision and the ability to catch the ball out of the backfield.
There have been some questions about his speed, but he joined myself and Matt Miller on our weekly NFL draft podcast Fourth And Long, and guaranteed that he would impress with his speed at the NFL Draft Combine.
I really like what he's bringing to the table, and he has the potential to be great in the NFL.
22. Cleveland Browns: Kendall Wright, WR, Baylor
With Richardson earlier and now Wright, the Browns are giving Colt McCoy every reason to succeed.

23. Detroit Lions: Jamell Fleming, CB, Oklahoma
The Lions are going to really like this pick, and it fills a huge need. Fleming is great at the line of scrimmage, very physical, but can also turn and run with a receiver. He seems like a ball hawk to me, and that's something the Lions need.

24. Pittsburgh Steelers: Dontari Poe, DT, Memphis
Poe is going to be the perfect guy for the Steelers at nose tackle in the future.

25. Denver Broncos: Jerel Worthy, DT, Michigan State
Worthy isn't getting much hype, but let me guarantee you that he will be bringing strength and aggression to the Broncos front line, and he can be versatile.

26. Houston Texans: Mohamed Sanu, WR, Rutgers
Sanu can develop into a very good wide receiver across from Andre Johnson, plus it will help Johnson to see a bit more open space on the field.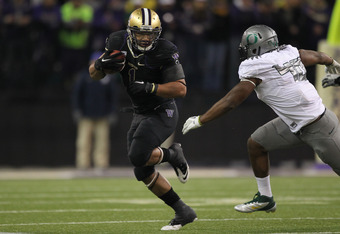 Otto Greule Jr/Getty Images
27. New England Patriots (via Saints): Nick Perry, DE, USC
Perry is a very athletic and versatile player that will really fit the Patriots defensive scheme.

28. Green Bay Packers: Whitney Mercilus, LB, Illinois
The Packers need help with their pass rush, and Mercilus proved this is somewhat of a specialty for him.

29. Baltimore Ravens: Peter Konz, C, Wisconsin
The Ravens need to find a center for the future, and Konz is as solid as they come.

30. San Francisco 49ers: Stephon Gilmore, CB, South Carolina
As good as the 49ers defense was last season, they can use the help at corner. Gilmore is a play-maker that should be a good fit.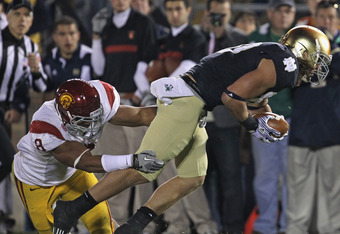 Jonathan Daniel/Getty Images
31. New England Patriots: Alfonzo Dennard, CB, Nebraska
Dennard is a tough physical corner that may not be perfect, but the Patriots can work with him.

32. New York Giants: Vontaze Burfict, LB, Arizona State
Burfict needs to go to the right system to be successful, and I think the Giants will take care of him. He can become an absolute beast playing behind their defensive line.