2012 NFL Free Agency: Predicting Which Players Will Be Most Overpaid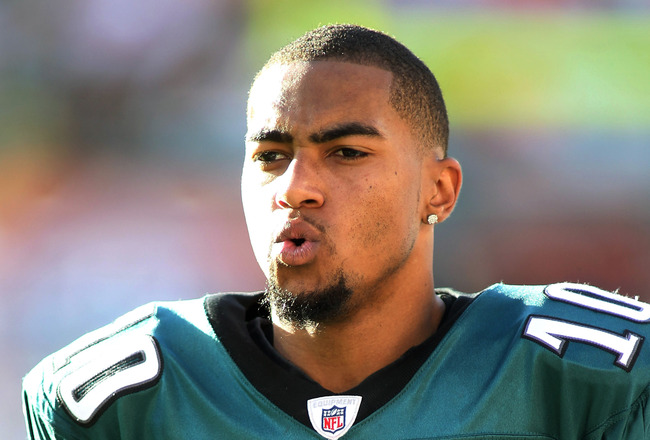 Marc Serota/Getty Images
DeSean Jackson headlines a list of free agents that will be on the market during the NFL's offseason. He, along with several others, will demand a premium price, and there's always a sucker who will roll the dice.
The NFL free agency will be quite hectic this season. With several guys coming off of long-term, rookie or one-year contracts, the NFL free agency market will be just as active as last season, except this time it will be spread out.
Several guys will look to increase their pay from their rookie wages or land their last big contract before the fat lady begins to sing. Who is overvalued and will get overpaid in 2012?
Mario Williams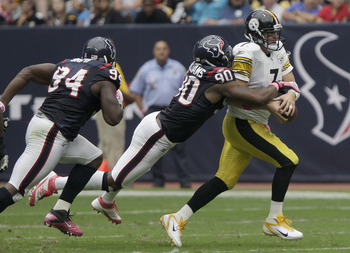 Thomas B. Shea/Getty Images
The Houston Texans will have some big decisions this offseason. One of them will include free agent Mario Williams.
Williams has been with the Texans since being drafted over Reggie Bush in the first round during the 2006 draft. The two-time Pro Bowler will be looking to command top dollar as he cashes in on his new contract.
Don't expect Williams to leave Houston, but it will cost them a pretty penny to keep him around.
DeSean Jackson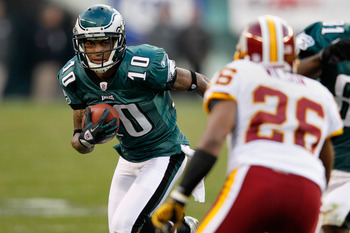 Rob Carr/Getty Images
It's quite possible that DeSean Jackson could be allowed to walk by the Philadelphia Eagles. His contract will be up this offseason, and the Eagles have a choice to make: franchise him, sign a new contract or let him test the market.
At the moment, the latter seems like the most obvious choice. Both sides are reportedly still far off on their value estimations. Jackson believes he's in the $9 million range, which is absurd.
For a guy who has only caught five touchdowns in his last 18 games, repeatedly goes missing in the playoffs and has suffered two concussions, Jackson's fear factor has seemingly dissipated.
Someone will scoop him up quickly and likely pay out their nose for a one-trick pony at wide receiver.
Robert Mathis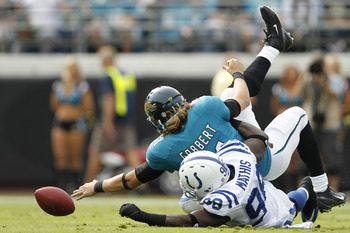 Joe Robbins/Getty Images
The 30-year-old Robert Mathis has enjoyed a fruitful career in Indianapolis. However, his days could be numbered with his only NFL employer up until now.
It's no secret the Indianapolis Colts are rebuilding. You know it, I know it and Peyton Manning knows it.
The Colts would probably try to keep Mathis but may not be able to convince the defensive end to stick around. Mathis will command top dollar for his position and will be courted by several teams throughout the league.
However, Mathis is a speed rusher and benefited from having Dwight Freeney play opposite of him. He certainly has plenty of talent and juice left, but can he do it without Freeney?
Matt Flynn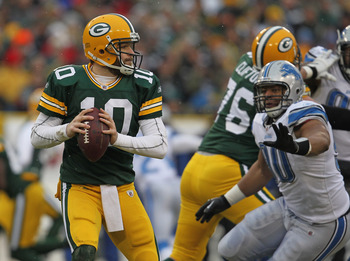 Jonathan Daniel/Getty Images
Matt Flynn made his point in Week 17 vs. the Detroit Lions. He's ready to be a starter.
Flynn torched the Lions for 480 yards and six touchdowns, in crappy weather. Someone will reach for Flynn and likely pay too much.
With Robert Griffin III and Andrew Luck in the draft, the market for Flynn will be slim. However, I do not expect him to be on the bench for the 2012 season.
The problem is lies with whether Flynn is another Kevin Kolb. Can he play at the same level as a consistent starter with less talent and coaching?
Doubt it.
Laurent Robinson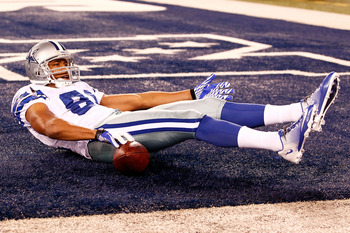 Jeff Zelevansky/Getty Images
Admittedly, I'm on the fence about this one. Laurent Robinson showed up when the Dallas Cowboys needed a guy to step up during Miles Austin's injury spell.
Robinson had 54 catches for 858 yards in 2011, including 11 touchdowns. He may have earned himself a handsome contract due to a solid contract-year performance.
If Robinson stays in Dallas, he'll be overpaid and overvalued due to his one year of success. If the 26-year-old left Big D, his contract numbers may be more on par to his value.
Nevertheless, he could be a steal for a team in need of a No. 2 or No. 3 receiver.
Keep Reading