Late-Round QB's Who Can Be the Next Tom Brady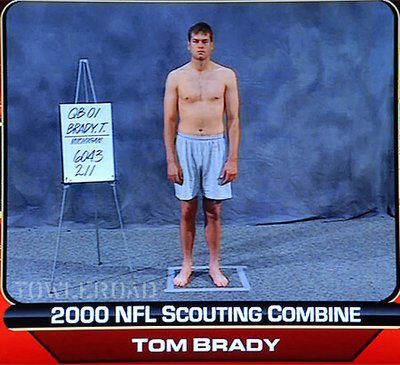 Tom Brady
Even though Tom Brady lost his second Super Bowl last night, there is no doubt he is a great player and future Hall of Famer.
Undoubtedly, you also know Brady was taken in the sixth round and was the sixth quarterback taken. The scrawny kid from Michigan did not set the world on fire during the scouting combine, and might not have even got a chance to get on the field if it wasn't for an injury to Drew Bledsoe.
These five quarterbacks can see a similar path as Brady's, and could possibly share success similar to the Patriots' signal caller.
Begin Slideshow

»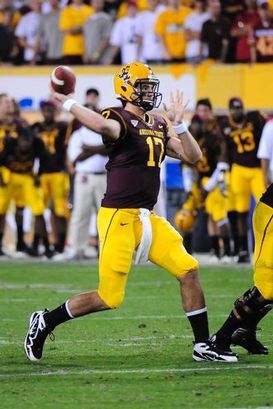 Arizona St. QB Brock Osweiler
Brock Osweiler is blessed with the kind of size NFL teams drool over.
Listed at 6'8'', 240lbs, the former basketball player has a huge arm and surprising mobility. Last season he racked up over 4,000 yards with a 63 percent completion rate.
Many question his decision to leave school a year early for the draft, but the junior and first freshman to start at quarterback since Jake Plummer has experience and could thrive with good coaching and a quality system.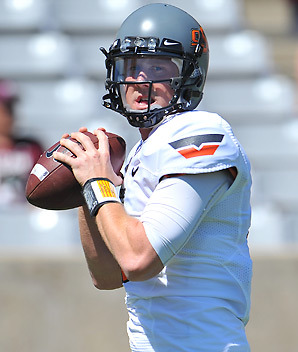 Oklahoma St. QB Brandon Weeden
When you complete 72 percent of your passes with over 4,500 passing yards and 37 touchdown passes, you're going to open some eyes.
Most people will point to him being 28-years-old as a detriment. Meanwhile, you can't look past the former New York Yankee farmhand's stats and size (6'4'', 214lbs).
He put together a strong game against Stanford in the Fiesta Bowl, but was helped immensely by stud receiver Justin Blackmon. He still possesses the skills and leadership qualities needed to play at the next level.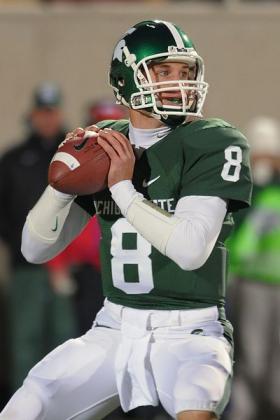 Michigan St. QB Kirk Cousins
Kirk Cousins was hampered by the typical Big 10 style of football: A ball control offense that did not let him show off his skills enough.
He still came up with memorable clutch performances, including the Hail Mary win against Wisconsin. At 6'2'', 209lbs, he has good enough size and strength to get the ball down the field. His ability to be a leader while playing a smart, efficient style will garner a look from some NFL teams.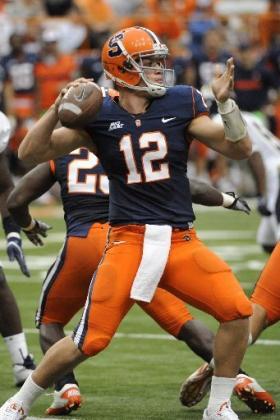 Syracuse QB Ryan Nassib
Syracuse is not known of late for producing NFL quarterbacks. Don't tell that to Ryan Nassib, though. He made a name for himself last season by improving his accuracy, completing 62 percent of his passes last season while throwing for 22 touchdowns.
His signature moment came in the upset win against West Virginia, where he had four touchdown passes. His willingness to improve each year has made him a sleeper prospect.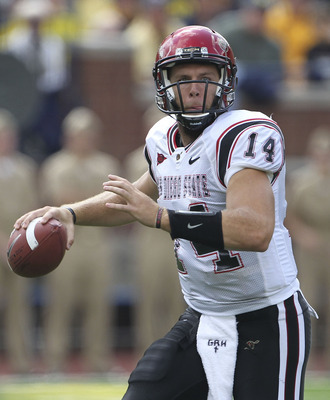 San Diego St. QB Ryan Lindley
There's no doubt Ryan struggled last season. While he passed for over 3,000 yards and 23 touchdowns, he only had a 53 percent completion rate. He does have a tendency to overthrow his receivers and needs to improve on his accuracy.
Despite that, he still has the physical tools (6'4", 229lbs) and experience working in a pro-style offense to be drafted in the late rounds. Being able to learn from a quality offensive system at the next level can do wonders for his career.