Cleveland Browns: A Coach's View of How Close to the Playoffs They Are Part 1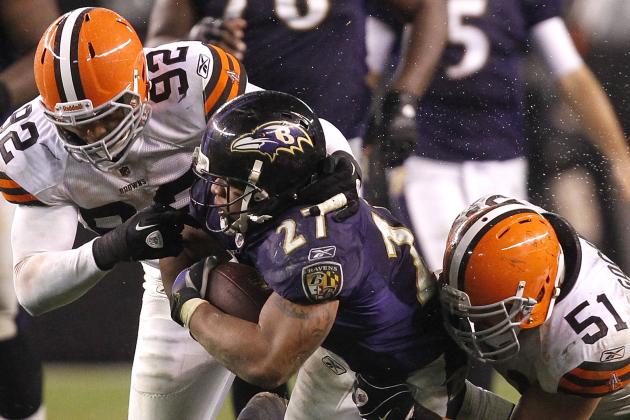 Matt Sullivan/Getty Images

In this article, we will look at the defense.
The Browns' defense played pretty well under defensive coordinator Dick Jauron. The switch from the 3-4 to the 4-3 went about as well as could be expected.
The team did not have the personnel to run a 4-3 effectively. But it did not have any outside linebackers for the 3-4 in 2010 either.
One measure of a playoff team is how many players on the roster are playoff and starter quality. Here are the players I believe are playoff quality.
The team needs at least eight playoff quality players on D to be competitive for a spot in the post season. A team needs three on the D line, two at LB and three in the D backfield.
But the team must also have at least 14 starting quality players on the defense. That includes six on the D line including rotational guys, three LBs and five in the D backfield including a nickel back.
Begin Slideshow

»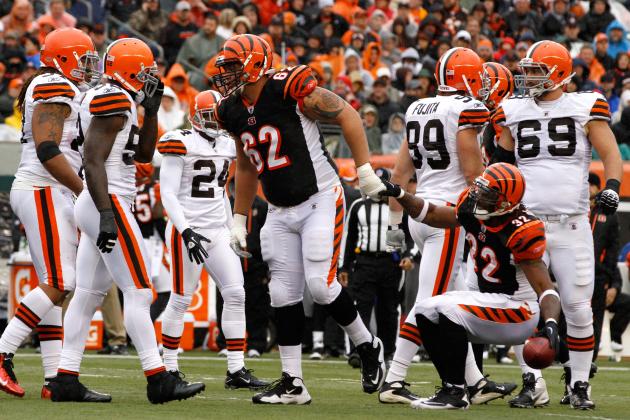 Tyler Barrick/Getty Images

The Browns spent their first two picks on the D line in
2011.
That was because they had only one holdover starter from the 2010 season.
DT Ahtyba Rubin, a sixth round pick in 08, is very athletic for a man of his size.
He has a high motor and is active for a DT. He is an OK pass rusher but not a
great one. He needs more variation in his pass moves. He is also OK stopping
the run but does get pushed off the line late in the game.
He is on the field way too much due to a lack of subs. He is however a playoff quality
player (PQP).
DT Phil Taylor was the team's first round pick in the 2011 draft.
Taylor had a reputation for a questionable motor. While he had some very good games, he had more where he was invisible. That is not easy for a player that is 335 pounds.
He wears down faster than Rubin and has not gotten into NFL player condition.
He is not a playoff quality player yet but has playoff potential.

DE Jabaal Sheard was the second round pick by the Browns in 11.
He was very solid against the pass generating 8.5 sacks which led the
team. The run was a problem. Neither DE could contain the run around the
end. Sheard needs a lot of work on reading plays but has been a solid rookie but with seasoning he is another potential playoff quality guy.
None of the other players are even close to being potential playoff guys.
DE Jayme Mitchell was obtained in a trade with the Vikings but is neither a pass rusher nor a good
run defender. He is not even starter quality.
The backup D line guys are not even roster quality.
DT Scott Paxson has shown just a hint of being a solid backup but nothing more.
DE Auston English might develop into a marginal situational pass rusher but is a liability against the run.

To get to a playoff quality D line the team needs a minimum of two more starting quality DEs and one more starting quality DT.
The team needs at least one sub for each position to be able to rotate more effectively.
Part of the issue the team had against the run was the lack of quality
subs to rotate.

Total one PQP, two potential PQPs and no additional starting quality players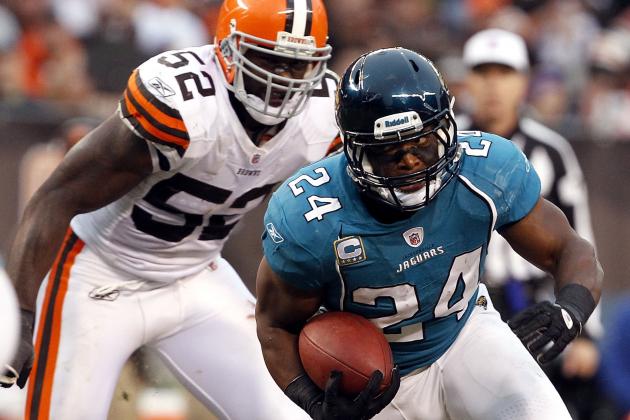 Matt Sullivan/Getty Images
D'Qwell Jackson
GM Tom Heckert considers the linebacker position a low
priority.
While he will use a high pick
for either the D line or D backfield, picks for the linebacker position will be in the middle and lower rounds.
That will prevent getting a great prospect and will stunt the growth of this unit.
In my opinion it was the lack of a pass rush outside LB that prevented the three-four from being successful.

While Jauron does not blitz often, when he calls one it seldom gets to the QB.
Again the lack of fast backers with pass rush ability hurts the defense and
reduces the options for the DC.
MLB D'Qwell Jackson
is a UFA. The team must resign him. He was a major concern for me going into the
season because of his history of injury and his propensity to make most of his tackles five yards down field. He played better than I expected. He did attack the run but still does not have the speed to cover the seam in the two deep zone.
He also survived the entire season for the first time in three years. He is a good tackler who does not read the play quite as fast as you want.
He is a PQP only if he can stay healthy. Given his history, that is a question.


None of the other backers are starting quality let alone PQP level.
Chris Gocong, one of the used Eagles, was obtained in a trade but is barely starting quality. The team resigned him to a multi-year deal over which I am still scratching my head.
He is slow and struggles with runs right at him.
Scott Fujita is super slow and fragile as well. I still have nightmares of him
running like he was wearing cement insoles lumbering after tight ends on their
way to touchdowns. Both of the outside LBs are inside guys trying to play outside.

The backups are not even backup quality.
The only guys that might work into backup quality are MLB Titus Brown and WLB Kaluka Maiava.
Brown is green but has some speed. He needs to read plays better.
Maiava is slow and lacks play recognition ability. But he is a high motor guy that tries.

Total one injury prone PQP, and one marginal starting quality player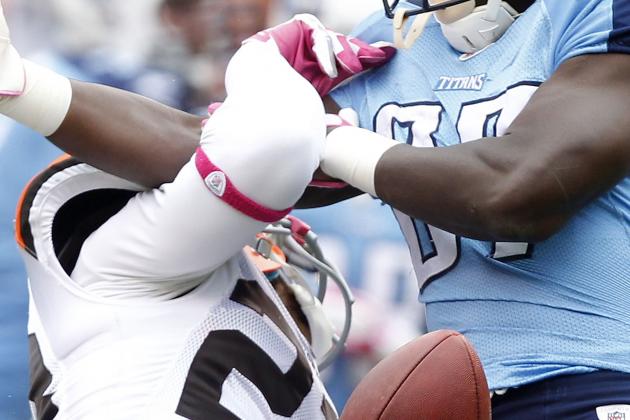 Matt Sullivan/Getty Images
Joe Haden
CB Joe Haden is developing into an all pro player.
He takes too many chances but has speed and well above average ball sense.
He covers the receivers well and will come up and support against the run. He is the best player on the D.
The team is set at one CB.
SS T.J. Ward is better against the run than the pass.
He has decent speed and makes a lot of tackles.
The way the D played the run forced him to make tackles against the
run. Ward does not have the play
recognition to take full advantage of his physical ability.
He is a potential PQP but has a long way to go to get there.

The rest of the DBs are very weak. CB Sheldon Brown is too old and too slow at
his position and not a good enough tackler to move to FS.
FS Mike Adams is a UFA and may not even be offered a contract. He has made some plays but is invisible most of the time.
He often takes bad angles to the play allowing slower players to score.
CB Usama Young is hurt a lot and has yet to prove he can play.
Dimitri Patterson, another used Eagle, is a free agent who has yet to show he can contribute as well. He has started only ten games in his seven year career with only one start in 2011.
Total one PQP, one potential PQP, and no additional starting quality players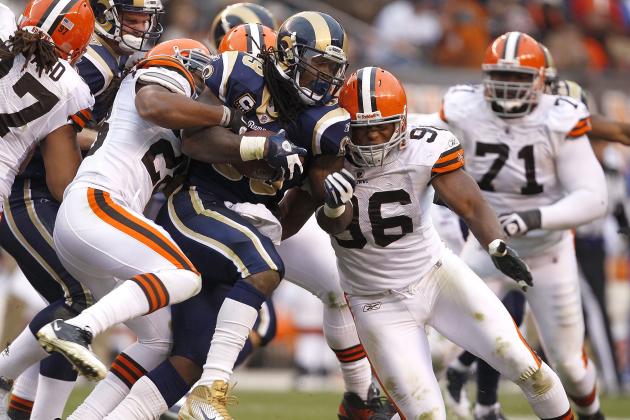 Matt Sullivan/Getty Images

The Browns currently have three PQPs with another three potential PQPs.
That puts the team that ended the 2011 season just a little over half way to getting the guys they need
counting the potential PQPs as half a PQP.
If the three potential PQPs develop this year the Browns will be on the way.

The team is not as far along with starting quality players.
They need 14 total and have 7 including the PQPs. It is clear to me that the Browns still have a long way to go.
And the D is better prepared than the O.

That is what I think. Tell us what you think.
If you want more Cleveland sports coverage like this,
join me on the Internet radio version
of News, Notes and Rumors M-Th at 6 PM EST on http://mooheadradio.com/2.0/.
Bill Smith is a former coach of several semi-pro teams, has
done color on radio for college football and basketball and has scouted talent.
He edits http://fryingpansports.com. He is
a senior writer for http://nfldraftdog.com/index.html. He has also published several novels on
http://www.eBooks-Library.com/Contemporary/
and a non-fiction work at http://www.merriam-press.com/.