Super Bowl 2012 Predictions: Final Projections for Giants' Stud Receivers
February 5, 2012
Doug Pensinger/Getty Images
The New York Giants have a couple significant advantages over the New England Patriots in Super Bowl XLVI. One of them is their collection of stud wide receivers.
As great as Eli Manning has been this season, he owes a lot of his success to Victor Cruz, Hakeem Nicks and Mario Manningham. Cruz and Nicks are two of the most explosive playmakers in the NFL, and Manningham is one of the more underappreciated No. 3 receivers in the league. 
New England's secondary has had enough trouble containing even the most mediocre receiving corps. Provided everyone stays healthy, the Pats are going to have their hands full with the Giants' receivers all game long.
With kickoff just about two hours away, here are some last-minute stat projections for sirs Cruz, Nicks and Manningham.
Victor Cruz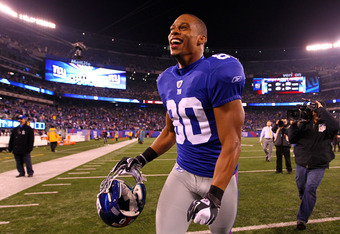 Al Bello/Getty Images
After starting the season as a relative unknown, Victor Cruz quickly emerged as Eli Manning's go-to guy. Once he did, he was one of the more consistent wide receivers in the league throughout the course of the season. He was a virtual lock for six to eight receptions and 100 plus receiving yards.
Oddly enough, Cruz took a back seat to Hakeem Nicks in the first two games of the Giants' postseason run. Cruz became something of a de facto decoy, and his lack of attention led to big games for Nicks.
The trend reversed in the NFC Championship Game. Manning looked Cruz's way early and often, and he ultimately racked up 10 receptions for 142 yards.
The 10 receptions were a season-high, but I'm expecting Cruz to come back to earth in the Super Bowl. The San Francisco 49ers forced Manning to use Cruz as more of a possession receiver, and that's not really Cruz's style. He's more of a home run hitter, as he finds the holes in the defense and explodes through them.
There will be more holes in New England's defense than there were in the 49ers' defense. The Pats will not shut Cruz down, and you can rest assured he will get back to being himself.
Projection: six receptions, 130 yards, one TD.
Hakeem Nicks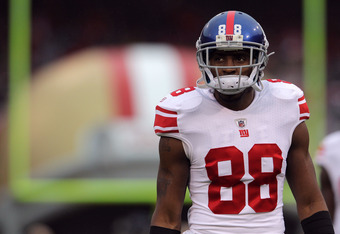 Doug Pensinger/Getty Images
Hakeem Nicks really isn't all that different from Cruz. He's not a possession receiver. He's a big-play receiver.
However, when Manning is effectively using Cruz as his big-play guy, we've seen him go to Nicks for shorter routes meant to pick up first downs and move the chains and whatnot. The receptions will be there, but the huge yardage totals won't be.
With Cruz doing work in the Super Bowl, Nicks will have to be the Robin to his Batman once again. He'll get his share of receptions, and the Patriots will gladly let him have them. They'll be too worried about the home run ball to fret over short completions.
Projection: eight receptions, 85 yards.
Mario Manningham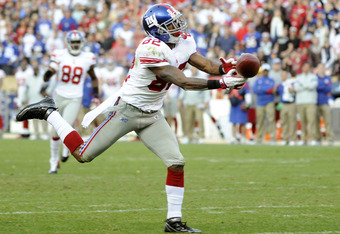 Thearon W. Henderson/Getty Images
Cruz and Nicks have been outstanding in the postseason, but don't overlook the work Mario Manningham has done. He only has eight receptions in three games, but three of them have gone for touchdowns—one in each game.
Two of Manningham's touchdown receptions have come inside the red zone. That's partially coincidence, but it's also due to the fact that defenses are more worried about Cruz, Nicks and even tight end Jake Ballard than they are with Manningham. And indeed, at 6'0 and 185 pounds, Manningham doesn't look like a traditional red-zone threat.
But hey, if it's working, why change it?
Projection: three receptions, 35 yards, one TD.