St. Louis Rams Super Bowl: How 1999 Could Repeat in 2012 for the Rams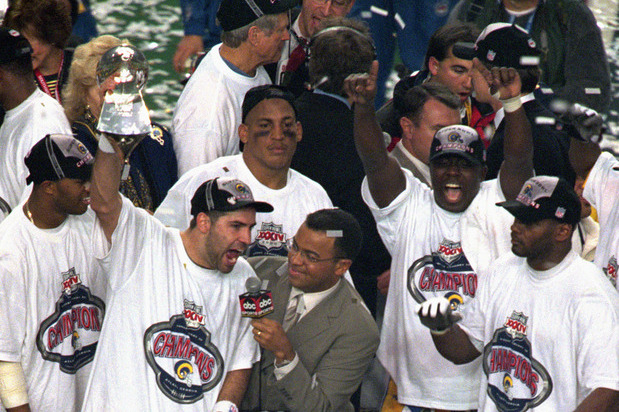 St. Louis Rams Celebrating Super Bowl Victory in 2000
The St. Louis Rams went 4-12 in 1998, and nobody outside of the Rams organization or the Rams roster was expecting anything close to an eventual appearance in the Super Bowl and the hoisting of the Lombardi Trophy when the 1999 NFL season began.
However, a few month later, St. Louis found itself in Super Bowl XXXIV versus Jeff Fisher and the Tennessee Titans, eventually winning one of the greatest games in Super Bowl history, 23-16. The Rams were led by Super Bowl MVP Kurt Warner, who hit likely future Hall of Fame inductee Isaac Bruce for the game winning touchdown.
How did the Rams do it?
How could the Rams make a similar turnaround in 2012?
The Rams went 2-14 in 2011 (4-12 in 1998), and hired the coach that led his team to a date versus the Rams in the 2000 Super Bowl, Fisher.
Although the Rams appear to be at least a couple of years away from being serious playoff and Super Bowl contenders, a Super Bowl trip is not out of the question, just as it was not in 1999.
With that, let us take a stroll down memory lane and look at the 1999 season and how the Rams could duplicate that offseason in the hopes of making a deep playoff run in 2012.
The following slides touch on the key changes the Rams made before the opening kickoff of St. Louis' aforementioned Super Bowl winning campaign.
Begin Slideshow

»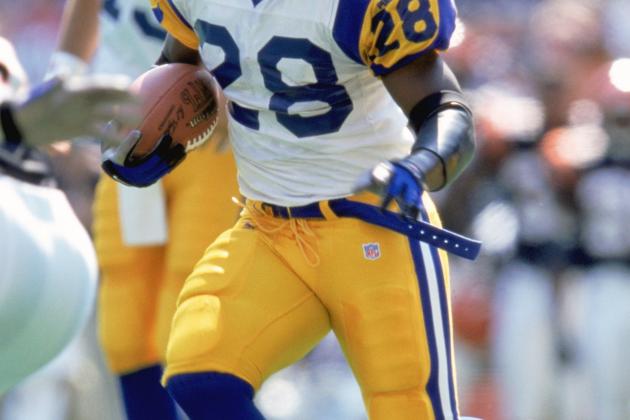 Andy Lyons/Getty Images
Marshall Faulk in 1999 with Kurt Warner Looking On
The St. Louis Rams traded a second and fifth round pick for Marshall Faulk before the opening of the 1999 campaign. In retrospect, it was one of the greatest and most important trades in franchise history.
Faulk contributed 2,429 combined rushing and receiving yards on 253 rushes and 87 receptions on his way to becoming the NFL's Offensive Player of the Year and a first team All Pro Selection.
Faulk was the kingpin of the greatest show on turf for many years to come, and perhaps the biggest key in the Rams Super Bowl run of 1999.
The St. Louis Rams could have additional picks in the 2012 NFL Draft if they trade out of the No. 2 overall selection, which could very well be in high demand.
More than likely, a trade of the No. 2 overall pick would be for draft picks and draft picks only.
However, a trade for a combination of draft picks and a player is not out of the realm of possibility, although it is admittedly unlikely.
If the Rams were to trade with Cleveland, for example, they could theoretically pick up the No. 4 and 22 pick of the first round. Perhaps the Rams could use one in the draft and trade one to a team for a proven player? Maybe they could trade a pick for a player who has been franchised or one that is in a contract stalemate.
Stranger things have happened, and it is important that St. Louis keeps its' options open to find the best solution possible to upgrade the roster.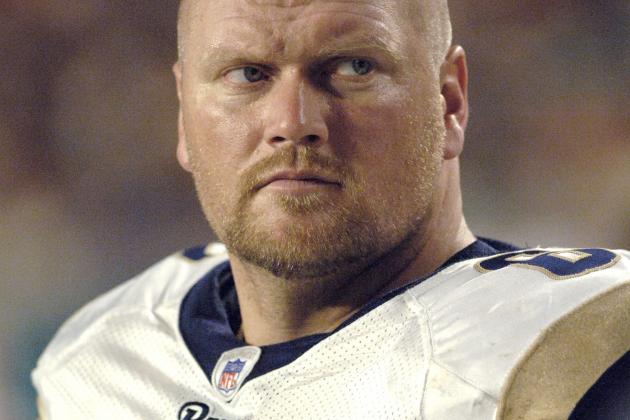 A. Messerschmidt/Getty Images
Adam Timmerman
Adam Timmerman, Andy McCollum and Trent Green were notable St. Louis Rams free agent additions in 1999.
Green, however, went down in the preseason never to return, opening the door for the storybook NFL career of Kurt Warner to begin.
Timmerman, however, did play extremely well, helping to solidify an offensive line led by seven-time Pro Bowl selection Orlando Pace. McCollum provided great depth at center before taking over there in 2000 for the first of several seasons.
Timmerman was selected to the Pro Bowl at right guard and McCollum provided quality offensive line depth, starting two games during the season.
Perhaps the Rams will look to shore up the right tackle, center or left guard position(s) via free agency.
Notable names available at those positions include Carl Nicks of New Orleans, Demetrius Bell of Buffalo, Ben Grubbs of Baltimore, Chris Meyers of Houston, Jeff Saturday of Indianapolis and Nick Hardwick of San Diego.
Other top free agents targets in 2012 across the league look to be Mario Williams of Houston, Cortland Finnegan of Tennessee (who played for Fisher there), Jermichael Finley of Green Bay, Vincent Jackson of San Diego, Brent Grimes of Atlanta, Brodrick Bunkley of Denver, DeSean Jackson of Philadelphia, Paul Soliai of Miami, Peyton Hillis of Cleveland and St. Louis' Brandon Lloyd, among others.
If the Rams can add a couple of strong starters via free agency (like Adam Timmerman) and some good depth (like Andy McCollum), it would help the Rams immensely in 2012 (and beyond).
Dilip Vishwanat/Getty Images
Torry "Big Game" Holt
In 1999, the St.Louis Rams possessed the sixth overall pick in the NFL Draft. With that pick, they wisely chose Torry Holt, the much-hyped receiver out of North Carolina State.
Although the Rams did not have a great draft overall (missing on Rich Coady, Joe Germaine, Cameron Spikes, Lionel Barnes and Rodney Williams), St. Louis did add Holt and Dre Bly, an eventual starting defensive back for the Rams.
Holt racked up 52 catches at over 15 yards a completion and six touchdowns. In the Rams Super Bowl win, Holt also caught a critical touchdown and made several important catches.
Bly only started two games in 1999 but pitched in three interceptions, a touchdown and 16 tackles before becoming a full-time starter for the Rams (2000-2002).
In the 2012 NFL Draft, the Rams will have the opportunity to land a a player who could potential produce a Holt-like career and a Holt-like rookie season.
Receivers who will likely go in the first round who look to possess that potential include Justin Blackmon of Oklahoma State, Alshon Jeffery of South Carolina, Michael Floyd of Notre Dame, Kendall Wright of Baylor and Mohamed Sanu of Rutgers.
If the Rams can land a playmaker of Torry Holt's quality, the 2012 season should be much improved.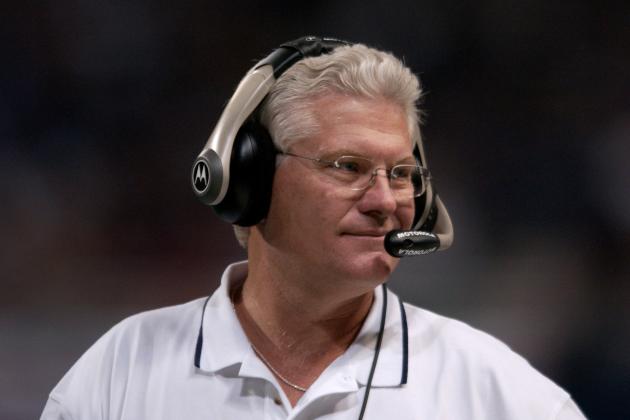 Elsa/Getty Images
Mike Martz, St. Louis Rams Offensive Coordinator (1999)
Dick Vermeil let his eccentric offensive coordinator (Mike Martz) coach his way, largely, in 1999.
"Mad" Mike Martz (who has recently retired) orchestrated the 1999 offense, one that became a household name (particularly from 1999-2001), and one that was crucial to the Rams reaching the Super Bowl in the winter of 2000.
Martz called the plays and put his offensive players in the right places all season long, helping first year starter Kurt Warner flourish by getting the ball in the hands of Marshall Faulk, Isaac Bruce, Torry Holt, Az Zahir Hakim and Ricky Proehl, among others.
In 1999, the Rams led the NFL in points, touchdowns and yards and were second in rushing efficiency.
However, it was not just the offensive coordinator that excelled under Vermeil, but the defensive coordinator as well.
Peter Giunta put together a terrific defense that year led by Kevin Carter and Todd Lyght.
St. Louis finished an impressive fourth in overall defense, fourth in points allowed and sixth-best in total yardage.
Giunta was given the freedom to attack very aggressively at times, as was the previously mentioned "Mad Scientist", Martz.
In 2012, Fisher has hired a very aggressive defensive coordinator in Gregg Williams (who led Fisher's defense in 2000 for Tennessee when they led the NFL in defense) and a respected offensive coordinator in Brian Schottenheimer, who, coincidentally (or not), is also an Air Coryell disciple, like Martz.
Fisher is known as a head coach who allows his coordinators to do their job with little interference. Rams coaches should have the ability to fully implement their systems and the opportunity to optimize their success under Fisher in St. Louis this season.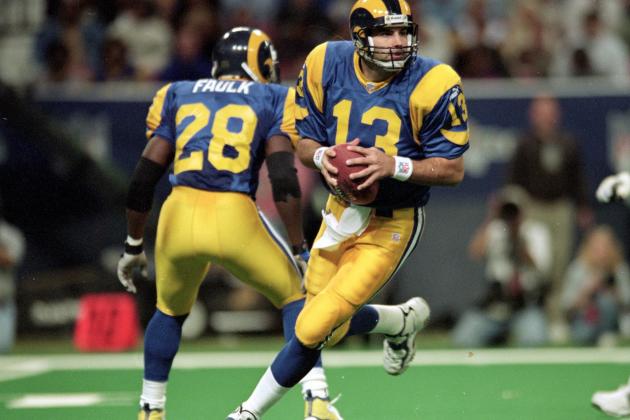 Elsa/Getty Images
Kurt Warner with Marshall Faulk in 1999 at the Edward Jones Dome
The St. Louis Rams received some critical contributions from several players in 1999 (like converted tight end Jeff Robinson), but none more, of course, than from Kurt Warner.
We all know Warner's story so we will not rehash its majestic details in-depth here.
It is important to note, however, that Warner spent the 1998 season as the Rams' third-string quarterback and went into 1999 as the backup to Trent Green.
As most of us know, Green went down in preseason to the injured reserve and the 28-year-old Warner took over and never looked back. Warner went on to one of the most unlikely and storied careers in NFL history, one that will likely end in Canton, Ohio at the NFL Hall of Fame.
In 1999, Warner completed over 65 percent of his passes and threw for 41 touchdowns while leading St. Louis to a 13-3 record, a historic offensive showing and a Super Bowl championship.
Although the Rams may never again have a player step in unexpectedly to the level that Warner did (as may never happen for any team in the NFL), the Rams could benefit dramatically from some big seasons from breakout players.
Some candidates who may not be expected to make big impressions but theoretically could include Josh Gordy, Jason Smith, Austin Pettis and Lance Kendricks.
If a few of these guys step up, this year could be much better than last.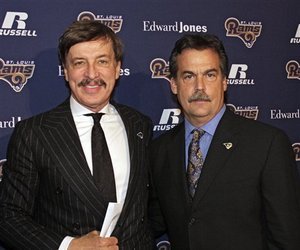 Stan Kroenke with Jeff Fisher
Could 2012 be a repeat of 1999? Sure, but it could also snow a foot in early April in Missouri, although the chances of that occurring are very slim.
That said, if the Rams can duplicate some of the offseason successes of 1999 this year, they will undoubtedly be much improved, and that is the most realistic expectation.
If they do, the Rams could be legit Super Bowl contenders in 2013 and beyond.
The Rams will return several key players from injury this season, including several key defensive backs (Ron Bartell, Jerome Murphy and, possibly Bradley Fletcher) wide receivers (Danny Amendola and Greg Sales) and offensive tackles (Rodger Saffold and Jason Smith).
Furthermore, the Rams will have a great opportunity to improve the team via the 2012 NFL Draft holding the much coveted number 2 selection.
Head coach Jeff Fisher said this draft was of vital importance and that St. Louis will not be drafting this high again under his watch.
Finally, looking ahead, the Rams project to have the most salary cap space in the entire NFL in 2013. With a good offseason in 2012, the pieces could be in place to fill in any gaps with that mega cap space and make a major run next year.
I am not saying that 2012 could not end in postseason play or even a Super Bowl appearance, but realism points to 2013 and beyond for those types of aspirations.
Of course, anyone mentioning St. Louis and a projected Super Bowl appearance in 1999 would have been laughed at and we all know how that turned out.
In the NFL, worst to first is always a possibility, and St. Louis would love nothing more than a return trip to the Super Bowl in 2012.
Shane Gray covers the St. Louis Rams year-round. You are encouraged to check out the rest of his work here and to follow him on Twitter.