Chicago Bears 2012 Mock Draft: 7-Round Predictions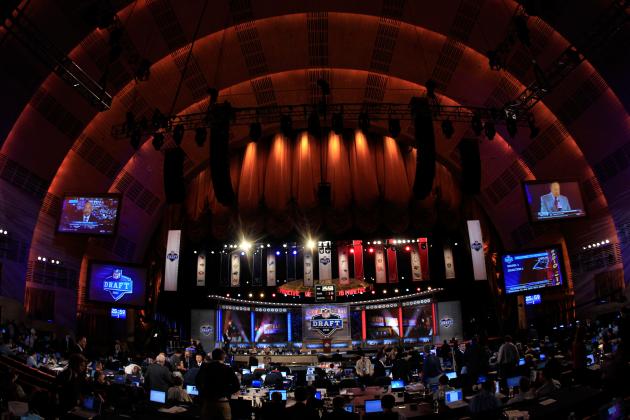 Chris Trotman/Getty Images

At the time that this article was written, there are 83 days, 22 hours, 10 minutes and 12 seconds until the 2012 NFL draft. And in this, Bob's Mock Draft v6.0, I have changed my mind once again.
Yep, my first-round pick for the Chicago Bears has changed yet again. But if you don't like my pick, don't worry, I'm sure this won't be my last one, the good Lord willin' and iff'n the creek don't rise.
Don't get me wrong—I am all for improving the offense. In fact, with a healthy Jay Cutler, good protection from the line and some weapons for him to throw to, I believe this team can seriously contend in 2012.
But if this draft has taught me one thing, it's that it is fairly deep in taller wideouts. And there is still no left tackle worth taking when the Bears draft in the first round.
So, don't "mock" me, but I am going back to upgrading the defense with the No. 19 overall selection.
Look, we need an immediate impact from our first-round pick, and while there are no guarantees with anyone, I feel that is more likely to happen on the defensive side of the ball.
Meanwhile, let's see where my journey takes us this time, into the land of future and opportunity. Or, as it's better known—the 2012 NFL draft.
Begin Slideshow

»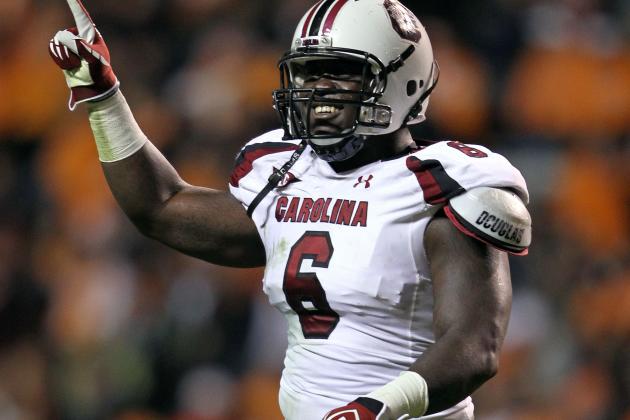 Andy Lyons/Getty Images

I don't see Alabama's Courtney Upshaw getting past the Jets pick at No. 16, if he even gets that far. Plus, he's better suited for a 3-4 defense anyway. So I'm going back to picking the explosive Ingram with the Bears' first selection in this year's draft.
Now, there is no guarantee that Ingram will still be there when the Bears pick, as his stock is rising following his impressive Senior Bowl. For example, WalterFootball.com has him going to the Bills at No. 10.
But if he's still there, they should grab him. I recognize it will be difficult to bypass WR Michael Floyd. But I'd rather see the Bears wait to pick a wideout, and instead sign a free agent such as Vincent Jackson or Dwayne Bowe.
Ingram may be somehwat on the shorter side for a 4-3 defense, but he's extremely explosive off the ball.
The Bears' pass rush was very inconsistent last year, and if you're a team playing in the NFC North, you'd better do one of two things very well—either rush the passer or cover the wideouts like a blanket.
With Ingram, the Bears have a guy who should be able to step in and make an immediate impact. An off-year from Israel Idonije combined with a pick like Ingram could make unrestricted free agent Idonije expendable.
Meanwhile, Ingram's draft stock has soared following a terrific ending to his 2011 season. Dominant in the season finale versus Clemson, Ingram displays an excellent closing burst and never takes a play off.
As much as I like Peter Konz, Roberto Garza can still play well at center for another couple of seasons so I'd rather go with a more immediate need.
Previous pick: Peter Konz, C, Wisconsin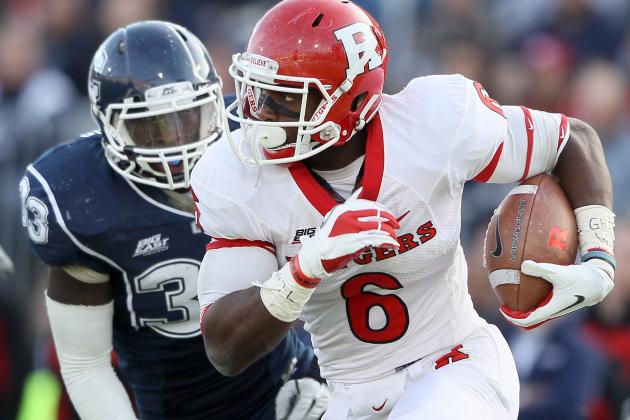 Elsa/Getty Images

Unless the Bears trade one of their two third-round picks to move up in Round 2, there will be 17 selections in the second round before the Bears turn comes up. That's a lot of potential WRs gone.
So, while I might entertain a move up if wideouts start to fall off the board, I will go with the best player available when the Bears pick at No. 50.
Teams like the Browns, Jags and Redskins all offer competition for the best remaining receiver on the board. I'm going to guess that Justin Blackmon, Floyd, Alshon Jeffery, Kendall Wright and either Rueben Randle or Mohamed Sanu are all gone by the time the Bears pick comes up.
So I'm going to go with the top WR on the board, and I'm hoping that Sanu is still there.
Sanu is a junior who started 37 of a possible 38 games over his career with the Scarlet Knights. He is the school- and Big East-record holder with 210 career receptions, as well as the single season champ with 115 catches.
Sanu doesn't have elite speed, but he has enough speed to be a big play threat. He has an exciting blend of size, strength and natural open field running ability.
He also has the size to contribute at split end as well as the savvy route-running and ability to play from the slot. Sanu is probably as ready as any receiver to make the jump to the NFL and should contribute immediately.
Nick Toon is too injury-prone and will likely fall to the third round.
Previous pick: Nick Toon, WR, Wisconsin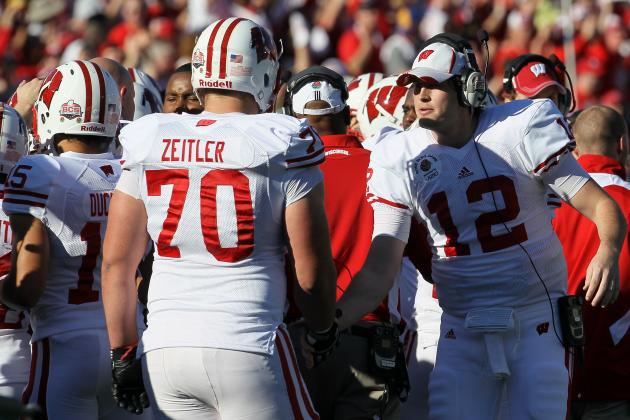 Stephen Dunn/Getty Images

Don't worry, Bears fans, I haven't forgotten the offensive line. While I wish there was a true left tackle worthy of one of the early picks, I just can't find one who will still be on the board. So I'm going for depth at the guard position.
Kevin Zeitler is a former teammate of Gabe Carimi at Wisconsin. He has above average size, bulk and speed for the position. He's a weight room warrior who won the Badger Power Award for his dedication to the weight room.
If he can play lower than he did in college, he will be able to gain better leverage in run support and can hold his own against power rushers.
Previous pick: Coryell Judie, CB, Texas A&M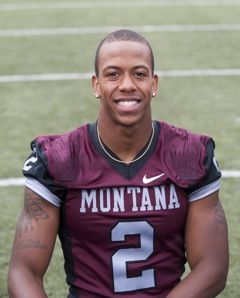 With Tim Jennings possibly leaving as an unrestricted free agent, the Bears need depth at the corner position. And if Johnson can start alongside Charles Tillman, they will be able to cover the Packers and Lions threats like a blanket.
I love his size (6'2"), and the senior had 44 tackles, one sack, one interception, 11 pass break-ups and a dozen pass deflections this season. He also forced a fumble.
Johnson has the size, length and quick footwork that gives me the impression that he can start at the NFL level, despite lacking elite speed.
I still like Coryell Judie (Texas A&M), who I picked with the earlier third-round pick in my last mock, but I like Johnson a bit better now.
Previous pick: Orson Charles, TE, Georgia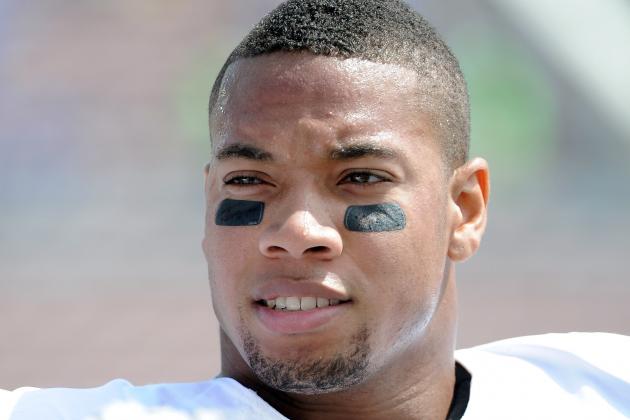 Harry How/Getty Images

The SAM and WILL positions on the Bears could use an infusion of youth, and Keenan Robinson's best attribute is his range versus the run.
He is a gifted athlete who moves well for his size. Robinson changes direction easily and moves well from side to side, showing an above-average closing burst when in pursuit.
Robinson is disciplined and reacts to the ball well. He could use more strength, but has the kind of frame that could add bulk.
Robinson has the ability to change directions well, so even though he may not have the skills to sniff out a play, he reacts well on the fly.
Robinson has sideline-to-sideline speed to chase down tacklers with good strength.
If Robinson is off the board, I might go with Kheeston Randall, a DE/DT from Texas, or Nigel Bradham, a LB from Florida State.
Previous pick: Keenan Robinson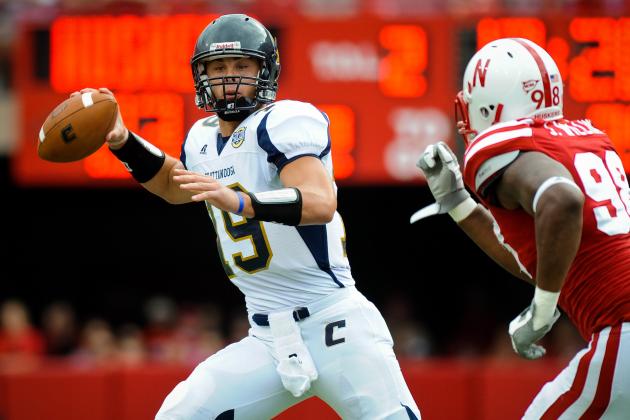 Eric Francis/Getty Images

A QB? I know, I am just as surprised as you are that I am taking a QB in this mock draft for the first time. But I have watched film on this guy and have a hard time believing he is projected to be a fifth-round pick.
Nathan Enderle is currently the Bears third-string QB. And I would prefer a veteran to backup Cutler. But if you think about it, Enderle was Mike Martz's pick by most accounts, and Martz is gone, so maybe they will put Enderle on the practice squad or release him outright and instead groom Coleman.
He has better size than most of the late-round QBs and has a rocket arm. He also has good mobility (unlike Enderle) and really looked good at the East-West Shrine game.
Scouts like his passion and leadership ability too. Besides, Matt Reynolds was really a right tackle, and hopefully we are covered there if Gabe Carimi gets healthy again.
Previous pick: Matt Reynolds, OT, BYU
So the Bears do draft a WR from the area, but it isn't Floyd. It's Jenkins, who really emerged in 2011 as a senior, posting team-highs in every receiving category, including a Big Ten-best 84 receptions for 1,196 yards and seven TDs.
I am a bit surprised to see sites like this one figure Jenkins lasting until the fifth or sixth round, but if he's there, the Bears should jump on him.
Jenkins doesn't have great speed so he won't be much of a vertical threat, but he is confident and quick, covering lots of ground in the short half of the field.
He has a lanky frame and won't be able to match up well against physical corners in the NFL, but should be a solid underneath option.
Jenkins will likely be a No. 3 or 4 receiver, which isn't bad this late in the draft. Anyway, Chris Conte is our free safety of the future so we don't need Gideon or his Bible..
Previous pick: Blake Gideon, FS, Texas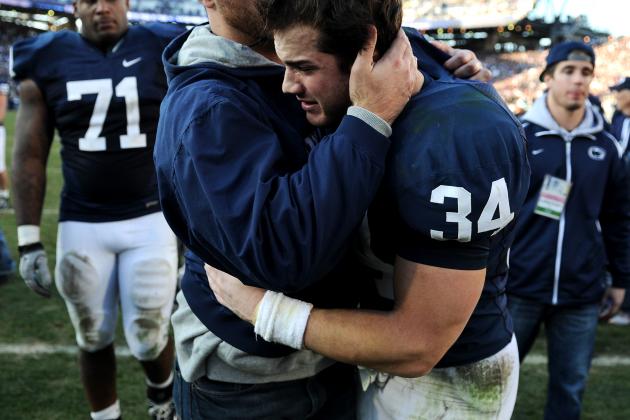 Patrick Smith/Getty Images

A team can never have enough linebackers, so the Bears might add another one in the seventh round.
Nathan Stupar won't wow anybody, but he is a blue-collar type of worker who is reliable and can play at the NFL level. And that is all you can ask of a seventh-round pick.
Stupar recorded 68 tackles with 5.5 tackles for a loss, two sacks, two interceptions and three passes defended this year.
He projects as a 4-3 linebacker in the NFL.
Previous pick: Tyrone Crawford, DE, Boise State