NFL Rookie of the Year: Why Von Miller, Cam Newton Each Deserve to Win the Award
February 2, 2012

Bart Young/Getty Images
It was quite an exciting year of pro football, and when you have rookies such as Von Miller and Cam Newton stepping up, it only gives more hope to the fans of the Denver Broncos and Carolina Panthers.
What's also interesting about Miller and Newton being arguably the top Rookie of the Year candidates for their respective side of the ball, is that both went No. 1 and No. 2 overall in the 2011 NFL Draft.
Although it's expected that high draft picks contribute well as rookies, you don't always see both top picks dominate like each did. All that said, here is a case for each player as to why he deserves to win the award.
Von Miller: LB, Denver Broncos
One of just two rookies to be named to the 2011 All-Pro team (Patrick Peterson), Von Miller had one outstanding season for the Denver Broncos. On the year, Miller recorded 11.5 sacks, 64 tackles, forced two fumbles and defended four passes for the Orange Crush defense.
Miller proved his worth as a dominant pass rusher, but he is arguably just as great at defending the run. He's got the speed to rush off the edge, awareness to make plays when in coverage, always brings the pain with every hit and knows when to fill the gaps against the run.
He's a big reason why Elvis Dumervil had a solid year and the Broncos defense maintained during Tim Tebow's magical run. The man developed a lot quicker than most anticipated while maturing into a professional at the position. And, for anyone who doesn't believe Von Miller has great potential, many believe he's the next version of Derrick Thomas.
Cam Newton: QB, Carolina Panthers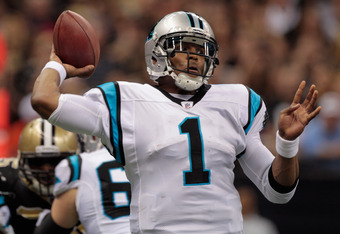 Chris Graythen/Getty Images
Although Cam Newton was not an All-Pro selection in 2011, it is harder to make it as a quarterback considering you can only put one on the field. Now, include the quarterbacks that he's up against in Aaron Rodgers, Drew Brees, Tom Brady and Eli Manning and Newton's a long shot for All-Pro.
Still, Cam was selected as a Pro Bowl alternate and the one of just two non-playoff quarterbacks (Philip Rivers) to make the trip to Hawaii. Deserving of the honor though, Newton threw for over 4,000 yards, ran for another 706, had a 60.0 completion percentage and accounted for 35 total touchdowns.
Is it possible that we ask anymore from a rookie quarterback who's been under the spotlight since the middle of the 2010 college football season?
He's solely responsible for reviving the Carolina Panthers and wide receiver Steve Smith's career, plus the offense finished ranked No. 7 in total yards per game. For a team that went 6-10 but finished 4-2, the Cats rightfully have increased expectations in the fall of 2012.
What if only one wins, who has the better chance?
The biggest difference here is how well 
Cam Newton performed with less talent. For starters, he's been under more pressure even since becoming noticed at Auburn University and going No. 1 overall in the draft.
Other offensive rookie of the year candidates such as Cincinnati Bengals quarterback Andy Dalton and wide receiver A.J. Green played well, but not on Newton's level. In addition, the Panthers defense was horrendous. So, the offense had no choice but to score at least 30 points per game if the Carolina wanted a legit shot at winning.
With no defense backing them, the Panthers had to outscore everyone. As for Von Miller, he's up against guys like Ryan Kerrigan from the Washington Redskins, Aldon Smith from the San Francisco 49ers and Patrick Peterson of the Arizona Cardinals.
All of which who put up impressive statistics but then again, Miller was an All-Pro selection.
Still, both players are very deserving of the award and it's likely that both win Rookie of the Year for their respective side of the ball.
John Rozum on Twitter.