Green Bay Packers
Aaron Rodgers' Story, and How You Recognize When Someone Has Made It Big

Jonathan Daniel/Getty Images
February 1, 2012
Four years ago, the Green Bay Packers decided to move on from the iconic Brett Favre and move forward with Aaron Rodgers as the future of their franchise. It has been seven years since Aaron Rodgers was drafted 24th overall by the Green Bay Packers after his insufferable fall down draft boards around the league.
It has been nine years since Rodgers transferred to California where he set or tied records for three hundred-yard games in a season and the lowest interception rate in school history. And finally... It has been 10 years since Aaron signed his letter of intent to Butte Community College because he was not heavily recruited out of high school — even with his 3.6 GPA and 1300 SAT score.
It has been nothing short of incredible. The journey Aaron has taken over the last decade is far less traveled by, but he has made the best of less-than-ideal circumstances.
It is also incredible watching Rodgers evolve over time; how he has gone from unheralded to king of the castle in such a relatively short time frame. He has been a starter for just four years in the National Football League, but is already heralded as one of the best of the best.
When Aaron walks into a room, he commands the respect and attention of everyone around him. When he decides to speak, there are those who are willing to listen — and sometimes what he has to say is not so flattering.
Aaron has always been an outspoken and opinionated individual. It's a little different expressing that opinion nowadays, and that's how you know when you have made it big in the NFL, or any other profession for that matter.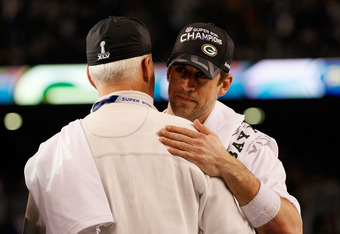 Ted Thompson doesn't take kindly to demands by players -- unless that player is Aaron Rodgers.
Kevin C. Cox/Getty Images
Professional athletes who have paid their dues to the league, the fans and the media get a pass on nearly anything and everything that comes out of their mouth.
Last year, during the offseason, Rodgers made it very clear to the Packers brass that he wanted James Jones (a pending free agent at the time) to return to the green and gold in 2011.
The Packers were ready to move on from Jones, especially after drafting the explosive Randall Cobb in the second round of the NFL draft just a few weeks earlier. But, like magic, James Jones wasn't as highly sought after as he imagined and re-signed with the Packers at a bargain rate. 
Rodgers has also shared the same sentiment about tight end Jermichael Finley. It's unseen, as of now, what the Packers will do with Finley. But it is rumored that the two sides are working out a long-term extension.
Ted Thompson isn't used to taking demands.
Brett Favre made similar pleas to Ted regarding pending free-agent offensive guards, Marco Rivera and Mike Wahle. Thompson didn't budge and both signed elsewhere.
Favre also attempted numerous times to bring in free-agent WR Randy Moss. A duo that undoubtedly would have been prolific, especially under the tutelage of Mike McCarthy, who worked hard with Brett on making better decisions in regards to his downfield throws. Again, his pleas were denied.
Rodgers recently called out the efforts of his NFC teammates at the 2012 Pro Bowl in his regular appearance on a radio show for ESPN Milwaukee saying...
"I'll be honest with you, I was a little disappointed. I felt like some of the guys on the NFC side embarrassed themselves. There should be some pride involved in a game like that, and I was just surprised by some of the efforts by some of the guys."
I don't think anyone can disagree with Rodgers' assessment of the NFL All-Star game and the comments did appear on numerous shows on a wide array of networks and websites. But nobody dared to call Rodgers out on his comments. Calling out your teammates who not-so-coincidentally are the best players your conference has to offer is not something that just anyone could do and get away with.
There is an elite few that can say practically anything, but see little to no blow-back for those comments. Athletes who can get away with those kind of comments are those who have established themselves in this league, who have demanded and earned respect within and surrounding league circles.
Hall of Famers and other players with a distinct legacy like Ray Lewis, Tom Brady, Peyton Manning and Larry Fitzgerald have all achieved that level of greatness and with it, the title of "untouchable."
Aaron Rodgers is officially one of the untouchables, and it's taken him a fraction of the time to achieve it.
Like the new article format? Send us feedback!