Andrew Luck, Blaine Gabbert and the Decline of the Development Deal
February 1, 2012

Christian Petersen/Getty Images
Indulge me for a moment.
In days gone by, the album was King and record companies would sign artists to a 'Development Deal'; whereby, the artist would agree to a lesser percentage of potential royalties in exchange for more emphasis placed on nurturing their skills and heightening their profile within the industry over a period of time.
The aim of this was to let the artist find their feet and blossom into their fullest potential, without untold external pressure to shift millions of records and bring in a return for the company that's bankrolling them. This creates career artists that bring in long-term success via a combination of a dedicated fan base and industry respect.
Needless to say, this is becoming scarce in the world of the download. There is now a revolving door within every record company that pushes out anyone who doesn't bring about a swift financial reward for their parent organisation.
The same can be said for the position of quarterback, which offers much of the same successes and failures of being signed to a recording contract. In much the same way, it has experienced an ever-steepening learning curve to the point where instant success is not only desired—it is expected.
The ideal scenario for a rookie quarterback would be to come into an organisation as a backup and learn from the established starter, which enables them to make all their rookie mistakes on the training ground—in private.
Everyone knows that college football and the NFL are different games. So it makes sense that the rookies are given time to acquaint themselves with the new system before being expected to carry the burden of the franchise.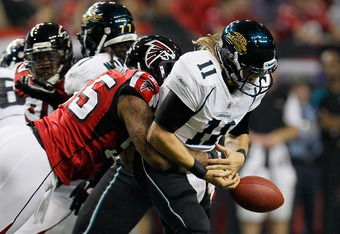 Kevin C. Cox/Getty Images
But that isn't the way things work anymore. The knee-jerk reaction to a failure from your starter is to push your future star onto the field and hope he doesn't get torn to shreds. Blaine Gabbert immediately springs to mind.
It went without question that this guy had talent, but going into the draft there were concerns about his ability to read the defense and see the entire field—as well as the obligatory murmurs about not being able to translate from a spread offense to a pro-style one. He was raw and needed mentoring.
Then the Jacksonville Jaguars traded up and drafted him with the 10th overall pick. He had a shortened offseason. David Garrard was released. Luke McCown was horrendous, and suddenly Gabbert was the man to pin all the hopes on.
Watching his progress over the season has been a painful experience. After seeing him sacked over and over, he has frequently looked like he would rather be anywhere—but the NFL.
Now the vultures are circling. He is being labeled a bust, a coward and a rabbit in the headlights. With some calling for him to be replaced, I think it's worth re-reading the first two words at the very top of this article and pausing to draw breath.
Andrew Luck has been hyped up to be the most complete quarterback prospect since Peyton Manning, a future Hall of Famer with the world at his feet and having the ability to bring back the glory to Indianapolis in the wake of Manning's neck surgeries—and an awful 2011 Colts' season.
Can't we let him take a snap before inducting him into the Hall of Fame?
It's easy to forget that Luck has never played a professional game—such is the ferocity with which he has been thrown into our lives. Looking at his stats and his capacity to make a play, he certainly seems as close to a sure thing as you can get in professional sports.
But I would like to see him given the opportunity to make some throws before crowning him as a savior. I would like to see him given the opportunity to make some mistakes before moving onto the 2013 draft class for the answers.
Call it a Development Deal.