Super Bowl 2012: Small-Time Players Who Could Become Media Darlings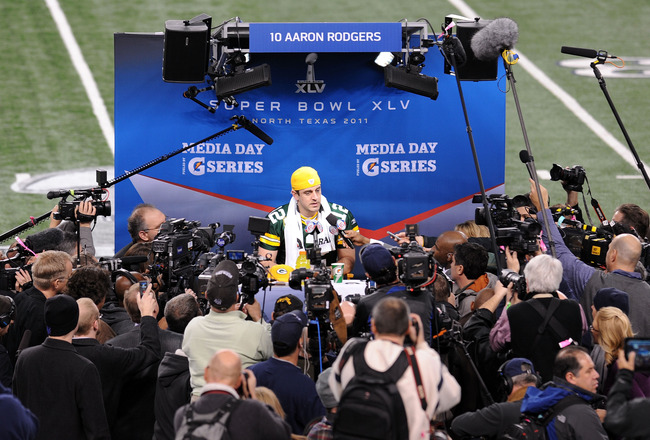 Michael Heiman/Getty Images
As we sit back and wait for Super Bowl week to begin, it's a great time to reflect on what has taken place this playoff season. What an amazing run by both Super Bowl participants, the New England Patriots and the New York Giants, as each had monumental wins on their way to Indianapolis.
This is a perfect opportunity to recognize the small-time players who could become media darlings next week at the Super Bowl.
New York Giants P Steve Weatherford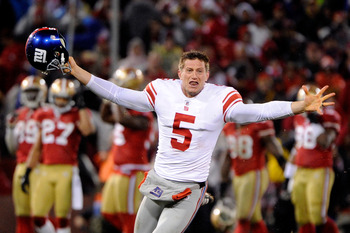 Thearon W. Henderson/Getty Images
What a difference a year makes! New York Giant fans were bemoaning the fact that P Matt Dodge cost them wins last season. Who could forget his infamous punt to Philadelphia Eagles WR DeSean Jackson that effectively ended the Giants' chances of making the playoffs?
This year, Steve Weatherford has done an outstanding job of pinning the opposition deep in their zone all season long. He saved his best performance for the NFC Championship Game, as Weatherford's clutch punting in the fourth quarter gave the Giants the upper hand in maintaining field position. His handling of Lawrence Tynes' field goal in overtime will never be forgotten in New York. The snap wasn't perfect, but Weatherford effortlessly picked the ball off the wet surface for a clean hold.
New York Giants KR Devin Thomas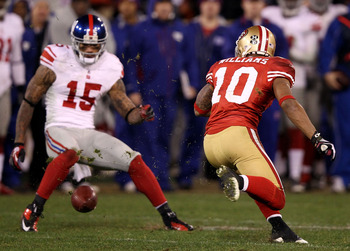 Ezra Shaw/Getty Images
Yes, the defense was outstanding and QB Eli Manning's toughness was off the charts, but Devin Thomas' awareness that the ball hit off San Francisco 49ers returner Kyle Williams' knee was one of the main reasons why the Giants won the NFC title game.
His special teams play has been under the radar all season, as Thomas' coverage downfield has been textbook perfect. He never gives up on a play until the whistle has blown. The Giants should thank Redskins owner Daniel Snyder and his staff every day for waiving this guy.
New England Patriots WR/CB Julian Edelman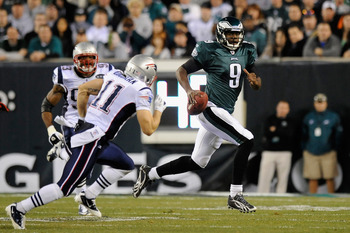 Patrick McDermott/Getty Images
You love the way Julian Edelman prepares for each game, as it doesn't matter where he plays as long as his team is winning. New England fans have been reliving the glory days of former two-way player Troy Brown in the on-field spirit of Edelman.
Changing positions isn't new for him, as he reinvented himself from the quarterback position in college to continue playing at the pro level.
Next week, the media's main focus will center on if the Patriots secondary has the speed to cover the Giants' talented wide receivers. Manning will challenge them to make plays downfield and Edelman's athleticism could be the difference.
New England Patriots WR Tiquan Underwood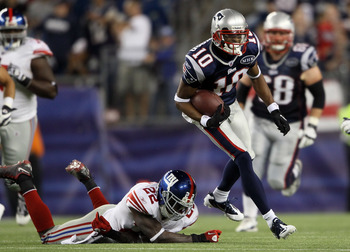 Elsa/Getty Images
Back in 2007, the Pats had more of a deep passing attack, and that cost them dearly in Super Bowl XLII. The Giants pass rush was allowed to pressure QB Tom Brady, as he waited too long for the deep route to develop against their secondary.
Now, New England has become more of an intermediate passing team that enables Brady to release the ball quicker before the pass rush can get to him. The Giants D will load the middle and force the Pats wideouts to make plays.
WR Tiquan Underwood must get open 12 to 15 yards downfield if good things are going to happen in Indy. He doesn't need a big game, but just one or two catches that will open up the underneath zone for WR Wes Welker and TEs Rob Gronkowski and Aaron Hernandez.
Keep Reading