2012 NFL Mock Draft: Tim Tebow's Impact on the Denver Broncos Draft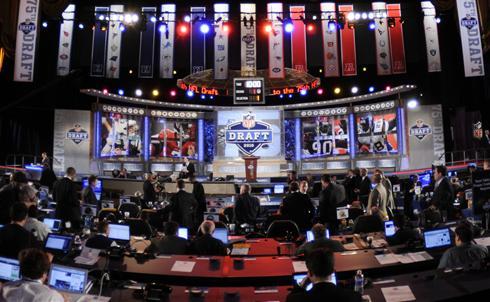 It's never too early to begin talking about the NFL Draft and with April slowly creeping upon us, it is time to start dissecting the needs and possible draft strategy of the Denver Broncos.

Denver is in the second year of the John Fox era and is looking to improve on their 8-8 record and playoff win this past season. The Denver Broncos have needs on both the offensive and defensive side of the ball, but their draft strategy on the offensive side of the ball may be affected by the team's endorsement of quarterback Tim Tebow.

It is obvious Denver needs help at defensive tackle, inside linebacker, cornerback, and the wide receiving corps. In this mock draft, we address most of their needs and look at what the team may look like after the upcoming 2012 NFL draft.
Begin Slideshow

»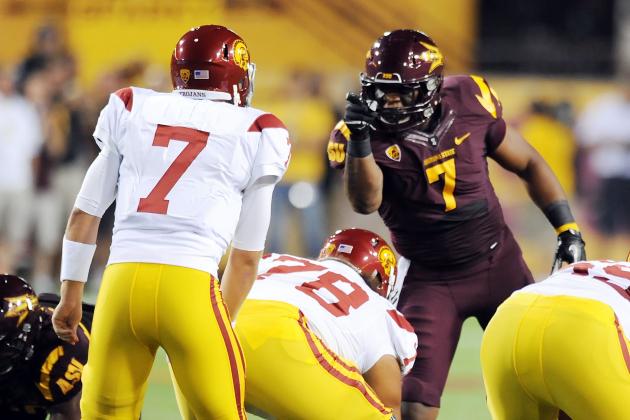 Norm Hall/Getty Images
A feisty Vontaze Burfict calls out Matt Barkley at the line of scrimmage.
Coming into his junior season Vontaze Burfict was considered by many to be a top-10 or top-15 draft pick in the 2012 NFL draft. A disappointing stat line and a lack of aggression this year has caused his stock to fall. Nevertheless Burfict is an imposing force on defense and has the physical tools of a young Patrick Willis.

Joe Mays was reliable in the run game this year, but struggled on passing downs. All in all, his play was unspectacular. Drafting Burfict would finally give the Broncos a leader in the middle that they have been searching for since Al Wilson retired. His elite athletic ability gives him the opportunity to be a three-down linebacker. Burfict has the ability to drop back in coverage or get after the passer.

John Fox loves using first-round picks on imposing and extremely athletic defensive players (i.e. Julius Peppers, John Beason and Von Miller), and pairing Burfict with D.J. Williams and Von Miller will give Denver a elite linebacker corps for years to come. Don't be surprised if this is the pick come April.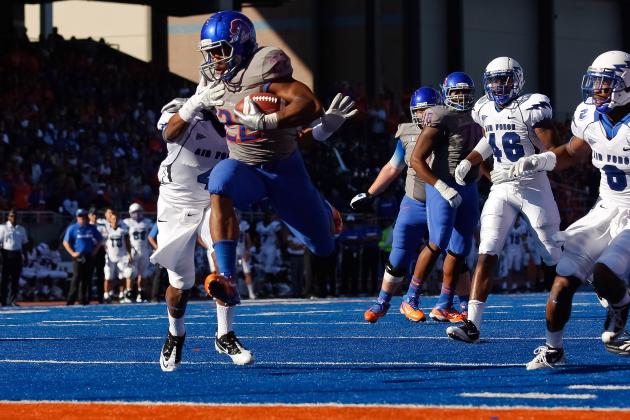 Otto Kitsinger III/Getty Images
Doug Martin shakes a tackle as he reaches the end zone.
Everyone knows that John Fox loves the run game. The Denver Broncos had the No. 1 rushing attack in the NFL this year, but could face some problems heading into next year. Willis McGahee had a career year, but wore down in the later stages of the season, Lance Ball was serviceable, but is nothing more than a backup, and Knowshon Moreno has yet to prove he can be effective (or healthy) in the NFL.

Last week this pick would have been Chris Polk. Polk had a solid season for the Washington Huskies, but the word out of the Senior Bowl is that Polk has looked sluggish and his stock is dropping. The fact that he has had knee injuries in the past is also a red flag. Instead, the Broncos look to Boise State's Doug Martin with this pick. Martin is a shorter, but bruising back. He has a similar body structure as Ray Rice and is an effective north-south runner.
Martin has been ultra-productive over his career at Boise State. He fits the mold of a Fox running back and will likely be selected to help take pressure off of Tim Tebow and Willis McGahee in the run game. His stock has been rising as of late, and he could be a great selection here in the second round.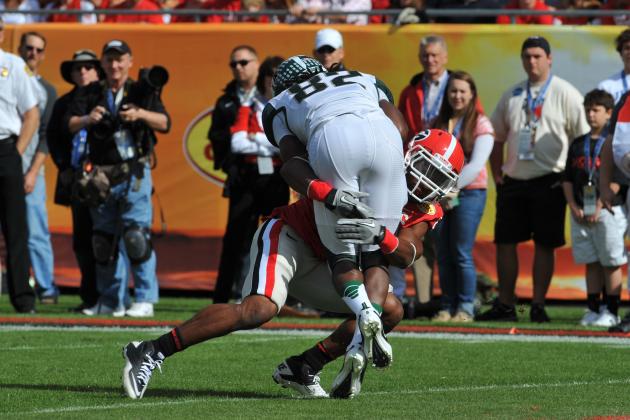 Al Messerschmidt/Getty Images

Andre Goodman and Champ Bailey are both turning 34 soon, which leave some uncertainty at the cornerback position. After watching the horrendous display by the secondary in both of the Patriots games, it is obvious that the defensive backfield is in need of an upgrade.

Chris Harris, an undrafted free agent out of Kansas, showed great promise in his first season, but appears to be more comfortable in the nickelback than on the outside. Brandon Boykin has been questioned by some as to whether he is big enough to play on the outside. His lack of height may be an issue for some teams, causing him to fall to this spot in the third round. Nevertheless, Boykin's elite athleticism and smooth hips are a recipe for success for a cornerback in the NFL. He has the tools of an elite cover corner and is an aggressive tackler.

Boykin has been on fire at the Senior Bowl, and his stock may be rising. If Boykin is available here in the third round, he may be tough to pass up. He will most likely be one of the best players available and fills a need at the same time. With a couple years under the wing of Champ Bailey, Boykin could turn into a Pro Bowl caliber player.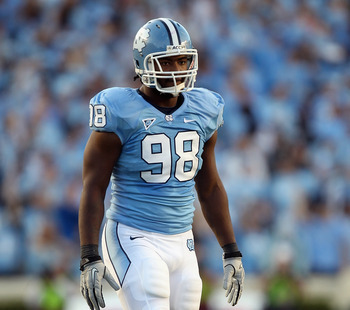 This selection may have some readers scratching their heads, but I could see this being a feasible selection. Last year the Broncos strongly considered Da'Quan Bowers with the No. 2 overall pick before they discovered his knee problems, and John Fox is known to be enamored with big athletic pass-rushing ends. In years past North Carolina has produced some strong defensive ends including Julius Peppers, and Robert Quinn. Donte Paige-Moss fits right in this mold.

Paige-Moss' draft stock took a dramatic hit this past season due to a lack of production and a ACL tear in his right knee, which he sustained during the bowl season. Prior to the season Paige-Moss was considered a first-round pick by many analysts.

Some fans might cry foul here, and plead for a chance for Robert Ayers, who showed promise this year. I agree Ayers showed a great amount of progress this year, but it is possible the Broncos could kill two birds with one stone here.
Brodrick Bunkley was excellent in stopping the run this year, but offered next to nothing in terms of a pass rush. Kevin Vickerson suffered the same fate. Robert Ayers size allows him to move down inside and play a defensive tackle position.
There was also talk at the beginning of the year that Ayers could move to a defensive tackle position to allow Von Miller to line up at defensive end on passing downs. This selection could add depth to the inside and outside pass-rush. Imagine Von Miller, Elvis Dumervil, Paige-Moss and Ayers getting after the quarterback on a third and long. That's something I surely would like to see.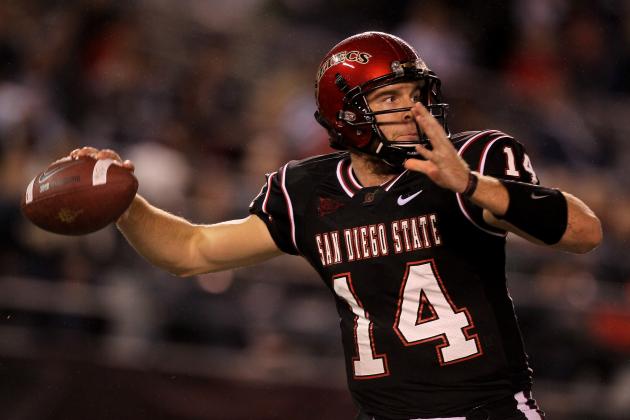 Stephen Dunn/Getty Images

I'm hearing rumors that John Elway has taken a liking to Ryan Lindley. I wouldn't be surprised if Lindley were still around at this selection (which we received in the Brandon Lloyd trade). It is a known fact that Elway is not completely sold on Tebow, and may never be. Reports are that Elway may pursue a veteran free agent and bring in a developmental rookie as well.

Lindley comes from a pro-style attack, and was coached by Brady Hoke prior to his departure to Michigan. It will be interesting to see if he throws or not at the combine. If the rumors are true that Elway has taken a liking to Lindley, I don't see any reason why he wouldn't target him.

Lindley has ideal height and a good arm. His accuracy needs some work, but he is a nice developmental quarterback in the late rounds. Although the idea of a Lindley for Lloyd trade doesn't sound too appealing.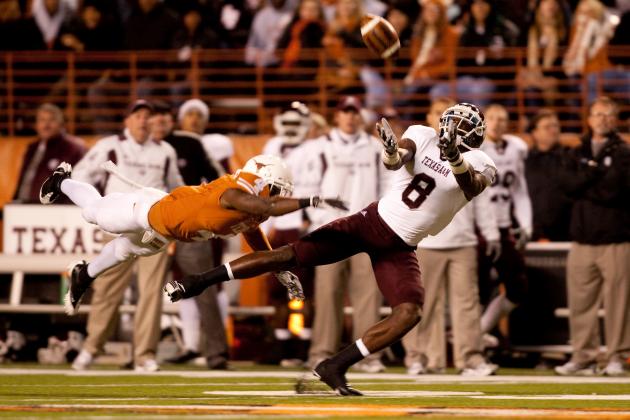 Darren Carroll/Getty Images

Jeff Fuller has had a horrendous week at the Senior Bowl and his stock is plummeting. Rumors are surfacing that he looks slow and sluggish and could run poorly in the 40-yard dash. This is a low risk-high reward selection for the Denver Broncos.

With the style of offense that Denver ran this year, Jeff Fuller could be a wonderful fit with Tim Tebow and Demaryius Thomas. Fuller is a tall, imposing receiver (6'4" 215 lbs) who blocks well down the field. This downfield blocking skill will earn Fuller big points with the Broncos due to their heavy reliance on the run game.
Fuller also works the sideline extremely well on his routes and uses his size as an advantage against smaller cornerbacks. He might not be overly speedy or a downfield threat, but with the intermediate passing attack that the Broncos have run as of late, Fuller is a perfect fit.

Fuller could be a steal here due to the offense that he is being drafted into. Some extremely talented players never pan out because they are a part of a system that doesn't fit with talents. Some less talented players have long successful careers because they are in the right scheme that best utilizes their talents. I think the only situation Fuller may be able to thrive in is in Denver, which gives the Broncos great value here.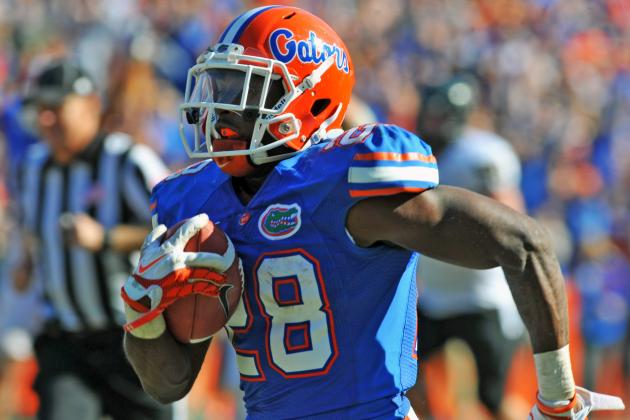 Al Messerschmidt/Getty Images

Jeff Demps is a speed demon, plain and simple. The Chiefs have Dexter McCluster, the Raiders have Jacoby Ford, and the Chargers had Darren Sproles until this past year. This new form of a "slash" player is growing in popularity, and it is time for the Broncos to get in on the fun.

This selection could have significant benefits for the offense and special teams. While Denver is unlikely to continue forward with its spread-option offensive attack, it is equally unlikely that they will abandon it altogether. What better way to make Tim Tebow comfortable then give him his own version of Percy Harvin.

Demps has the talent to carry the football as well as catch it. Some may question his size, but his elite level speed make him a safe investment in the seventh round. It is possible that Eddie Royal may be leaving in free agency and Demps could easily assume the returning role. Demps' ability to line up as a running back and catch check down passes, as well as his ability to line up in the slot and contribute in the return game make him a valuable seventh-round pick.

Feel free to follow me on Twitter @AustinQuickBR for future articles and insight.