St. Louis Rams: 5 Draft Moves That Set the Rams Back 5 Years
January 23, 2012

Jeff Zelevansky/Getty Images
The St. Louis Rams haven't had much success in the NFL Draft during the last five years. I know hindsight is 20/20, but I think a blindfolded guy trying to hit a piñata could have had a better chance at hitting his target than the Rams had of finding a good player in their recent draft classes.
Yes Rams' fans, it has been that bad.
Every team misses on players in the draft, but good football teams like the Packers, Ravens and 49ers' roster is loaded with players drafted and developed by those franchises. To compound the Rams' draft misses, they were usually picking very high in the draft—under the old CBA, which means that some of their draft misses cost a lot of money.
When there is a lot of money tied up in bad players that is a recipe for disaster.
Here are five moves the Rams could have made in the last five years that would have changed the course of the franchise:
1. 2007: Second Round, the St. Louis Rams select Brian Leonard (FB, Rutgers).
The Rams drafted Leonard and he spent three seasons in the NFL—mostly as a backup. This is one of the biggest reaches I can remember the Rams making in the last five years.
Instead of reaching for Leonard, the Rams could have drafted Ryan Kalil (C, USC), who was taken seven picks later. Kalil, the older brother of current USC left tackle Matt Kalil and a consensus top five pick in the 2012 NFL Draft, has been a Pro Bowl center for the Carolina Panthers. If the Rams drafted Kalil, they wouldn't have wasted money on underachieving Jason Brown in free agency.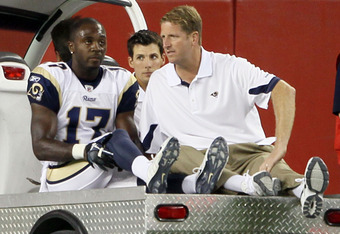 Elsa/Getty Images
Most of all, if they had drafted Kalil, then Rams' fans wouldn't have had to endure the Brian Leonard experiment.
2. 2008: Second Round, the St. Louis Rams select Donnie Avery (WR, Houston).
Avery was the first receiver taken in the 2008 draft. He was a burner out of Houston. He showed some promise in St. Louis, but was eventually cut prior to the 2011 season.
Instead of drafting Avery, the Rams could have picked Jordy Nelson (WR, Kansas State), a receiver taken three picks later. Avery is struggling to hang onto his NFL career, while Nelson has developed into one of the best receivers on the World Champion Green Bay Packers.
More importantly, the Avery pick was the first in a long line of wasted picks on receivers. If the Rams had nailed this pick by selecting Nelson instead of Avery, maybe they wouldn't have wasted picks on Mardy Gilyard, Keenan Burton, Austin Pettis, Greg Salas, etc.
3. 2009: First Round, the St. Louis Rams select Jason Smith (OT, Baylor).
Smith is one of the biggest disappointments ever drafted by the Rams. He was supposed to protect the "blind side" for the next decade, but was immediately moved to right tackle—in what was almost a sign of Rams' management second guessing themselves.
You could argue the Rams should have picked B.J. Raji, Clay Matthews or Brian Orakpo here, but I'm not going to do that. None of those players were being discussed as potential top-three picks. However, the Rams could have taken Aaron Curry (LB, Wake Forrest), a player some have touted as the best overall talent in the draft.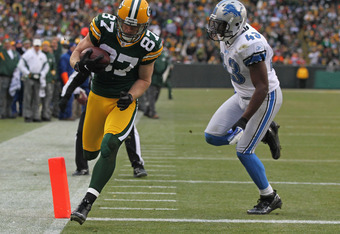 Jonathan Daniel/Getty Images
Curry was a bust for Seattle, but has turned his career around with Oakland. However, there is no denying Curry's talent at outside linebacker. If you teamed him up with the Rams' 2009 second-round pick, James Laurinaitis (MLB, Ohio State), the Rams would have two-thirds of their linebacking corps in place—sparing Rams' fans the debacle that was Brady Poppinga.
In any scenario, the Rams would have been better off picking any player other than Jason Smith.
4. 2010: Fourth Round, the St. Louis Rams select Mardy Gilyard (WR, Cincinnati).
This pick probably makes Rams' fans angrier than any other pick on this list, and I honestly can't pinpoint why.
Maybe it's because Gilyard had talent?
Maybe it's because he appeared lazy?
Maybe it's because Rams' fans know how much of an impact Gilyard could have had on QB Sam Bradford?
Whatever the reason, Gilyard was a very unpopular player in St. Louis.
Instead of taking a player that only lasted one season in a Rams' uniform, this pick could have been used to snag Aaron Hernandez (TE, Florida)—a player picked 14 spots later. By picking Hernandez, the Rams would have had their tight end of the future. They could have used the "Lance Kendricks' pick" on somebody else.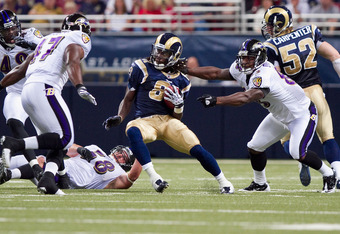 Dilip Vishwanat/Getty Images
5. 2011: Second Round, the St. Louis Rams select Lance Kendricks (TE, Wisconsin).
Kendricks has tremendous physical ability. He might turn into a great pro. However, after one season, Kendricks has more "bust potential" than "star potential".
Instead of reaching for Kendricks, the Rams could have taken their pick of three good wide receivers—Torrey Smith (WR, Maryland), Greg Little (WR, North Carolina) or my favorite Randall Cobb (WR, Green Bay). Cobb would have been an impact receiver. He also would have filled the punt/kick returner void the Rams have on special teams.
And I know I'm beating a dead horse here, but if the Rams would have drafted Cobb, they surely wouldn't have drafted receivers in the third round (Pettis) and fourth round (Salas). Those picks could have been used to fill other roster holes.
So what do you think?
Would you rather have a Rams' roster with Brian Leonard, Donnie Avery, Jason Smith, Mardy Gilyard, and Lance Kendricks or a Rams' roster with Ryan Kalil, Jordy Nelson, Aaron Curry, Aaron Hernandez, and Randall Cobb?
Try not to think too hard about that one, okay?
Again, hindsight is 20/20. It's easy to second guess these picks now. With the Rams' holding the second pick in the upcoming NFL Draft, let's just hope that history doesn't repeat itself.