East West Shrine Game: Roster, Stats, Results and Recap
January 23, 2012

Justin Edmonds/Getty Images
The East-West Shrine Game ended up being more exciting than the vast majority of the bowl games this past Saturday.
With lesser-known players given the opportunity to convince scouts they are good enough to get invited to the combine, the effort level and intensity was at an extremely high level. This is the first game in their careers that is strictly about landing an NFL contract.
With only a few other opportunities to change scouts' minds, this game was a big deal and the players showed as much with a maximum effort. This was certainly no exhibition All-Star game.
Here's a recap of everything you need to know about the 87th annual East vs. West Shrine Game.
Roster: Click here for complete roster list.
East Quarterbacks: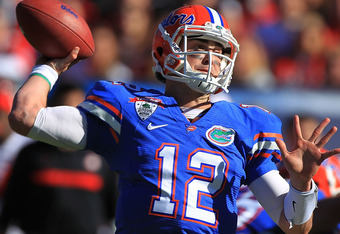 Scott Halleran/Getty Images
Austin Davis, Southern Mississippi
BJ Coleman, Tennessee-Chattanooga
John Brantley, Florida
West Quarterbacks:
Tyler Hansen, Colorado
Chandler Harnish, Northern Illinois
Dan Persa, Northwestern
Result: 24-17 West.
Lennon Creer (Louisiana Tech) named offensive MVP with 15 carries, 80 yards, one TD.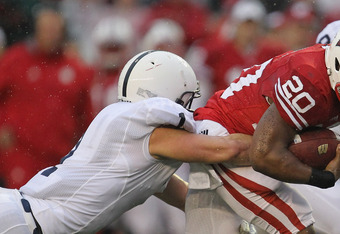 Jonathan Daniel/Getty Images
Nick Sukay (Penn State) named defensive MVP with a key fourth-quarter interception.
The game on the field matched a successful first year at Tropicana Field off it. 2012 marks the first year the game was played in Tampa Bay instead of the Citrus Bowl in Orlando and the attendance increase made it well worth the decision. Last year, the announced attendance was around 9,642. This year, it was estimated that at least 18,000 fans showed up.
Recap:
It took a nine-yard touchdown run by Creer with 47 seconds remaining to break a 17-all tie. The East briefly held a 17-14 lead in the fourth quarter before a Greg Zuerlein (Missouri Western State) 36-yard field goal with 13:21 remaining in the game.
Tyler Hansen (Colorado) threw for 144 yards and rushed for 18 yards and two touchdowns on the day as he made his case for a late-round draft selection.
BJ Coleman (Tennessee Chattanooga) held better statistics than the rest of his East counterparts, completing 10-of-15 passes for 170 yards and a touchdown.
Notable Stats:
60—That was the average distance West punter Bryan Anger (Cal) registered in three impressive punts.
7—There were seven different receivers to catch two or more passes for the West. George Bryan (North Carolina St.) led the way with three receptions for 55 yards.
35:33 to 24:27—The West won the time of possession battle handily as they were able to churn out 171 yards compared to the East's 57 yards on the ground.
It ended up being the biggest difference in the game.
What's Next?
The vast majority of these players will be in Mobile, Alabama next week for the Senior Bowl where they will have one final game to show off their talents before April's NFL draft.