East-West Shrine Game 2012: TV Schedule, Rosters and Top Prospects
January 17, 2012

Andy Lyons/Getty Images
The 2012 East-West Shrine Game is the last chance for some athletes to showcase their skills in front of NFL scouts. 
A number of these players won't get the chance to attend the NFL Scouting Combine, meaning these prospects have to make a major impression.
It's also the longest running college football all-star game, and it helps benefit Shriners Hospitals for Children. 
With that said, let's take a look at some specifics of the 2012 East West Shrine Game. 
When: Saturday, Jan. 21 at 4 p.m. ET 
Where:  Tropicana Field, St. Petersburg, FL
Watch: NFL Network 
Rosters: 
The entire rosters for the East and West teams can be seen here. Former NFL head coach Brad Childress is coaching the West team, and former NFL and Army head coach Bobby Ross is coaching the East team. 
Over 100 NFL prospects are trying to prove they have what it takes to play at the next level, but a poor showing could be the end of football for some of these guys. 
Top Prospects 
East Team
John Brantley, QB, Florida 
He's a pocket passer, which is what many scouts will pay attention to. He didn't have quite the season he hoped for, but this is his chance to show what he really can do. 
Sure, Brantley will have a pro-day workout, but since this is an actual game he really needs to have a great performance when out on the field. 
Brantley's timing and accuracy are in question, so watch how he throws and if he makes plays this Saturday. 
B.J. Coleman, QB, Chattanooga
Coleman gets noticed because of his big frame, but since he played against weak competition it hinders him. 
Listed at 6'5". 220 pounds, Coleman has caught the eye of many scouts, especially since the QB class isn't as strong as year's past. 
The mechanics of Coleman are the problem, and it will be interesting to see how he handles playing against much better players. 
Tauren Poole, RB, Tennessee 
Projected as a mid-round prospect, Poole has the opportunity to see his draft stock rise way up. A great effort in this game will see his name climb up draft boards. 
He has great vision and can easily make defenders miss. However, his speed is the biggest concern. He'll have to show great acceleration against tough talent, as well as the ability to run solid north to south as opposed to east and west. 
B.J. Cunningham, WR, Michigan State 
Cunningham had a stellar senior season with the Spartans, reeling in 79 receptions for 1,306 yards and 12 touchdowns. 
Listed at 6'2", 227 pounds, Cunningham is a solid possession receiver with the physical attributes to make it at the next level. 
If he's able to show great separation from defensive backs, then his stock will greatly improve. It sounds as though that is exactly what's happening, as Bleacher Report's own Michael Schottey tweeted how Cunningham is doing in practices.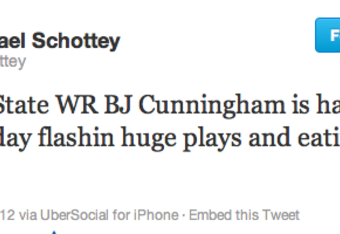 A.J. Jenkins, WR, Illinois 
Jenkins had a productive senior season, but it was kind of lost during Illinois' collapse in the second half of the season. 
The 6'1", 190-pound wideout had 90 receptions for 1,276 yards and eight touchdowns. His size is his main issues, as adding weight will be vital for him to succeed in the NFL. 
Since he is smaller, his best bet to dominate at the next level would be by being a deep threat. If hes unable to do that in the East-West Shrine Game then he'll definitely fall on draft day. 
West Team 
Chandler Harnish, QB, Northern Illinois 
Harnish played in a spread offense in college, and he thrived for the Huskies, throwing for 3,216 yards, rushing for 1,379 yards and scoring 39 total touchdowns. 
In order to play in the NFL, Harnish will have to show he can perform well in a pro-style offense. Listed at 6'2", 221 pounds, Harnish has the size to play at the next level, but his pocket-presence skills will be key to where he ends up being drafted. 
It's possible a team sees a future wide receiver in Harnish, which is why I think he'll be drafted. However, a strong outing in the East West Shrine Game and he'll be able to remain a QB prospect. 
Junior Hemingway, WR, Michigan 
Hemingway had a good year for the Wolverines, leading the team in receptions, receiving yards and touchdown catches. 
Since Michigan focused on the run more, Hemingway's numbers are superb by any means. However, when they did throw it to him, Hemingway made some outstanding plays. 
He has stellar hands, and does a good job of separating from coverage. Listed at 6'1", 225 pounds, the main focus for him to wow the scouts with his speed and make them remember his name since his production doesn't stand out.
Greg Childs, WR, Arkansas 
Having suffered a devastating knee injury in the 2010 season, Childs' return in 2011 wasn't very spectacular. Granted, the Razorbacks had a lot of depth at wide receiver, so his playing time took a hit. 
Listed at 6'3", 211 pounds, Childs has the skills to thrive in the NFL. Prior to his injury, he was making a lot of big plays with Ryan Mallett as his quarterback. Scouts have seem him excel, but the main problem is that it was recently. 
Childs will have to make the most of each ball thrown his way, or he'll slip down draft boards. 
DaJohn Harris, DT, USC 
Since the defensive tackle class isn't as strong as recent years, Harris has the potential to land in the second round, especially if he makes big plays in this game. 
Listed at 6'3", 307 pounds, his big body entices scouts, but they like his ability to stop the run much more. 
Getting after the quarterback this week is key for Harris because it's not his strong suit. He can become a sure-fire second rounder by excelling in drills and game play this week.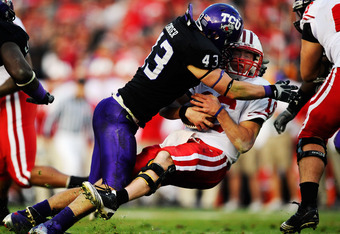 Kevork Djansezian/Getty Images
Tank Carder, OLB, TCU 
Carder is underrated because he played at TCU, but he can play. He's athletic and moves well on the field, showcasing good range. 
However, Carder will have to live up to his first name. Making monster hits and showing that he is a better tackler will help his draft status. 
Poor arm tackling will not help his mid-round grade, as he needs to wrap up during game play. It's one thing to shine in practice, but when game times comes and everyone is at full-speed, Carder has to step up.