NFL Playoffs 2012: Top Coaching Matchups Fans Are Dying to See in Super Bowl
January 22, 2012

Rob Carr/Getty Images
Sure, there's insurmountable talent with Tom Brady, Ray Rice and Patrick Willis taking the field on Championship Sunday.
Yet, how about Bill Belichick, Tom Coughlin and those intelligent minds roaming about the sidelines? Might they deserve a fair share of recognition?
As intriguing as the player matchups in the NFC and AFC Championship games are, those between some of the stronger head coaches in today's game are intriguing as well.
These are the three highly anticipated coaching matchups that fans would love to see meet up on Super Bowl Sunday.
Bill Belichick vs. Tom Coughlin
If there's one thing head coach Bill Belichick would love to do, it's to get his revenge against the New York Giants in this year's Super Bowl.
After going undefeated in the 2008 NFL playoffs after starting the season 18-0, Belichick has to be thinking about a possible rematch against Giants head coach Tom Coughlin in the Super Bowl.
Belichick has proven his dominance as a head coach this season, taking a team with easily the worst defense in the NFL to the AFC title game. Meanwhile, it's head coach Tom Coughlin who has proven once again that his troops are a tough team to take down come playoff time.
Bill Belichick vs. Jim Harbaugh
A New England Patriots-San Francisco 49ers Super Bowl matchup would feature two of the better defensive minds in today's game battling it out.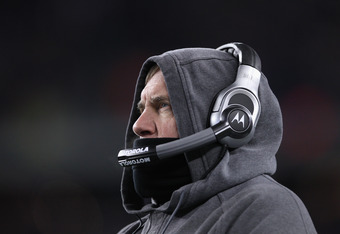 Elsa/Getty Images
Harbaugh has helped coach arguably the best defensive unit against the run in NFL history, as this defense only looks to be heating up this season.
Meanwhile, Belichick has had significantly less luck with his young team's defensive effort this season, though Brady and the offense have proven to be arguably the league's best.
John Harbaugh vs. Jim Harbaugh
Talk about a coaching matchup that would go down as one of the more memorable in NFL history.
John versus Jim is easily the most anticipated coaching matchup of any going into Championship Sunday, as a matchup between two brothers would make for a Super Bowl for the ages.
The two met earlier this season, with brother John getting the best of Jim and leading his Ravens to a key victory over the 49ers.
A much improved team in San Francisco will be sure to give these Ravens a more difficult time in this potential rematch.