NFC Championship Game 2012: New York's Front Four Will Lead Giants to Super Bowl
January 21, 2012

Al Bello/Getty Images
Did Alex Smith prove that he isn't just a game manager in just ONE game against a lousy New Orleans Saints defense? That's what I've been hearing, but I realize that fans live in the moment when it comes to sports. At least wait until he proves it again, right?
The New York Giants will provide a much different obstacle for Smith and the 49ers. That obstacle is their dynamic front four on the defensive line, a unit that will lead the Giants to a Super Bowl after their victory of the 49ers in the NFC Championship game.
Smith will see pressure all day from Osi Umenyiora, Justin Tuck, Jason Pierre-Paul and several others. They will limit Frank Gore in the run game and be all over Smith in the passing game.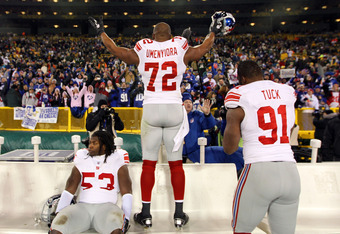 Jamie Squire/Getty Images
Umenyiora has struggled to stay on the field this season but he's healthy at the correct time. He has recorded nine sacks, Tuck has five sacks and Pierre-Paul is the team-leader with 16.5.
The Giants have 20 more sacks (48 total) than their opponents this season; 15 more than the Saints. New Orleans gets the majority of their sacks on blitzes whereas New York can drop seven and rush four. That simple change in philosophies will create a major impact in the outcome of the contest.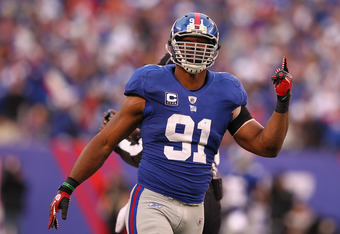 Al Bello/Getty Images
With their ability to rush the passer, their secondary, which has seen their share of struggles, has less time in coverage. However, they are coming together at the correct time as well so we are really seeing a team gel right in front of our eyes.
I'll be the first to admit that Smith showed me something that I didn't think he carried in their victory over the Saints—clutch factor. I didn't expect him to match New Orleans point-for-point and lead the 49ers to a game-winning touchdown.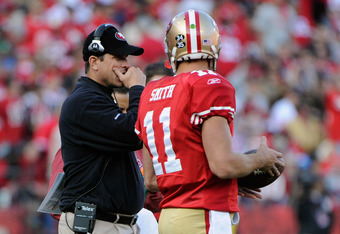 Thearon W. Henderson/Getty Images
However, just because he did this in one game doesn't necessarily mean I'm convinced that he's the real deal. One game in a seven-year career shouldn't determine whether or not you are a legit quarterback in the NFL. Look at the entire body of work and then determine what you think.
If you take his two biggest pass plays away (37 and 47) he would have finished with 215 yards against the 30th ranked passing defense in the NFL. It was just one game against a porous defense.
I'll be all on board if Smith plays well once again against a much better defense on Sunday. I just don't see it happening because of the Giants front four. They will have the biggest impact on the outcome of the game and Smith will be the first to admit it when the clock strikes double-zeroes.
The Giants will be in the Super Bowl once again.
Prediction: New York 27, 49ers 20