East-West Shrine Game 2012: Game-Changing NFL Prospects You Must Watch
January 21, 2012

David Purdy/Getty Images
Arkansas wide receiver Jarius Wright and Iowa cornerback Shaun Prater are going to be game-changers in the NFL.
If there are two players that you need to keep your eye on at the East-West Shrine Game, these two are the ones that I'd recommend.
This year's game has a fair share of recruits who have solid NFL potential, but these two really take the cake in my opinion.
They both possess the athleticism and intangibles to be high-impact players at the next level, and they both really have a chance to impact their draft stock with a good game and combine.
Let's break each player down a little bit and I'll give you a taste of what to expect.
Jarius Wright, WR, Arkansas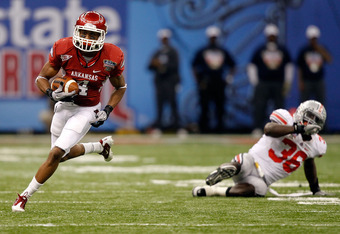 Matthew Stockman/Getty Images
Wright is quickly becoming one of my favorite "sleeper" picks in this year's draft, and I fully believe that he's going to be a game-changer in the NFL. There are a few factors that play into that though, as right now seems to be the perfect time for him to come out.
With the way the NFL is progressing—small, fast wide receivers are becoming a necessity for every team—not only are teams finding ways to create huge mismatches in the slot or coming over the middle against linebackers, but utilizing them out of the backfield, in motion and especially in special teams.
Wright fits that description perfectly.
At 5'10'', 180 pounds, he is definitely going to be a small receiver, but his breakaway speed is what makes him so dangerous. Couple that with his great hands and the ability to run after the catch and therein lies his true potential.
He reminds me a lot of Packers' wide receiver and return man Randall Cobb right away, but I think he can develop into a Percy Harvin-esque player in the NFL.
Projection: Late Second
Shaun Prater, CB, Iowa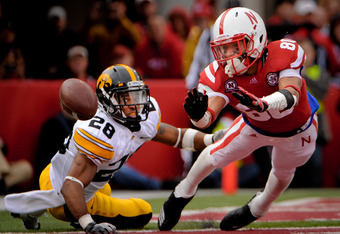 Eric Francis/Getty Images
Prater has all the necessary intangibles that you look for in a cornerback coming into the NFL, and if this draft wasn't so corner-heavy, with big names coming in the first round, he would be talked about a lot more than he is.
He has average size at 5'11'', 185 pounds, but according to Chad Reuter of NFL.com, he's really setting himself apart in practices with his quickness:
There was little doubt watching the West team Thursday that Prater had the best foot quickness and hip turn among the cornerbacks on the squad.
His speed and quickness is what will make him very intriguing to NFL teams, as is his ability to make plays on the ball. He has good ball-hawking instincts, and when he gets his hands on one, he's a threat to take it back.
With all the big corner names in the first round of the draft, Prater may end up being a steal in the early-mid rounds, as he is being somewhat undervalued.
Projection: Third