2012 NFL Mock Draft: Predicting the Top 15 Picks of the Draft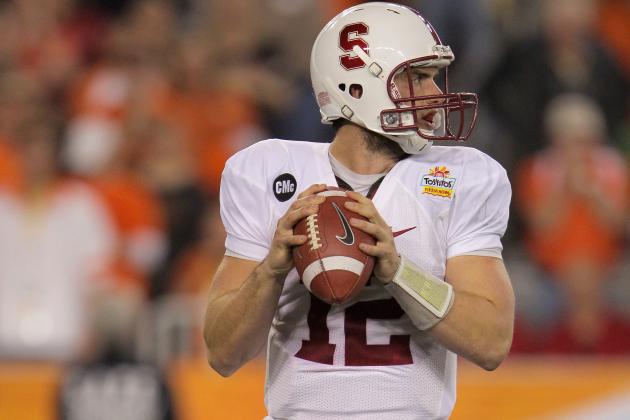 Doug Pensinger/Getty Images

When I look around on what's going on at Bleacher Report, it seems that a lot people are already doing a mock draft for the upcoming 2012 NFL draft and I feel like I'm being left out. But then I remembered that I have a computer and a Bleacher Report account, so I can go ahead and just sign in and do my mock draft.
If you've seen other mock drafts, then you already know who is going to be the No. 1 overall pick, but the rest might be a little different than you see in other mock drafts because I think differently than other people. I do not believe that everything is incredibly obvious; I believe that sometimes you have to expect the unexpected.
I have mad predictions on how the first 15 picks will go and I might even predict some trades, and like I said, expect...the unexpected.
Begin Slideshow

»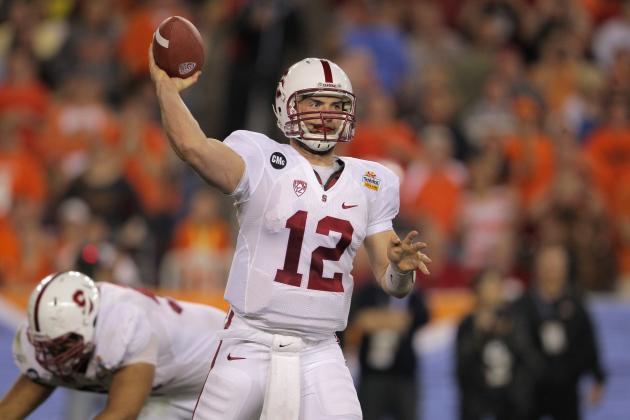 Doug Pensinger/Getty Images

Andrew Luck, Quarterback out of Stanford
OK, so this might have been expected, but I assure you that not all of these are the same. Most scouts look at Luck as a can't-miss prospect. I kind of agree.
I think Luck will be a Hall of Fame quarterback in the NFL. He has a good arm, he has poise in the pocket and he can make plays outside the pocket.
I believe that quarterbacks benefit more from sitting than they do from being thrown into the fire, so to speak.
If Peyton Manning stays and Luck sits, then I think that Luck will have an easier transition to the NFL and he won't have to face unfair scrutiny from the fans like some quarterbacks have had to face. Every quarterback needs confidence and if they don't have that confidence then they can't succeed.
Luck believes in his abilities right now, but if he struggles in his first year, he will get a lot crap from the fans and I don't know how much that will hurt his confidence going forward. He could just bounce back or he could end up like some quarterbacks who couldn't regain the confidence they needed like Ryan Leaf or David Carr.
That's why the Colts would be smart by keeping Manning just in case and letting Andrew sit and learn.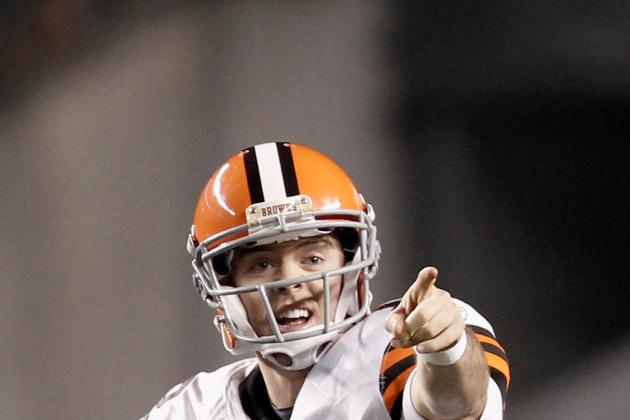 Jared Wickerham/Getty Images

Cleveland Browns
You didn't see that one coming, did you? I think that Rams will switch picks with the Browns.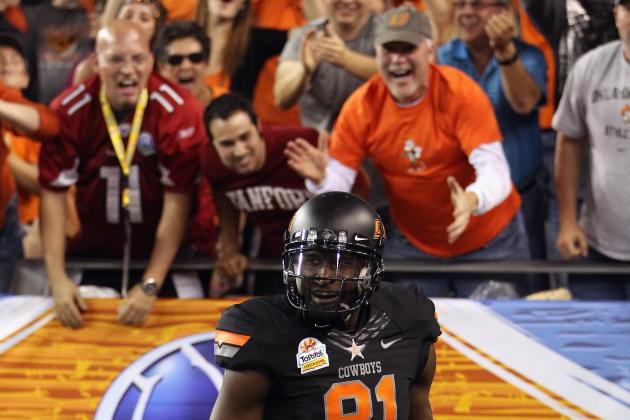 Christian Petersen/Getty Images

Justin Blackmon, Wide Receiver out of Oklahoma State
People expect Robert Griffin III to go to the Browns and I think that would be stupid. I think RG3 will be a good quarterback, but he would have the same problem that McCoy has, and that is he has nobody to throw to. You can't have a young quarterback come in and star right away, and have no weapons around him!
Cam Newton has Steve Smith, Greg Olsen and Jeremy Shockey. Andy Dalton has A.J. Green and Jerome Simpson.
I have a hard time believing that Mike Holmgren will give up on McCoy right now. I believe that McCoy will be the next Joe Montana, but even Montana needed Jerry Rice.
Justin Blackmon is a beast and I think he will be the offensive rookie of the year in the 2012-2013 season.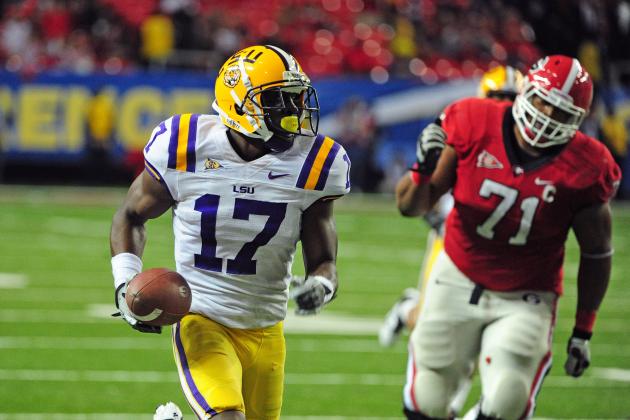 Scott Cunningham/Getty Images

Morris Claiborne, Defensive Back out of LSU
They will give Matt Kalil a strong look, but I think they will try to upgrade their secondary, and Morris Claiborne is arguably the best defensive back in the draft.
They probably would like add an offensive lineman to their roster to help protect Christian Ponder, but I think they will do that later in the draft or they might even go out and sign a free agent.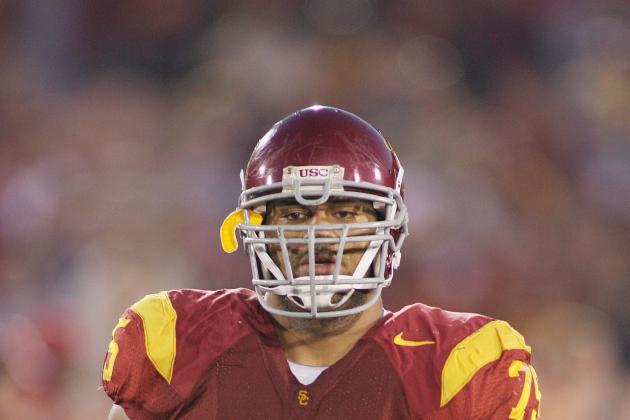 Jeff Golden/Getty Images

Matt Kalil, Offensive Tackle from USC
Jason Smith has struggled to stay healthy and the Rams need someone to protect Sam Bradford. Kalil can contribute right away and the way the Rams are right now, they are really going to need him to.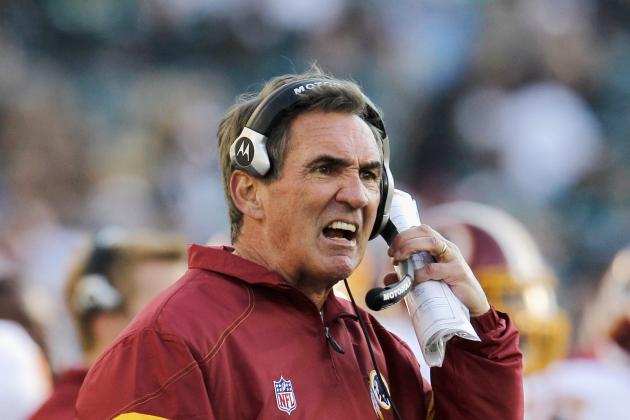 Rob Carr/Getty Images

The Washington Redskins
The Redskins are rebuilding and they are doing it the Mike Shanahan way. I think there will be a lot of teams asking for the fifth overall pick, but in the end, Washington will move up to pick No. 5.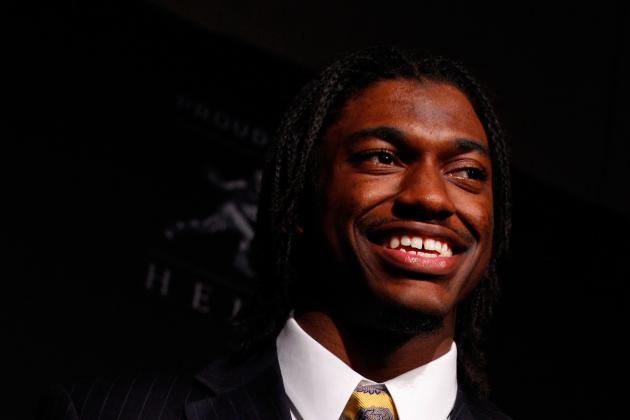 Jeff Zelevansky/Getty Images

Robert Griffin III, Quarterback out of Baylor
I believe that the Redskins have much more pressing issues than quarterback. I believe that if they get better offensive linemen, wide receivers and another defensive back, I think the Redskins can make the playoffs with Rex Grossman (and I am not joking).
But the fact is, the Redskins want and need a long-term option at the quarterback position. At 31, Grossman is only good for two or three years.
Griffin is smart, has a good arm and is very mobile. He has some issues with throwing mechanics, but Mike Shanahan has worked with a quarterback with that same issue (Jay Cutler), and it shouldn't be too big a problem for Shanahan.
I do think that the Redskins are very limited at the wide receiver position and they should sit Griffin for a year or two, not just so he can sit and learn, but also so they can keep adding weapons through the draft, while he is able to sit and watch.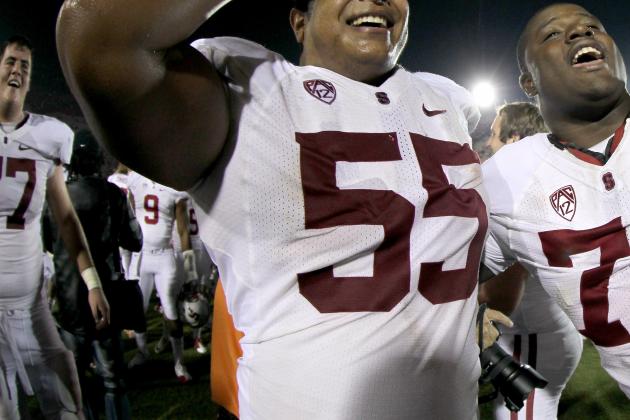 Stephen Dunn/Getty Images

Jonathan Martin, Offensive Tackle out of Stanford
I think the Bucs will surprise a lot of people and take Martin with this pick. Martin isn't the most athletic tackle, but he gets the job done. He is good pass-blocker (just ask Andrew Luck) and a run-blocker as well.
Too many times did I see Josh Freeman get flushed out of the pocket, and LeGarrette Blount get stopped in the backfield because an offensive lineman forgot who he was supposed to block.
I think Martin is a good pick here for the Bucs.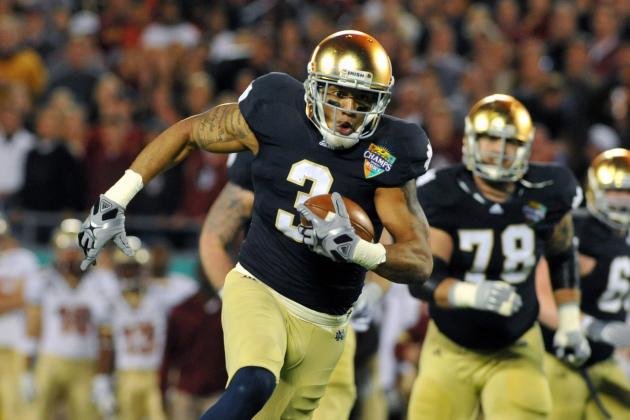 Al Messerschmidt/Getty Images

Michael Floyd, Wide Receiver out of Notre Dame
I actually believe it will be a toss-up between Floyd and Alshon Jeffery, but I think the Jags will look at the production that Floyd has and they will decide to pick him over Jeffery.
But I think it's close, because they are both very good wide receivers, both of them are tall and both have excellent hands.
But if you look at the production and experience, Floyd beats Jeffery. I don't believe you can go wrong with either of them. But I think Floyd will be a Jaguar.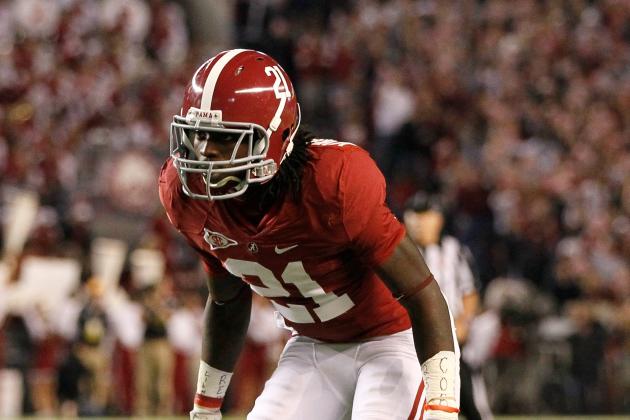 Kevin C. Cox/Getty Images

Dre Kirkpatrick, Defensive Back out of Alabama
Let's be honest—the Panthers secondary sucks. You know it, I know it, they know it. They will be tempted to draft a defensive tackle, but they won't pass on a talent like Kirkpatrick.
Doug Benc/Getty Images

Riley Reiff, Offensive Tackle out of Iowa
Jake Long didn't have too good of a season, and if the Dolphins are sticking with Matt Moore, they will need to protect him.
If Martin isn't there, then the Dolphins will have to go with the next-best tackle.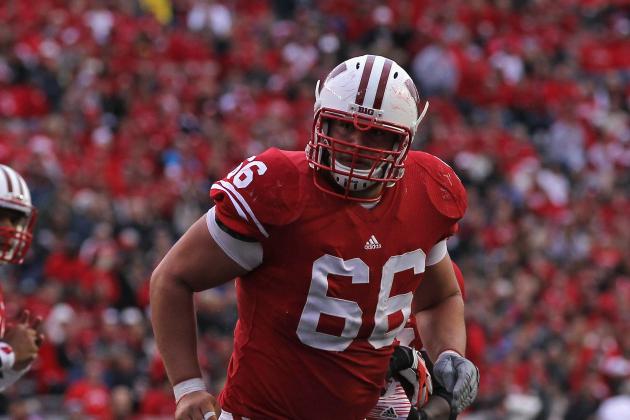 Jonathan Daniel/Getty Images

Peter Konz, Offensive Lineman out of Wisconsin
The Bills have invested a lot money in Ryan Fitzpatrick; now all they need to do is protect him. I really like Konz; I think he would be a good fit for the Bills.
The only question is whether or not the Bills organization is smart enough to realize that.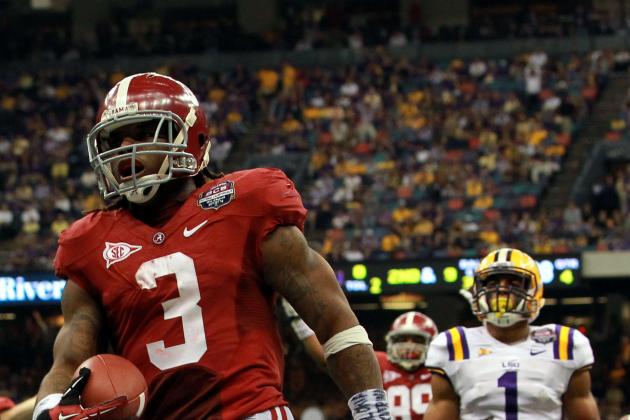 Ronald Martinez/Getty Images

Trent Richardson, Running Back out of Alabama
The Chiefs are going to need another running back and who would be better than Trent Richardson? Richardson is a monster. He is a better pro prospect than Mark Ingram in my opinion, and even if Jamaal Charles is back and healthy, Richardson can still be a big contributor for the Chiefs.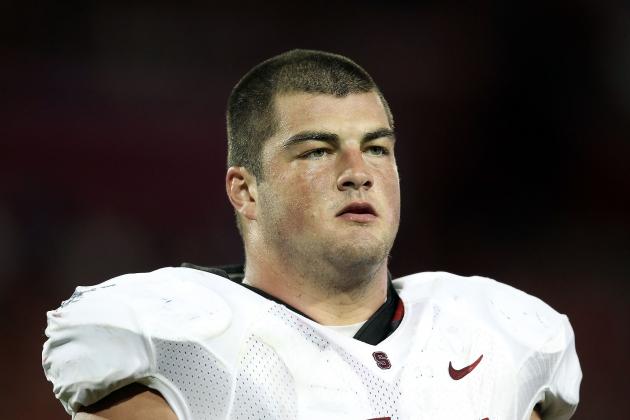 Christian Petersen/Getty Images

David DeCastro, Offensive Lineman out of Stanford
Say you want about Tarvaris Jackson, but he had a pretty good year, if you think about what people were expecting .
He needs to work on a few things in the offseason, but he is also going to need help on that offensive line, and I think DeCastro will help solidify that O-line.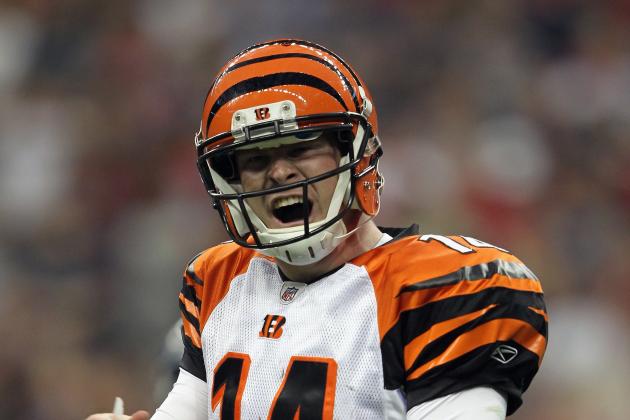 Jamie Squire/Getty Images

Cincinnati Bengals
The Cardinals will be looking for an offensive lineman and I think they can get one even if they trade down. They can get another pick since the Bengals have two first-round picks.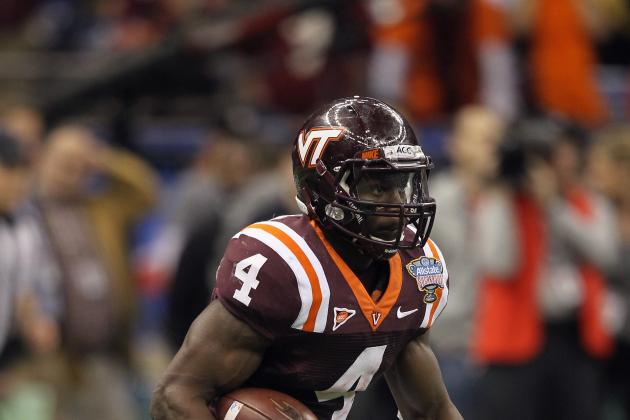 Matthew Stockman/Getty Images

David Wilson, Running Back out of Virginia Tech
Cedric Benson is a free agent, and I don't know much about Bernard Scott, so I would assume that the Bengals would be interested in taking a halfback in this year's draft.
I haven't seen enough to judge this pick, but if Wilson is as good as he has been projected, then this should be a good pick.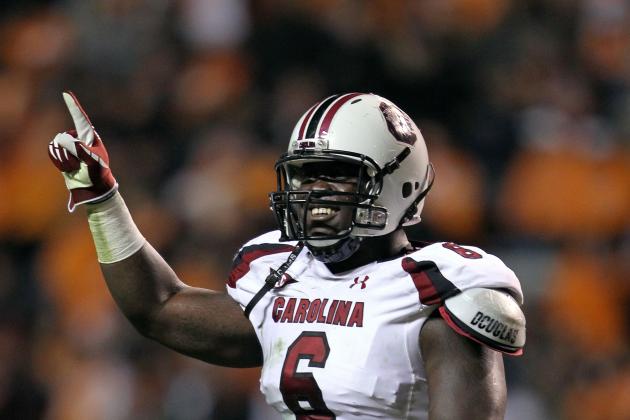 Andy Lyons/Getty Images

Melvin Ingram, Defensive End out of South Carolina
The Cowboys have a blitz-heavy defense and other then DeMarcus Ware, they don't have too many good pass-rushers.
Adding Ingram would help the Cowboys, because the better the pass rush, the better the secondary.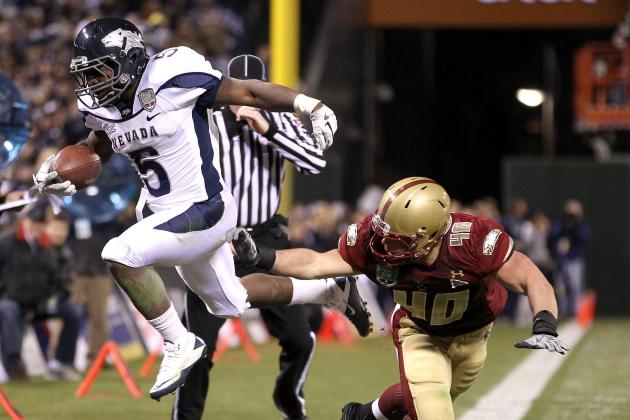 Ezra Shaw/Getty Images

Luke Kuelchy, Linebacker out of Boston College
The Eagles need major help at the linebacker position and Kuelchy would fill the need. I think the Eagles defense will get better next season, but adding Kuelchy would be a significant improvement.