2012 NFL Draft: Worst-Case Draft Scenarios for the Washington Redskins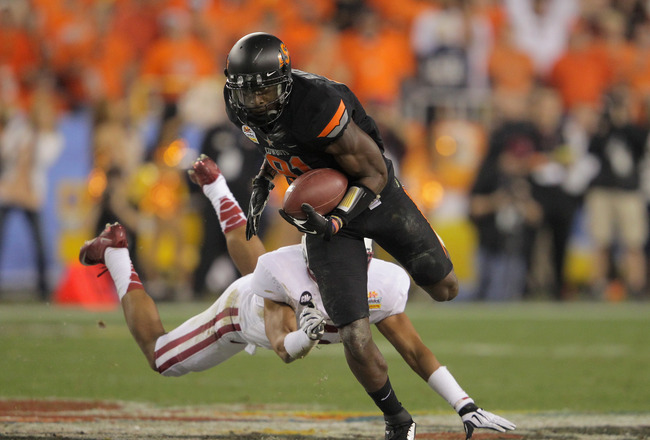 Doug Pensinger/Getty Images
Although recent reports are indicating that the Cleveland Browns—who are stacked with trade ammo—will likely not trade up in order to select Baylor's Robert Griffin III, that doesn't necessarily mean that the Heisman Trophy winner will fall into the laps of the longing Washington Redskins.
In fact, many believe that if Griffin is still on the board by the time the Browns pick at No. 4, he will likely be the new quarterback in Cleveland.
But even if the Redskins don't mortgage their picks to jump the Browns and nab RG3, there's still a ton of potential with the No. 6 pick...and perhaps even further down the board.
Suddenly, the worst-case scenario for the Washington Redskins in the 2012 NFL draft really isn't that bad at all.
Justin Blackmon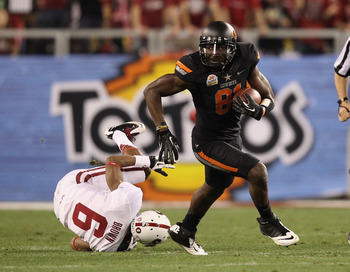 Christian Petersen/Getty Images
Although it's highly unlikely that Oklahoma State wide receiver Justin Blackmon slips to No. 6, it obviously can't be ruled out.
Easily earning the top grade for his position in this draft, Blackmon has been compared to guys like Dez Bryant and Terrell Owens. With an impressive combination of size, hands and physicality, Blackmon looks like a solid NFL prospect.
The St. Louis Rams could easily add Blackmon with the No. 2 pick in order to give Sam Bradford the weapons that he needs, but perhaps the front office thinks back to David Carr and decides to address the offensive line instead. Enter, Matt Kalil.
Next up at No. 3 would be the Minnesota Vikings, who could also use Blackmon to help their young quarterback. In order for this to work for the Redskins, Minnesota would have to consider their secondary more of a valuable position at this point and select Morris Claiborne.
The Browns then sit at No. 4 with a decision to make between Robert Griffin III and Alabama running back Trent Richardson. Although the team has needs at both positions, Cleveland takes into account the value of the pick and selects their potential franchise quarterback.
Sitting at No. 5, the Tampa Bay Buccaneers have numerous options. Although they may have had Claiborne on their mind, they could very easily address the other side of the ball and take a complete running back in Richardson. I know current starter LeGarrette Blount has impressed, but he's not a three-down back.
Finally, the Redskins await at No. 6 and Blackmon's name is literally blinking on Washington's big board.
"With the sixth pick in the 2012 NFL draft, the Washington Redskins select...Justin Blackmon."
Trent Richardson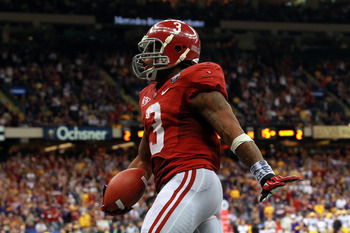 Ronald Martinez/Getty Images
Mike Shanahan has made a name for himself by taking low-risk gambles on running backs in late rounds, only to throw them into his system and see high-reward results. But very rarely does a guy like Trent Richardson come around—and he very well could be available at No. 6.
I know what you're thinking. And you're right.
Although Richardson is intriguing and fun to think about in the burgundy and gold, I don't see any chance of Shanahan going against his grain and taking a running back this high. Not to mention, the Redskins have a lot of needs to fill and this draft is a great time to do it.
For now, having confidence in Roy Helu, Tim Hightower and Evan Royster keeps Richardson off the Redskins roster.
Morris Claiborne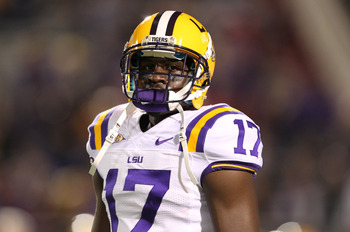 Joe Murphy/Getty Images
Last season, I thought LSU cornerback Patrick Peterson was the best thing since sliced bread. Not really, but I had a slight man crush.
Never did I think that another LSU cornerback would follow up Peterson this year and be even better. Morris Claiborne has proven me an idiot.
Some could argue that the Redskins have more pressing needs at No. 6 than addressing the cornerback position, but shutdown corners like Claiborne don't come around very often.
The Vikings could take a look at Claiborne with the No. 3 pick, but I think they ultimately go with whoever is left following the Rams pick, which will be Matt Kalil or Justin Blackmon.
Washington's biggest threat in the Claiborne sweepstakes would be the Tampa Bay Buccaneers.
Not only does Tampa have a need at the cornerback position, but a potential lockdown corner has good value with the No. 5 pick. A player like Claiborne can literally improve the entire defense.
However, if the Bucs decide to take a swing at Trent Richardson or even trade back, then the Redskins are staring at Claiborne at No. 6.
Dre Kirkpatrick
Kevin C. Cox/Getty Images
If Shanahan and the Redskins are serious about addressing the cornerback position with their top pick, then taking a good look at Alabama defensive back Dre Kirkpatrick wouldn't be a bad idea.
Assuming that the Bucs gobble up Claiborne at No. 5, Kirkpatrick would be the next-best corner on the board (in my opinion).
Kirkpatrick has great size (6'3") for the position and he is physical in coverage and in tackling. Upgrading the Redskins secondary could certainly start with a guy like Kirkpatrick.
The Redskins could probably even trade down a few spots and still be able to take Kirkpatrick before No. 14. Since being cited for marijuana possession earlier this week, Kirkpatrick's stock has been in question. Although I don't decrease Kirkpatrick's grade much following his grass citation, that doesn't mean NFL scouts won't.
I could crack a joke regarding the similarities in hobbies amongst Kirkpatrick, Fred Davis and Trent Williams, but it feels too easy. Hail.
Alshon Jeffery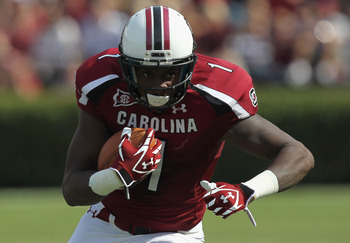 Streeter Lecka/Getty Images
From reading around, it appears that South Carolina wideout Alshon Jeffery is receiving mixed reviews. Some say he'll get fat, some say he doesn't have the speed and some question whether Jeffery is anything more than an oversized possession receiver. In my opinion, Jeffery has the potential to be dominant in the NFL.
If the Redskins are interested in addressing the wide receiver position at No. 6 but don't have the opportunity to nab Justin Blackmon, then Jeffery is an option.
Earlier in the year, I had Jeffery ranked as my No. 2 receiver in this draft. As the season progressed, Jeffery moved around on my board (both up and down) and still remains in the top five. If the Redskins like his potential, they could likely trade back with someone in the middle of the round and still select Jeffery.
Riley Reiff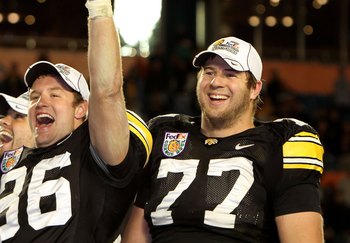 Doug Benc/Getty Images
"Finally this idiot mentions an offensive lineman!"
I know what you were thinking. And I feel the same way. Sort of.
Near the end of the season—after being terrible for a majority of it—the offensive line started to look better. I know it sounds crazy, but I thought they were playing pretty good football in the last few weeks of a miserable year.
Still, the Redskins need help along the offensive trench. Right tackle Jammal Brown was re-signed with plans of him playing solid football for the next few years. But as the season went on, Brown looked bothered—almost as if that pesky hip was getting to him.
Without Matt Kalil on the board, Iowa's Riley Reiff is arguably the most athletic tackle prospect remaining. Reiff has the potential to be a left tackle in the NFL, but he could come in and start immediately at right tackle for the Redskins.
Although I believe No. 6 to be a little high for Reiff, I do feel like he's a safe pick and worthy of a top-10 selection. He'd fill a need for the Redskins and I don't think fans would be disappointed.
Jonathan Martin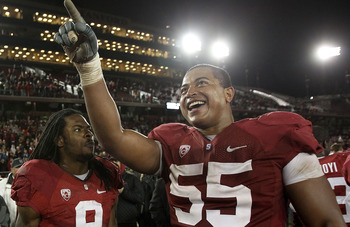 Ezra Shaw/Getty Images
While on the topic, Stanford's Jonathan Martin should also be listed as one of the top tackles on the Redskins' big board in 2012.
Martin has done a great job of protecting Andrew Luck's blind side in Palo Alto and he will be doing the same for another quarterback in the NFL.
Like Reiff, Martin is another guy with potential to play left tackle, but with the immediate ability to start at right tackle as a rookie.
While at Stanford, Martin was fortunate enough to have one of the best guard prospects in David DeCastro playing by his side. Some (including myself) are curious to see Martin's effectiveness without a top-notch guard like DeCastro on his inside shoulder—but I think he's a top-15 prospect regardless.
Zach Brown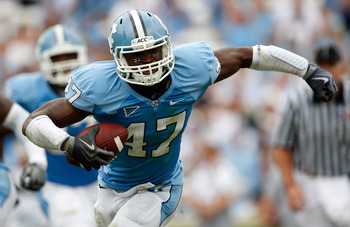 Streeter Lecka/Getty Images
It'd be a huge reach at No. 6, but North Carolina linebacker Zach Brown is one of my favorite prospects in this draft.
Brown has great instincts, he's extremely fast and he has a relentless pursuit to the quarterback. Add that to the fact that the Redskins are in need of linebacker help and Brown makes perfect sense as an addition to the inside.
Brown is undoubtedly a first-round talent, but he'll likely be available until about pick No. 26—with about four or five teams taking a real hard look at him.
In the case that Shanahan likes Brown as much as I do, I'd look for a Kerrigan-esque type trade-back of the No. 6 pick.
David DeCastro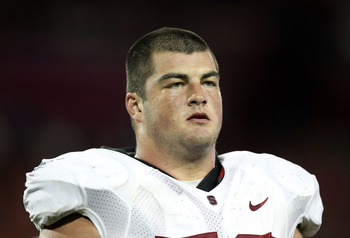 Christian Petersen/Getty Images
If the Redskins are interested in trading back, doing so to land Stanford's David DeCastro in the middle of the first round would be ideal.
DeCastro is one of the best guard prospects we've seen in a while and he's the type of offensive lineman that can improve the entire unit.
Combining his bulldozing run blocking and his more-than-effective pass blocking, DeCastro would fill a need along the Redskins offensive front.
DeCastro will be a very hot commodity in this draft and the Redskins may even be forced to take him in the top 12 if they like him enough.
Trade, Trade, Trade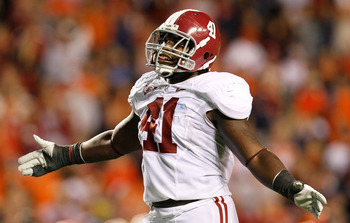 Kevin C. Cox/Getty Images
I preach the opinion that there's tons of talent at the Redskins' No. 6 draft spot, even if Robert Griffin III is off the board. But the Redskins could certainly trade back and not receive a lot of criticism.
What if the Dallas Cowboys are in love with Dre Kirkpatrick and ignore his latest ganja troubles? Perhaps the Cowboys trade down to No. 6 and make sure that the Carolina Panthers or Buffalo Bills don't snag him.
I believe the Cowboys will really fall in love with David DeCastro—so much so that they may think he's worth a No. 6 pick.
Not to pick on the Cowboys, but what if they like the idea of Courtney Upshaw coming off the edge and they know there's no chance that he makes it past Kansas City at No. 12? A trade with the Redskins to get down to No. 6 is an option.
If the Detroit Lions really want to address the inside linebacker position and they happen to rate Zach Brown atop their board, a trade could happen there.
Crazy idea, but what if the Browns thought the world of Justin Blackmon (after selecting RG3) and they were willing to mortgage enough to land two top-10 picks? If I'm the Redskins, I answer that phone call.
Obviously, these possibilities are endless. Crazy things can be predicted, and even crazier things can happen. From an entertainment standpoint, the Redskins are right in the thick of it.
Shae Cronin is the lead editor at BetBigDC.com and a Redskins Featured Columnist for BleacherReport. Follow him on Twitter, @BetBigDC
Keep Reading

Washington Redskins: Like this team?