NFL Draft: Top 5 Quarterback Prospects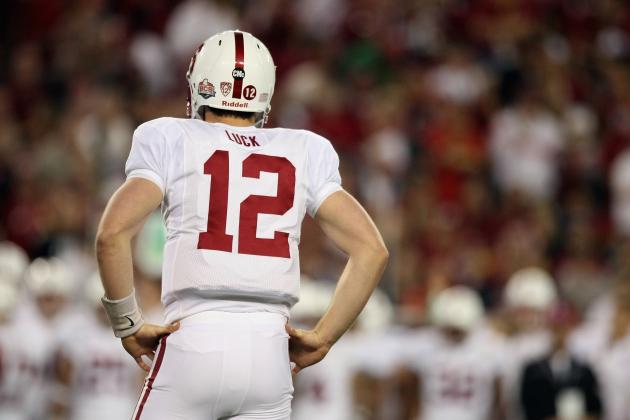 Donald Miralle/Getty Images

We are now almost a week away from the 2012 Senior Bowl and the deadline for underclassmen to declare has passed. Between now and the NFL Draft I will be posting my position rankings—and today we will start with quarterback.
The 2012 class looked to be very deep at quarterback before Matt Barkley and Landry Jones decided to stay in school. The top of the class is still very good with Andrew Luck and Robert Griffin, but I'm not sure anyone else in the class is deserving of a first round grade. It's now time to look at the Top Five quarterbacks in the 2012 class.
Begin Slideshow

»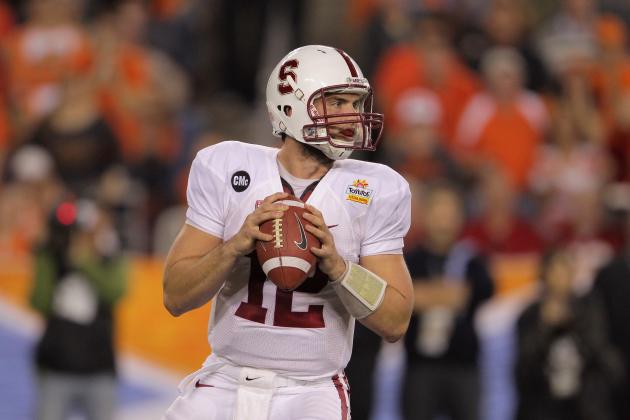 Doug Pensinger/Getty Images

Height/Weight: 6-4 / 235
40 Time: 4.73
Projected Round: No. 1 Pick
There's no question that Andrew Luck is the most complete quarterback prospect in the 2012 class. Luck played in a pro-type offense at Stanford, which helps make him more prepared for the NFL than any other quarterback in his class.
Luck shows great footwork on his drops. He also does a good job of setting his feet and facing his body towards the target on the run.
As impressive is Luck's decision-making at the line of scrimmage. Much like Peyton Manning for the Colts, Luck acted as a coach on the field at Stanford. He was in charge of the audibles at the line of scrimmage, which you don't see a whole lot at the college level.
The only negative I can really think of for Luck are whether or not the expectations are too high for him. A lot of people are already projecting him to win Super Bowls and to be a Hall of Famer, and that's a lot to live up to for a guy who has never taken a snap in the NFL.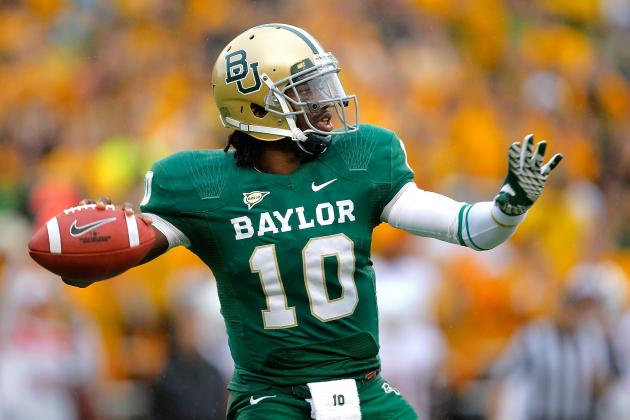 Sarah Glenn/Getty Images

Height/Weight: 6-2 / 220
40 Time: 4.52
Projected Round: Top 5 Pick
No player in the country has risen up the draft boards as much as Robert Griffin. Going into the season most people viewed RGIII solely as an athletic quarterback and didn't really consider him as an NFL-type player—but he quickly proved everyone wrong.
Griffin has great accuracy on every type of throw. His deep ball accuracy particularly stood out to me this year. Griffin consistently stretched the field in every game this year yet still completed 72 percent of his passes. Griffin also showed good accuracy on the run.
I think Griffin could be a very good NFL quarterback, but I do have a few concerns. His size and possible injury issues make me worry about him some what. Griffin took a lot of hits in college and I'm interested to see how he holds up in the NFL.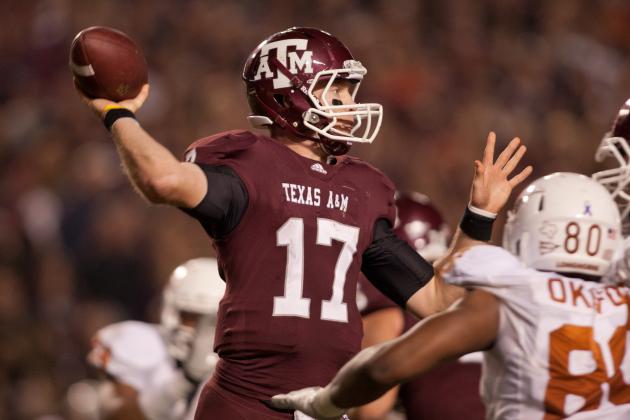 Darren Carroll/Getty Images

Height/Weight: 6-4 / 222
40 Time: 4.65
Projected Round: Early 2nd Round
Ryan Tannehill has probably been the biggest beneficiary of Matt Barkley and Landry Jones' decision to stay in college. Tannehill is now being looked at as a possible first round draft pick, but I think that might be a little high for him.
Tannehill is still learning the quarterback position. This was his first full year as the starting quarterback for Texas A&M—Tannehill played receiver his first two and a half seasons with the Aggies.
I think this definitely makes Tannehill a long term prospect, but I don't see him stepping in his first year and having success.
Being an ex-WR, Tannehill has good athleticism and speed for a quarterback. He also has good accuracy on short and intermediate passes. But Tannehill didn't throw the ball deep a lot at A&M, and I was hoping to see more of him at the Senior Bowl.
Unfortunately Tannehill will miss the Senior Bowl due to a broken foot. This could hurt him some as he still has a lot to prove, but I think he will still be an early second round pick.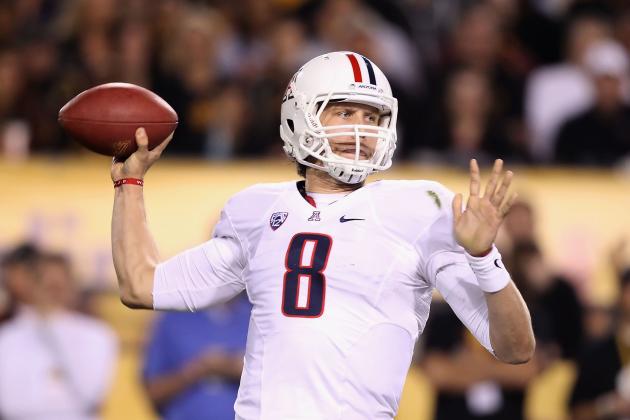 Christian Petersen/Getty Images

Height/Weight: 6-5 / 240
40 Time: 4.96
Projected Round: Late 2nd Round or Early 3rd Round
I'll be honest here—I've seen less of Nick Foles then the rest of the quarterbacks on the list, but I think he has potential. Foles has good size and definitely looks like an NFL quarterback. He has good arm strength, but it's not elite.
From the small amount of film I've watched on Foles, he appears to have good pocket presence and he's very accurate on short passes.
Foles has a longer throwing motion which makes the ball arrive a little later on deeper passes, however. Good coaching could help make his release a little quicker which is important in the NFL.
Foles isn't the most athletic quarterback on the list, and I'm interested to see him more under center. At Arizona he took most of the snaps in the shotgun formation, so he could need some time to adjust to the NFL.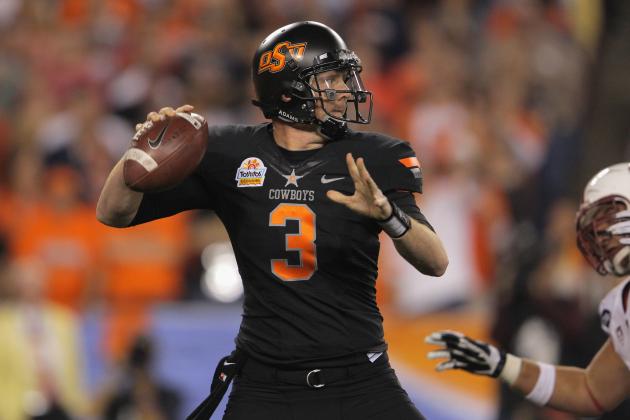 Doug Pensinger/Getty Images

Height/Weight: 6-4 / 218
40 Time: 4.92
Projected Round: 3rd Round
Brandon Weeden is 28 years old, which I think hurts his draft stock more then it helps him. By the time Weeden adjusts to the NFL he will be in his 30's and will almost be out of his prime.
Weeden has good size and arm strength. He also shows good touch on fade passes. Throwing to Justin Blackmon certainly doesn't hurt, though.
I think if Weeden was younger he could be a late first round or an early second round pick, but as he is already 28 already I think he's more of a third round-type prospect.