East-West Shrine Game 2012 Roster: John Brantley and More QBs Who Must Shine
January 21, 2012

Scott Halleran/Getty Images
The East-West Shrine Game is an awesome opportunity for fringe quarterback prospects to make a major statement on a big stage. Their performances today could be the difference between being selected in the middle rounds or not being picked at all.
As you can see of the full roster listing, there's no shortage of players who will be looking to stand out, but here are three signal-callers under a lot of pressure to have a good showing.
John Brantley (Florida)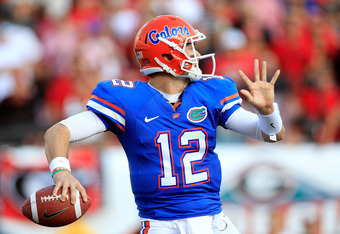 Sam Greenwood/Getty Images
It's never easy to replace a legend like Brantley did with Tim Tebow at Florida. He struggled in his first season as a starter, but made some nice strides during his senior campaign, which put him back on the NFL radar. Now he must make the most of his chances.
Scouts will be looking to see how he moves around the pocket after taking a lot of hits as a member of the Gators. Above all else, Brantley wants to illustrate that there's still some untapped potential from when he was a highly-touted recruit out of high school.
Chandler Harnish (Northern Illinois)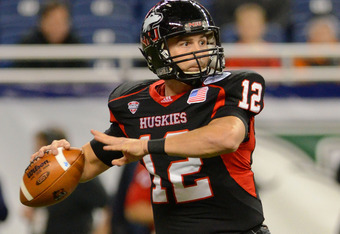 Mark A. Cunningham/Getty Images
Harnish didn't receive much national attention while he was tearing up the Mid-American Conference with Northern Illinois. He gained over 4,500 total yards in his final season with the Huskies while leading the team to a MAC Championship and bowl victory.
His dual-threat abilities are what really intrigue scouts after the success of Cam Newton in his rookie year. While Harnish would need a couple seasons of grooming to reach that level, it's tough to pass up that type of outlook in the middle rounds.
Tyler Hansen (Colorado)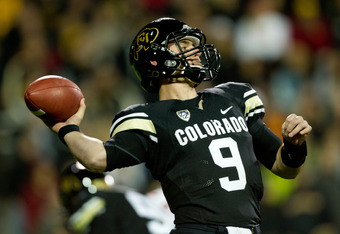 Justin Edmonds/Getty Images
Hansen was pretty much an afterthought until some good practices caused talent evaluators to take another look. A strong outing will keep him in the picture for the time being, but a bad performance will drop him out of draft contention once again.
The biggest problem he'll have to overcome is proving he can still make plays despite his size. He's listed at just a tad over six feet, which is generally too small to play in the NFL unless the QB is a rare talent. As of now, Hansen hasn't proven he fits that category, making this game vital to his hopes.