Holistic Analysis to Improving the Cleveland Browns Offense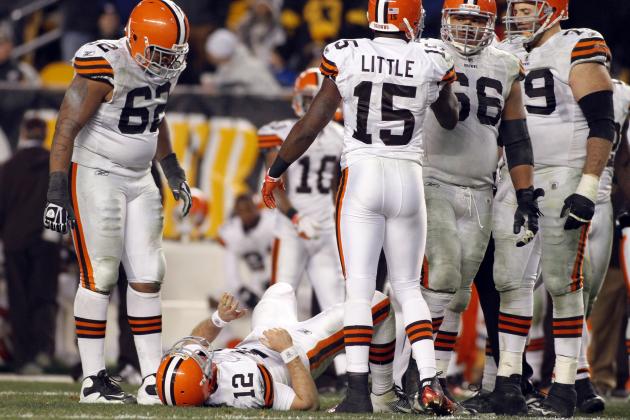 Justin K. Aller/Getty Images

As the Browns' brass looks ahead to this 2012 offseason, it is inherently clear that the emphasis will be on addressing the woes of a dysfunctional offense.
In his first two drafts, general manager Tom Heckert has flashed moments of brilliance. There have also been blunders. He took Montario Hardesty and Owen Marecic, along with some questionable choices in unproven tight end Jordan Cameron or safety in T.J. Ward.
Many believed Ward could have been taken lower, but since the return (or expansion) of the Cleveland Browns franchise in 1999, it would be a difficult argument to make in claiming any GM has done a better job than Heckert so far.
Why do I bring this up?
Simply to establish that for the sake of this article, I will give Tom Heckert the benefit of the doubt on making player personnel decisions. He, not Mike Holmgren, is the person who can make the most impact on improving the level of talent on this roster.
And make no mistakes about it—there are glaring problems with this team.
While Dick Jauron's 4-3 defense was one of the best in the league in the most important category there is—points allowed per game—they were exposed on several occasions by teams with power running games, particularly against division opponents Cincinnati and Baltimore.
Since his hiring, Tom Heckert has shown a commitment to defense and he had a track record for it previously at Philadelphia. Despite adding young talent like Joe Haden, T.J. Ward, Phil Taylor and Jabaal Sheard, there are still needs on this side of the ball.
But as many of the playoff teams this year have proven, you don't always need a great defense to win football games in a high-octane, offensively driven league. The Browns have limited their opponents with an improving defense, but they can't win games if they can't score touchdowns.
In a crucial offseason, Heckert must look to commit to improving the offense. Many suggest taking playmakers like Baylor dual threat quarterback Robert Griffin III, Oklahoma State wide receiver Justin Blackmon or even Alabama running back Trent Richardson will solve all the offensive problems.
However, the Browns must look at the offense holistically and seek to make economical decisions, given the finite opportunities to improve in the offseason. There are many needs, but they all play off of each other.
Let's take a look at how the offense could work.
Begin Slideshow

»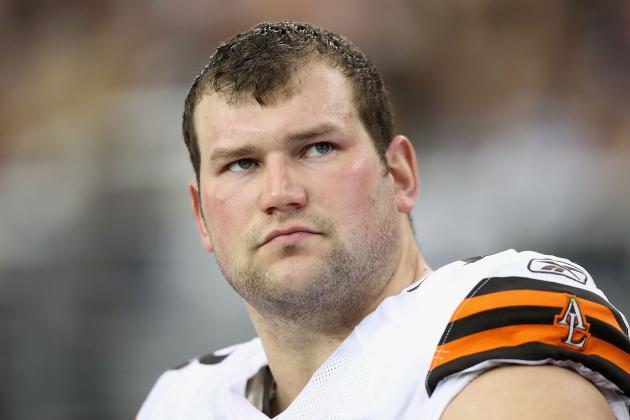 Christian Petersen/Getty Images

This is where it all should start.
Say what you want about whether the NFL should be an old school grind it out running league or the new school precision air-strike passing league, but the one area of an offense that transcends this issue is the offensive line.
Whether you're protecting a quarterback to give him time to survey the field and look for an open receiver or you're simply trying to punch an opposing defense in the mouth with a hard-nosed running game, having an offensive line that can control the line of scrimmage is essential to getting into a rhythm on offense.
Good
Anchors
Joe Thomas had a down year this season but since being taken with the No. 3 overall pick, he has proven to be one of the best in the league. Michael Oher, who was honored in a movie as a good left tackle, has actually been demoted to right tackle. But, Joe Thomas is truly one of the best in football at protecting the blind side against elite defensive ends.
Add in an above average center in Alex Mack and a healthy Eric Steinbach returning to the offensive front, and you have three out of the five positions solidified.
Depth
Outside of the anchors already in place, there is relatively good depth having both Shawn Lauvao and Jason Pinkston competing for the right guard position. Being able to rotate one or the other off the bench is a nice luxury.
Bad
Right Tackle
Plain and simple: This is the glaring weak link in the offensive line. The running game was hampered by injuries to the running backs and Steinbach, and the passing game was hurt by Tony Pashos getting beat off the edge by quick pass-rushers.
Fixing It
The good news for Browns fans is that the offensive line could go from battered and struggling to elite in a hurry with a bit of luck and a sound player personnel decision.
Getting Steinbach back to full health is crucial. If he can get back to the level he played just a year ago, both the running game and passing game will benefit. The right tackle position can be upgraded either through free agency or with the No. 22 or No. 37 pick in the coming draft.
Heckert will have to determine whether a high level rookie tackle might fall preferably to the No. 37 pick, and if so, if he perform better than an available free agent. Obviously addressing this need with an early second-round pick would be the more affordable option, but draft picks are invaluable and might be better spent on other holes.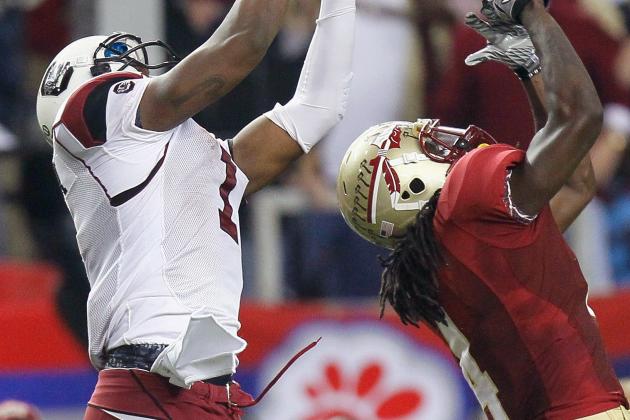 Kevin C. Cox/Getty Images

The NFL is a quarterback-driven league, and it is hard to refute this claim based on numbers.
Serviceable quarterbacks like Alex Smith and Joe Flacco prove that having an elite quarterback is not always necessary, however, every team in the NFL wants an elite quarterback, and rightfully so. Still I want to make the case that having truly good receivers is an important part of developing an offense that works holistically.
We've already looked at the offensive line, which I believe is the true foundation to making all other parts of an offense work. They stand alone, and while the timing and rhythm of a quarterback can make things easier on the line, their performance is not dependent on anyone except for each other.
When it comes to the skilled position players, however, there is a high level of interdependence.
How does the receiver position benefit other positions? A deep threat receiver plays an important role in opening up the opposing defense. By stretching the field and forcing a defense to respect the threat of a big play, it opens up the running game and discourages all out blitzing schemes. Lets take a look at the Browns' receiving situation.
Good
Greg Little
Lets be honest: There aren't a lot of great things to say about the Browns when it comes to the receivers. The true highlight of the season was seeing that Greg Little indeed could be a playmaker in the NFL.
He's big, physical and can fight the ball away from defenders on 50/50 balls. To be fair, he had his share of dropped passes, which needs to be addressed, but it appears that Heckert's gamble on spending a second-round pick on a receiver who sat out the previous season may have paid off.
Evan Moore
You may be confused as to why Evan Moore's name is listed under the good for receivers because he is a tight end. While Moore is a huge 6'6" target who can operate in and around linebackers in the middle of the field, his struggles at run blocking have limited his opportunities to be on the field because opposing defenses know that chances are the play will be a pass.
Still, his struggles to be a versatile tight end don't take away from him having perhaps the best hands on the team. When it comes to goal line situations, having a guy like Moore to throw the ball to up high or in traffic is a luxury that any quarterback would love to have.
Bad
Speed
Right now the most pressing need for the Browns receiving corps is to add a deep threat who can get down the field in a hurry and force opposing safeties to play away from the line of scrimmage. There simply is not a guy on this team who demands respect on a deep ball on any given play.
Depth
The Browns receiving corp as it stands presently is not a deep bunch. If you were to rank them just based on an eye test it would probably go Little, Norwood, Cribbs and Massaquoi.
This, of course, excludes Moore because he is technically a tight end, but if they were to put him in at the slot receiver position he would probably be the second-highest ranked on the team. Massaquoi has been a disappointment for a second-round pick and Cribbs is not truly a polished receiver as much as a natural athlete with playmaking potential. This is not encouraging to say the least.
Fixing It
The good news for Browns fans is that the receiver position is not as far off as it may appear. Similar to the offensive line situation, there are moves that can be made to address this issue in a hurry and the Browns have some opportunities with several draft picks and cap space this offseason.
Free agency will probably supplement the need to draft a receiver. While I wouldn't expect the Browns to pursue a so-called No. 1 receiver through free agency (forget Marques Colston more than likely), its possible they could land another No. 2 or No. 3 caliber guy to pair with Little.
And then you have the draft.
This draft has some depth at receiver. Justin Blackmon is considered by many to be the top prospect at the position and as a highly decorated guy in college, its hard to argue. Still, he lacks the kind of height and speed you normally desire for a Top Five draft pick at his position.
His hands, route running and physicality are all reasons to consider taking him, and it would be difficult to imagine him falling out of the Top Five this year, but it appears to me that in this guy is a receiver who is not all that much different from Greg Little.
After Blackmon, there are a small handful of receivers who look to be potential first-round picks. Kendall Wright put up electric numbers, thanks to playing with Robert Griffin III, and he has elite speed that could stretch the field. His size is lacking at 5'10" and 190lbs.
Alshon Jeffery (pictured above) possesses above average size and would be the kind of big target who could overcome a poorly thrown ball over the top of defenders. The margin of error for a quarterback increases with a guy like Jeffery compared to Wright. Because he played with a below average quarterback, his numbers were not spectacular, but he could do damage in the NFL and be had for a Top 10 or 15 pick, potentially.
Finally there is Michael Floyd out of Notre Dame. This is perhaps the most NFL-ready receiver in the draft. He's big and physical at 6'3" and 225lbs., and he played in a pro-style offense in college.
He, like Jeffery, could go as high as the Top 10 or could slip into the back end of the first round. If the Browns have a chance to take any of these guys at No. 22 or trade up from that spot, it could make a huge impact in opening up the offense and creating trouble for opposing defenses.
Of course, the kicker is that adding any one of these guys makes Greg Little even better if he no longer is the primary guy that defenses can key in on. He can slide back and go from being a capable No. 1 receiver to a star No. 2 receiver.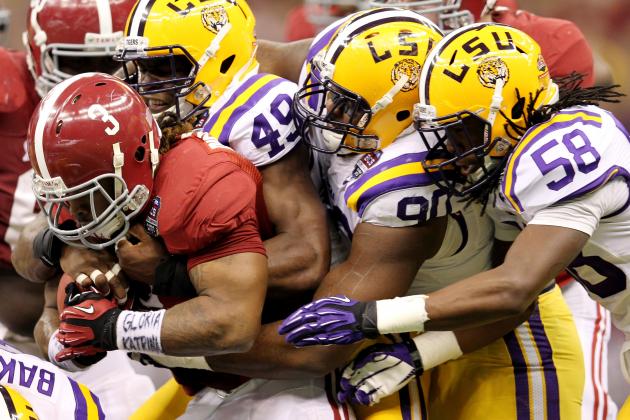 Andy Lyons/Getty Images

The offensive line is an independent foundation on an offense that benefits both the running game and passing game. The running game has the potential to be just as much the best friend to the passing game as the passing game is to it.
When an offense has the ability to run the ball effectively, the opposing defense must commit more men to the "box," meaning linebackers and safeties cheat in close to the line of scrimmage to try and fill in running lanes to prevent the big gain. This allows a team with an elite deep threat receiver to burn coverage over the top, particularly on play action because opposing safeties cannot commit to dropping in coverage until they establish that the play is not a run.
Likewise, a running game benefits from having a deep threat receiver because opposing defenses must respect the threat of a long pass. This opens up running lanes and creates the opportunity for a big gain on a draw play or screen to the running back.
I won't even get in to the good or bad in evaluating the running game of the Browns, because it is as simple as needing to make a decision on Peyton Hillis and having depth at the position.
Hillis is going to demand big money, but after just one season with high productivity followed by a year where he couldn't stay healthy, Hillis' stock may not be as high as he hopes. If the price is right for the Browns, it makes sense to re-sign the bruising running back. He has a physical style of running that forces a defense to commit extra men to stuffing the run.
It also means he needs another capable running back to spell him in order to stay healthy. While Brandon Jackson should be healthy this coming season, he is not nearly the threat on the ground that Hillis can be and will not command as much respect.
He is perhaps best suited as a third running back, who provides a change of pace and has good hands.
Free agency does have some possible options, but the coveted Ray Rice will come at a high price and could very well be franchised by the Ravens. Depending on the combine and evaluation process ahead, Trent Richardson of Alabama could be the Top 10 pick that some have projected him to be, or he could fall to the mid-late first round.
If the Browns find themselves in the position to draft a guy like Richardson at No. 22 or trade up a few spots to get him, it would be a no-brainer. The ideal situation would be to re-sign Hillis if the price is right and draft Richardson with the second of the first-round picks to create a smash mouth rotation of running backs that will force opposing defenses to respect the run, opening up the passing game over the top.
Getting Richardson would more than likely mean giving up the No. 37 pick to move up from No. 22 to select him. Cincinnati would benefit from finding a rookie running back to compliment their young quarterback and receiver.
With several needs that must be addressed, Heckert's willingness to give up additional picks to move up to select Richardson would be predicated on what needs he can fill through free agency and their decisions on who to take with the No. 4 pick. If they have the option and decide to select Griffin at that pick, they may look to address the receiver position with No. 22 rather than look at the possibility of Richardson.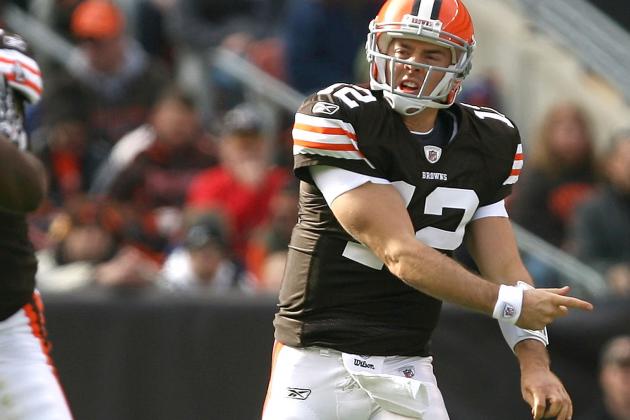 Matt Sullivan/Getty Images

Finally to the fun position.
It's the one that the media and fans hitch their wagons to. The quarterback is the guy who gets the most praise when a team is winning and the most criticism when they are losing. He is either savior or scapegoat. Right now in Cleveland, the starter finds himself playing the role of scapegoat.
I don't need to go in to explaining the lack of continuity and success out of the quarterback position since the return of the franchise as it has been well documented. Before you write off my analysis of Colt McCoy, understand these two things: 1. I wanted the Browns to draft him in the early second round and 2. I feel like he must perform better to remain a starter.
Colt McCoy is certainly a polarizing figure in the Cleveland sports world because on one side, there is a guy who is easy to embrace: Colt the young man, the leader who won more games than anybody in college, the high-character guy who seems to be willing to work harder than anybody in football to be the best he can be.
On the other hand, you have Colt the quarterback, who at times flashes brilliance and toughness, but at other times looks lost, makes bad decisions and under throws receivers.
One thing is certain: To win a Super Bowl it takes a powerful sports car, and you don't let just anybody drive it. Choosing a quarterback who can orchestrate the offense, take care of the football and lead his teammates in the midst of adversity with a calm and confident demeanor becomes instrumental.
It's time to evaluate Colt McCoy, but to do so we'll make the assumption that the other positions of need have been addressed. This allows for a fair evaluation that can determine whether Colt can be, or should be the guy for this team.
Good
Intangibles
This characteristic has been beaten to death when talking about McCoy. He shows leadership, charisma, confidence and passion. In a quarterback, you want all of these things. Colt seems to possess all of the intangibles you could want at the position, but intangibles alone do not produce touchdowns.
Bad
Arm Strength
In a pass heavy league, it is important to be able to throw the ball accurately and with velocity in order to fit it into tight windows. NFL secondaries are simply too good at closing on the ball to afford a quarterback enough time to throw the ball without velocity.
This is not so much an issue of being able to throw the football far as opposed to hard. With the amount of time a quarterback is typically given in the pocket to survey the field, there is rarely a need to complete a pass of over 50 yards through the air.
This is certainly something that happens from time to time, but while many question Colt's arm strength, he is capable of throwing the ball far enough. The real issue is that when throwing the deep ball, Colt does not throw the ball with great velocity which gives defenders the opportunity to recover and close on the football. That makes it difficult to complete the pass, especially to average or below average receivers.
Height
This is probably the second most often discussed weakness of McCoy, and it does have at least some merit. It is important for a quarterback to be able to see over the offensive line and throw over the outstretched hands of defensive linemen.
Being tall is not an absolute necessity, as Drew Brees has demonstrated, but it does help. Shorter quarterbacks must find ways to see passing lanes, perhaps by moving side to side in the pocket. While quarterbacks such as Colt McCoy and Baylor's Robert Griffin III lack above average height, they are mobile and have excellent footwork to create opportunities to find open receivers.
Fixing It
There are a number of directions the Browns can go with the quarterback position. Tom Heckert has stopped short of committing to McCoy absolutely. Instead, he chose to state that right now Colt would be the starting quarterback. This leaves room for adding another quarterback through free agency or the draft.
Draft
There are really only three ways the draft can go. Obviously the first would be to spend the No. 4 overall pick (or trade up) to draft Robert Griffin III. If Heckert believes that Griffin is far and above a better player at the position than McCoy, it will be worth every penny to take him this high.
On the other hand, even if he is only slightly better, it presents the economic problem of spending a high pick on a quarterback, which means the team cannot address other positions such as receiver with a Top Five talent.
If Heckert believes McCoy can be a Super Bowl-winning quarterback, it would seem more prudent to let another team draft Griffin even if he too is a Super Bowl caliber quarterback. If McCoy can be the guy, there is the opportunity to trade down from the No. 4 pick to a team looking to take Griffin, and while they certainly do not want to drop out of the Top 10, they can demand a high price to a desperate team looking to move up even a few spots.
The second scenario is to draft Ryan Tannehill, perhaps with the No. 22 pick or trading up a few spots. While drafting Tannehill will not cost the Browns a Top Five pick or as much cap space, it does create a situation where the team must look toward starting their first-round rookie quarterback without the luxury of knowing if he is ready to step in right away.
Tannehill is a curious prospect because he is physically gifted but rough around the edges. This option could be potentially hazardous—the possibility of Colt McCoy being the better option is more likely. Still, a team can never have too many good quarterbacks because they hold value through the trade market and coming off the bench.
So if Heckert feels Tannehill is worth a first-round pick and available, it is certainly worth considering.
Finally, there is the option of drafting a quarterback in a later round. This would cost far less and allow the team to address other needs with earlier picks, but this would replicate the draft in which Colt McCoy was drafted in the third round in the first place. A later round quarterback could have the potential to be a Super Bowl-caliber guy, but it is less likely and would undoubtedly require more patience in developing a raw prospect.
Free Agency
This year, the Browns have a considerable amount of cap space to work with. The option of free agency is at least in play at the quarterback position. Green Bay backup Matt Flynn is by far the most sought after free agent quarterback—unless Peyton Manning is released by the Colts, which at this point seems unlikely.
On one hand, free agency allows the Browns to acquire an experienced NFL quarterback without wasting a draft pick. On the other, it means paying a hefty price as a result of teams trying to outbid each other. If Green Bay applies the franchise tag to Flynn, it would cost the Browns a valuable draft pick anyway and there is no guarantee that his limited appearances will translate to winning a great deal of games in the league.
Stick with Colt
This option is very possible and for good reason.
While this past season saw McCoy seemingly backslide, it can in part be attributed to the injury to Steinbach which hurt pass protection as well as the running game, a new system being put in to place without a full offseason to develop it and key injuries to Peyton Hillis which made it difficult to run the ball effectively and control the time of possession.
Sticking with Colt only makes sense—if given the right circumstances, he can win a Super Bowl. As we've already discussed, the only way to win football games consistently is to score touchdowns.
With a healthy offensive line, an upgraded right tackle, a deep threat receiver to keep defenses from stacking the box with safeties, a steady running game that will benefit from the return of Steinbach and the threat of a big play receiver which keeps the defense from playing up to stop the run, Colt McCoy could potentially win a lot of football games.
On top of this, sticking with McCoy means having the extra cap space and draft picks to address other needs. This holistic approach to solving the offensive woes only works if Colt McCoy is capable of being a Super Bowl quarterback under the right circumstances.
To put it in other words, either the Browns need to get an incredibly gifted driver to operate an upgraded Ford Mustang or they hope the driver they already have can do more behind the wheel of a Ferrari.