Buffalo Bills Fans Primer for East-West Shrine Bowl Game
January 19, 2012

Bob Levey/Getty Images
This coming Saturday, January 21, at 4:00 pm, EST, the East-West Shrine Bowl will air on NFL Network.
That is one of the games that Buddy Nix and his scouts will be attending to have a closer look at some of the talent playing in that game. The following week, on January 28, will be the Senior Bowl game, and we will come out with an article next week to highlight the players Bills fans should be following. 
As for the players appearing in the game, here is a link to the rosters for both teams. 
As far as the East-West game, from the research I have done, I narrowed my choices down to 14 players who seemed to have some reasonable upside that make them worth watching.
The following is a brief description of the 14 players in question, complete with a link to a scouting report on each player.
Quarterbacks to Watch
B.J. Coleman, Chattanooga, 6'5" and 220 pounds. Coleman is uses his size and frame to leverage a strong arm. He needs to develop more touch on his passes since he throws every pass so hard.
Dan Persa, Northwestern, 5'11-and-1/8" tall and weighs 200 pounds. Persa has missed time in his last two seasons due to a ruptured Achilles' and a shoulder injury. A reasonable question to ask would be, is he going to be tough enough to last in the NFL? 
Tackles to Watch
Matt Reynolds, BYU,  6'6" and weight is in 305-330 pound range. Reynolds is thought to be a better run blocker than pass blocker right now. Concerns have been expressed over his sturdiness and ability to get low and reset his hips. Might wind up as a late-round pick.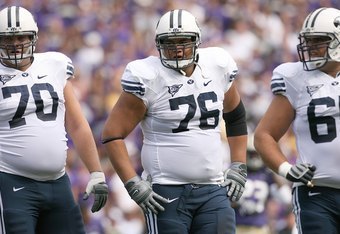 Otto Greule Jr/Getty Images
Markus Zusevics, Iowa, 6'5" and weighs 300 pounds. Is a strong blocker and good technique kid. Well coached and uses good fundamentals.
Wide Receivers to Watch
Laron Byrd, Miami, Fla., 6'3-and-1/2" and weighs 224 pounds. Good size for receiver. Can be a vertical threat to stretch the field.
B.J. Cunningham, Michigan St., 6'2" and weighs 227 pounds. Good hands. Solid possession type of receiver.
A.J. Jenkins, Illinois, 6'0" tall and weighs 192 pounds. Good route runner. Will go anywhere on the field, inside or outside.
Jarius Wright, Arkansas, 5'10" and weighs 180 pounds. Speed-to-burn type of receiver. Smaller but very fast. Good at gaining yards after the catch.
Greg Childs, Arkansas, 6'3-and-1/8" and weighs 215 pounds. Offers plus size and speed. Good ball skills but not necessarily quick.
Defensive Ends/Outside Linebackers To Watch
Depending on the scheme that new defensive coordinator Dave Wannstedt ultimately decides to employ, the Bills will be on the lookout to add pass-rushers, either as a defensive end in the 4-3, or as an OLB in the 3-4. Some of the potential pass rushers to watch in East-West Shrine Game are: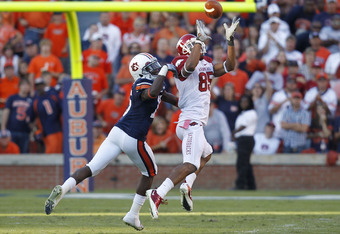 Mike Zarrilli/Getty Images
Brandon Lindsey, Pittsburgh, 6'1-and-5/8" and weighs 255 pounds. Lindsey played under Wannstedt at Pittsburgh, so it should be interesting to see if Bills draft him, since the Bills passed on players in 2011 draft like Jabaal Sheard and Greg Romeus, who Wannstedt also coached.
As far as Lindsey goes, he's too small for a DE, but doesn't seem to be a good fit at OLB, so he might wind up being a late-round project.
Kyle Wilber, Wake Forest, 6'5" and weighs 240 pounds. Another type of developmental prospect, Wilber can rush the passer. In National Football Post's review of OLB's, they have Lindsey ranked No. 14 while Wilber is ranked No. 15.
Cornerbacks to Watch
Robert Blanton, Notre Dame, 6'0-and-3/8" and weighs 196 pounds. Tough corner but not the greatest in coverage. Possible position switch to safety.
Josh Norman, Coastal Carolina, 6'3" and weighs 203 pounds. Runs a 4.5. Norman's hoping that Shrine Bowl game will improve his chances of being drafted.
Trevin Wade, Arizona, 5'10" and weighs 192 pounds. Flexible corner that lacks great speed, but can make plays on the ball.
In general, the Senior Bowl is where the cream-of-the-crop draft picks go to play, while the Shrine Bowl is filled with players that will go anywhere from Day 2 to Day 3 of the NFL draft.
In fact, some of these guys might not be drafted at all, but will show up on NFL rosters as undrafted free agents, hoping to make some teams on special teams.