St. Louis Rams: What to Expect from Steven Jackson Under Jeff Fisher
January 18, 2012

Dilip Vishwanat/Getty Images
Steven Jackson of the St. Louis Rams mirrors former Tennessee Titans running back Eddie George, the featured back for the Titans under Jeff Fisher for eight seasons, in many ways. 
Both are multiple time Pro Bowlers.  Eddie George made the AFC Pro Bowl four times while Jackson, thus far, has earned three NFL Pro Bowl berths. 
Each have been known as big, physical, bruising runners of very similar stature.  George checked in at 6'3" and 235 pounds; Jackson also stands 6'3" and tips the scales at 229 pounds (although he certainly played heavier than that in 2010). 
Perhaps most pertinent to this discussion, however, is that both George and Jackson have been featured in old-fashioned running attacks where week in and week out they carried the load almost exclusively at running back.
In eight featured seasons as a starter in Tennessee, George had 2,733 carries.  In eight seasons in St. Louis, seven as a starter, Jackson has had 2,138 carries—595 fewer than George. 
George averaged 3.7 yards per carry in Tennessee. Jackson, by comparison, has averaged 4.3 per attempt.
Fisher featured George in Tennessee through 2003, George's final year there, where he rushed for over 1,000 yards at the age of 30. 
Jackson will be 29 when the season opens in 2012.  
Considering he has about two seasons worth of carries (595) to catch George— two birthdays until arriving at the same age when George was phased out with the Titans and that Jackson has averaged over a half yard more per rush than George—it makes sense, then, to expect a couple more years of Jackson as the primary back in St. Louis.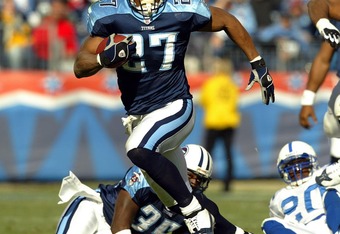 Andy Lyons/Getty Images
When going further and considering that age 30 tends to be the dreaded age where many running backs hit the wall, two years away, that idea merits even more legitimacy.
Comparing the two further, George averaged 21.4 carries per game and a whopping 342 carries per year in Tennessee in 128 games there—all as the Titans starting halfback.  
The heavily used Jackson has "only" averaged 18.8 carries per game in his career and 286 carries in his seven seasons as the Rams featured back (excluding his rookie season where he backed up Marshall Faulk).  He has 115 games under his belt in St. Louis, starting 103 of those (twenty-five fewer than George). 
What is all the more impressive about George's career workload is two-fold:  
One, he started every game for the Titans during his eight seasons there.  Secondly, he averaged 342 carries over that time-frame while playing his entire career with another running back in quarterback Steve McNair, who rushed 548 times himself in their shared seasons, averaging 69 carries and 5.5 yards per rush.
In the passing game, however, Jackson holds the reception advantage, 46 per year versus George's 32.4 per season.  
Jackson seems excited about playing for Fisher, saying that Fisher "brings credibility" to the Rams. 
Jackson has spoken several times regarding Fisher since the time the Rams attained the experienced, proven head coach, including an interview with the NFL Network where he said that he expects to be used like, you guessed it, Eddie George, in a downhill rushing attack.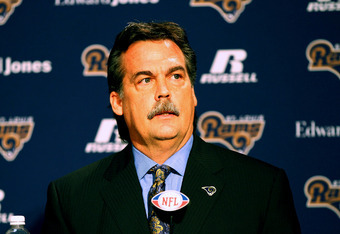 Dilip Vishwanat/Getty Images
Jackson has reached the stage in his career where, although he can still carry the load and play at an elite level, his trade value has diminished significantly as he approaches the (expected) final stages of his career.
Jackson, however, may surprise us all and play at a high level for several more years.  Several feature backs like John Riggins, Warrick Dunn, Fred Taylor; Thomas Jones, Tiki Barber, Curtis Martin; Walter Payton and Emmitt Smith, among others, continued to produce solid numbers well past the age of thirty. 
When considering the dedication Jackson shows towards his diet, workout regimen and the overall manner in which he takes care of his body, it would be foolish to rule him out as a player who could produce big numbers into his thirties, just as the players listed above did.
However, St. Louis cannot bank on that.  
The 2012 NFL Draft could be the time that the Rams look to find his eventual successor, especially with the run-loving Fisher at the helm.
Fisher was on board when the Titans drafted speedy Chris Johnson so it makes sense to conclude that Fisher's Rams could go either way by looking towards adding a power back in the mold of George or Jackson, or a smaller speed back like Johnson. 
This year's draft features some impressive talent at running back.  If the Rams do select a top rated prospect in this year's draft, he could serve as Jackson's backup for a season (or two), as Jackson did for Faulk in 2004.
Potential franchise type backs include Trent Richardson of Alabama, Lamar Miller of Miami, Chris Polk of Washington; David Wilson of Virginia Tech and the speedy LaMichael James of Oregon, all of whom are featured here.
Regardless of whether St. Louis selects the heir apparent to Jackson this season, expect the three-time Pro Bowl back to again carry a major share of the load, at least for a couple more seasons, a la Eddie George.   
Shane Gray covers the St. Louis Rams year round. To check out the rest of his work, go here.  You are also encouraged to follow him on Twitter.