MLB Trade Rumors: Potential Trade Partners for Chicago White Sox and Gavin Floyd
January 18, 2012

Tasos Katopodis/Getty Images
The Chicago White Sox are always one of the most aggressive teams when it comes to trades, and it appears as if 2012 will feature more of the same. Jon Morosi of FOX Sports.com is reporting that the organization is listening to offers for starting pitcher Gavin Floyd.
The White Sox have already traded Jason Frasor, Carlos Quentin and Sergio Santos as they endure an offseason of transition after losing manager Ozzie Guillen to the Miami Marlins.
The 28-year-old should bring in some strong value—considering he's had an ERA of 4.50 or below in all eight career major league seasons. Since 2007, he has registered at least 187.1 innings each and every season.
In other words, he is a fourth or fifth starter on a playoff contending team that needs somebody to eat up innings and collect a .500 record.
Here are three teams that should consider making the call to Sox GM Kenny Williams.
Arizona Diamondbacks
They have a terrific Top Three, but right now the battle for No. 5 is between Wade Miley and 2011 first-round pick Trevor Bauer.
You can't rely on a guy with no minor league experience, and Miley has a grand total of seven career starts with a 1.65 ERA.
Washington Nationals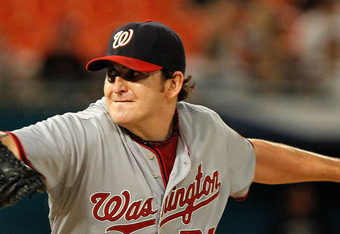 Mike Ehrmann/Getty Images
The Nats are making a serious push for a playoff appearance and need back of the rotation help to make sure their young team doesn't fade down the stretch.
Right now, their fourth starter is John Lannan, which isn't awful, but a 38-51 career record doesn't exactly scream dominance. Floyd would be and upgrade over Lannan and certainly No. 5 starter Chien-Ming Wang, who is a complete wild card after all the injuries he's endured over the years.
Texas Rangers
The window to sign Yu Darvish is shrinking by the minute, and while Floyd would certainly be a downgrade, he's a solid Plan B.
The Rangers are all-in to finally get over the hump in the World Series and could use a veteran with postseason experience like Floyd.