Jim Caldwell Firing Just Small Part of Plan to Overhaul Colts Franchise, Culture
January 17, 2012

Andy Lyons/Getty Images
It's somewhat fitting that, of all the platforms in all the media outlets in all the World Wide Web, the Indianapolis Colts decided to announce that they had fired Jim Caldwell on a blog, courtesy a teasing tweet by eccentric, social media-friendly owner Jim Irsay.
Yes, a blog. That dirty little four letter word Diablo Cody deifies. The antithesis of an iron-fisted Bill Polian regime which would have demanded this news be announced by a single person at a rigid press conference at a concrete time—probably some two or three days after the decision was already made.
A seemingly inconsequential change, perhaps. But a change big enough to beat the big boys to the punch on the Caldwell story if you knew where to look for it. While ESPN was busy reporting that Caldwell would stay, following up on weeks of speculation from local Indianapolis media pointing to the same conclusion, the Colts quietly leaked the news on their website's blog some five minutes before anyone in the national media bothered to notice.
But can you blame them? They wouldn't think to look there. Not after years of countless Polian-launched shots at "pundits" and "prognosticators." Not after the way the front office managed to portray Indianapolis Star beat reporter Phil B. Wilson as some uncredentialed yahoo, whose blog-hosted ramblings so drew the ire of Polian that he went out of market—and far out of market—to give inside scoops to national writers and radio hosts far removed from the relevant local readership.
A blog would be the last place you would for big announcements from West 56th Street. The last place you would ever think to check for breaking news, for matters of significant importance related to a ball club that, too often, more resembled the Kremlin than a modern-day NFL franchise.
Which means this should be the first thing fans notice about Polian's replacement, new general manager Ryan Grigson.
Grigson has a monumental task ahead, one only slightly lessened by the departure of Caldwell. After all, Caldwell was hardly the source of all the Colts' problems. He had to go; there is no doubt about that. Continued clock management issues, poor staffing decisions—his nomination of defensive coordinator Larry Coyer and special teams coordinator Ray Rycheleski were absolute disasters—and an inability to make halftime adjustments ultimately cost Caldwell his job.  
Some would argue Peyton Manning's injury played the greatest role in Caldwell's departure, but the three aforementioned problems surely trumped the injury of one player, no matter how important he is.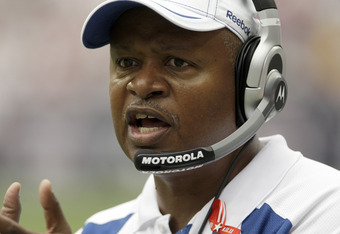 Thomas B. Shea/Getty Images
But the Colts' problems go beyond Caldwell. And while they also need a new defensive coordinator, a new offensive coordinator and a new special teams coach, the problems go beyond the coaching staff. Because, more than anything, the Colts need a culture change.
The kind of change that starts with something as small as a blog.  
For the Colts, the gameplan moving forward isn't as much about cleaning house—though there is certainly a good deal of dusting on the honey-do list—as it is about bringing the house up to code and making it respectable in the eyes of the surrounding neighborhood again.  
Too often in recent years, the Colts have been the butts of jokes around the national media, most circling around foolhardy front office decisions and Indy's unwillingness to admit or rectify them. Because for all his tremendous foresight through the years, for a remarkable career sure to be committed to the halls of Canton, Polian left tact at the front door and never looked back. A tolerable annoyance when you're winning, an unforgivable act of aggression when you're not.
Grigson's challenge, then, is as much aesthetic as it is performance-related. As much as he needs to address roster and coaching concerns, so too does he need to oil the hinges of a front door that's been locked shut for far too long and throw a couple coats of paint on the splintered siding of a stagnant franchise too recently-willing to rest on its laurels and simply suggest inhabitance with the ghosts of highlights past.
This is about moving forward, about being accessible, about facing the realities of a faltering franchise and re-establishing excellence, one brushstroke, blog or tweet at a time.
Credit Irsay and Grigson for making a tough, but correct, decision. Re-building is not easy, and it does not come without risks. Caldwell could not keep his job after a dreadful 2012 season coupled with some past mistakes, but all the same, nobody wants to be the GM that rides into town and cans a man as generous and kind as Caldwell just a few days later.
And don't feel too bad for Caldwell. He clearly is not NFL head coach material, but nobody complained about him when he was a quarterbacks coach. He will find work in the NFL, and he will continue being regarded as one of the nicest men in the business.
From here, the Colts must decide who replaces Caldwell and which coordinators will surround him. Grigson confirmed at a Tuesday afternoon press conference that Indianapolis had interviewed Steve Spagnuolo for a defensive coordinator position, but the team has reportedly not yet had any talks with potential head coach candidates.
Their choice largely depends on how they plan to build the roster moving forward. If they plan to stack the offense, then a defensive-minded coach like Cincinnati defensive coordinator Mike Zimmer makes sense as a coach who could get the most out of mediocre defensive depth.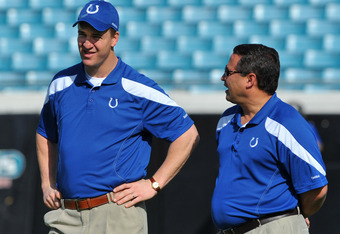 Al Messerschmidt/Getty Images
Perhaps the most difficult decision will be deciding whether or not to continue forward with Peyton Manning, who appears to be on track with rehab from what proved to be a season-ending surgery. If Grigson decides that he wants to take Stanford QB Andrew Luck with the draft's top pick and not hedge his bets on Manning's health—though the two concepts are not mutually-exclusive—we could see Manning playing elsewhere in 2012.
Regardless of what the Colts decide, and there are plenty of decisions to be made, Indianapolis must continue re-shaping the face of their organization. Irsay and Grigson have a titanic challenge ahead.  
And while it may be too soon to make any sort of substantive judgment on the direction they are trending toward, it is certainly refreshing to see someone willing to get paint on his jeans again.