2012 NFL Draft: A Deep Roster Gives the Houston Texans Options in the Draft
January 17, 2012

Kevin C. Cox/Getty Images
For the first time in Houston Texans history, they have no overwhelming needs as the team enters the 2012 NFL draft.
They have areas where they could upgrade but the success they had on the field in the midst of an injury-plagued season allows them to be very strategic in April.
The team could definitely upgrade and add depth at wide receiver and in the secondary, but other than that the team is deep at almost every other area.
The Texans bolstered their secondary this past offseason with the additions of cornerback Jonathan Joseph and safety Danieal Manning.  A complimentary cornerback opposite of Joseph would all but make the defense tops in the NFL.
If general manager Rick Smith really wants to shake things up in this draft, he could make a power play to move up to the top five and pick up the No. 1 cornerback in the draft in LSU's Morris Claiborne. 
Many scouts have compared him to former Tiger Patrick Peterson, but claim that Claiborne actually could be more polished and NFL-ready.
Claiborne has shut-down talent and closing speed unlike anyone else in the draft.  He has the ability to bait quarterbacks and then close in and scoop up interceptions.
A talent like him across from Joseph, with the pass rush of J.J. Watt, Mario Williams and Brooks Reid would make the Texans one of, if not the best pass defenses in the NFL.
If they don't want to make a big move, the draft is loaded with second round graded cornerbacks that despite not being Claiborne-like talents would be upgrades over Kareem Jackson and Jason Allen.
The other area of upgrade for the Texans could be at wide receiver. 
It was very clear in the Texans' season finale that T.J. Yates had only one target and that was Andre Johnson. 
Aside from Johnson and talented tight end Owen Daniels, they really have no serious threats in the passing game.
It is very unlikely that the Texans will make a move up to grab the No. 1 wide receiver, Oklahoma State's Justin Blackmon, but there is a bevy of talented wide receivers in this draft and I wouldn't be shocked if Smith decides to take multiple.
South Carolina's Alshon Jeffery and Rutger's Mohamed Sanu could both be available when the Texans are on the clock at the end of the first round.  Either of these guys would be a tremendous upgrade to the No. 2 wide receiver spot.
In the second round the Texans could grab LSU's Rueben Randle if they choose to use their first-round pick on a cornerback or something else.  Randle is an NFL-ready receiver that could be a nice complement to Johnson.
Oklahoma standout Ryan Broyles will be available in the third round and could still be around as late as the fifth if the Texans want to add depth and options with multiple wide receivers.  Had it not been for a late-season knee injury, Broyles would be a first-round draft pick.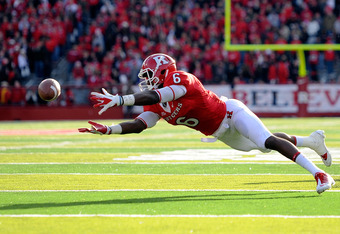 Patrick McDermott/Getty Images
Getting him in the third or fourth round would be an absolute steal assuming that his rehab is going well.
Finally, the Texans could pick up an offensive lineman or two to add depth to their solid group.
Wisconsin's Kevin Zeitler  or Washington's Senio Kelemete would be nice additions at guard.  Both are smaller guys right around 300 pounds that could fit nicely into the Texans' system as would tackles Matt McCants of UAB and Bobby Massie of Ole Miss.
At center the Texans could add depth with Ben Jones of Georgia if they choose to use an earlier pick, Michigan's David Molk in the middle rounds or Alabama's William Vlachos in the later rounds.
The Texans have options in the 2012 draft and could do a lot of different things. 
It will be interesting to see how Smith and head coach Gary Kubiak attack the draft.
Will they continue to bolster the defense that they turned around this past year or will they get more weapons for Matt Schaub?
Follow me on Twitter for more draft analysis @brettstephen.