New Orleans Saints: Full 7-Round NFL Mock Draft Predictions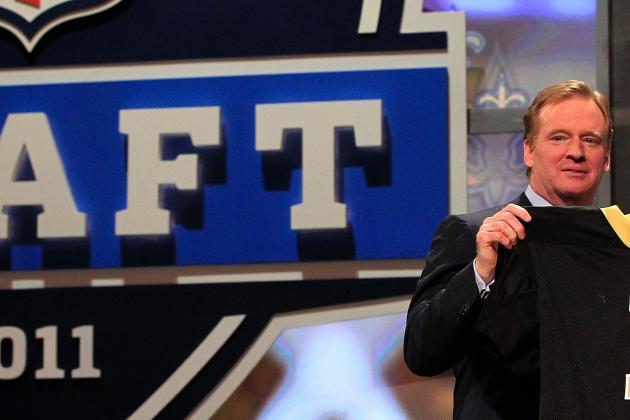 Chris Trotman/Getty Images

The New Orleans Saints are headed to the 2012 NFL offseason and one of the biggest parts of the offseason is the NFL Draft.
The Saints will have at least eight picks in the upcoming draft, and could end up with more depending on how compensation picks end up.
However, New Orleans will not have a first-round pick because of the trade they made last season with the Patriots that allowed the Saints to draft Mark Ingram. New Orleans will have a single pick in rounds two through seven, and will have an extra pick in rounds four and six.
The second pick in the sixth round is from the Washington Redskins for the trade involving Jammal Brown a few years ago. The extra pick in the fourth round is from the Reggie Bush trade this past offseason; that pick has still not been revealed, but I am going to assume it is a fourth round pick.
The Saints have a few areas of need, especially on the defense. New Orleans could end up with different needs after the free agency period begins because key players such as Carl Nicks, Marques Colston, Robert Meachem and Tracy Porter could all end up leaving.
However, for now I believe the biggest needs fall on defense, specifically the defensive line and outside linebacker spots. This has been a consistent weakness for the Saints, but they are getting closer to solving that problem.
The Saints will definitely be bringing in a new defensive coordinator this offseason and he will hopefully excite the talented players that are already on defense, but also develop the ones that are not yet in New Orleans.
Now, let's take a look at the full seven-round NFL mock draft for the New Orleans Saints.
Begin Slideshow

»
This is a beast of a defensive tackle and Alameda Ta'amu will help the Saints' interior defensive line greatly.
He is 6'2" and 334 pounds and is a projected second round pick. Ta'amu is projected to fit best in a 4-3 defense, but he is good enough to play the nose in a 3-4 scheme.
This works great for the Saints because they may end up switching to a 3-4 scheme depending on who takes over the defense in New Orleans. Ta'amu would be able to jump into a roster that currently only includes Sedrick Ellis and Tom Johnson.
Aubrayo Franklin and Shaun Rogers are both free agents and I believe that the Saints will only bring one of them back. I see New Orleans bringing back Rogers and Ta'amu can learn for a year because he could very well end up being the next Rogers in the NFL.
Ta'amu will primarily be a run stopper, and that is exactly what the Saints need in the middle of their defensive line. Teams have gashed the Saints up the middle for years now and Ellis has not been quite the guy everyone expected him to be coming out of the draft in 2008.
Ta'amu is also a guy with a very high motor and he has no durability issues. The one concern with Ta'amu is that will not create much pressure up the middle, but I do not believe that the Saints are looking for a defensive tackle that can do this.
New Orleans needs a guy likes this and if he is still available when the Saints come on the board in the second round, then it is a no brainer that they take this guy.
Other options:
Dontari Poe, Defensive Tackle, Memphis
Lovante David, Outside Linebacker, Nebraska
Cam Johnson would be a great pickup for the Saints late in the third round.
Johnson is 6'3" and 273 pounds. This defensive end is a well balanced, every down end that could eventually take Will Smith's place on the right side of the defensive line.
He is very versatile and has great intangibles. This kid does it all. Unlike Smith and Cameron Jordan, Johnson is a guy that plays well against the run, but can get after the quarterback on third down.
Johnson has seen his stock go up and down his senior year because he played with an injury throughout the season and was unable to play to his potential. However, he played great in most games despite the injury.
Johnson is a defensive end that has good speed and size to play the position and would fit great in the Saints' rotation, especially if New Orleans chooses not to resign either Jeff Charleston or Turk McBride.
Other options:
Casey Hayward, Cornerback, Vanderbilt
Trumaine Johnson, Cornerback, Montana
The New Orleans Saints need to get younger at the outside linebacker spot and Tank Carder is the answer early in the fourth round.
This pick is the one that, hopefully, will come from the Miami Dolphins because of the Reggie Bush trade.
Carder is a 6'2" 224 pound outside linebacker and he has some of the best intangibles out of every guy in his position. Carder is great in reading the offense and understanding where the ball is going, and possibly the best thing about this young linebacker is that he is a sure tackler.
The Saints have missed a ton of tacklers over the past couple of years and Carder will surely help them solve that problem.
The negative about Carder is that he is not the fastest outside linebacker and does not shed blockers as well as teams would hope. However, the Saints already have speedy outside linebackers in Jonathan Casillas and Martez Wilson.
If Carder is available at this spot, then the Saints will likely take him.
Other option:
Ladarius Green, Tight End, UL-Lafayette
The possibility of the New Orleans Saints drafting Jake Bequette is very exciting.
Bequette is a 6'4" 263 pound defensive end from Arkansas and this kid is the real deal. I am not sure why he is projected to go in the fourth round, but I hope the Saints get him.
This defensive end is a guy that has a non-stop motor. He reminds me a ton of Houston's J.J. Watt and he could very well be one of the next great pass rushers in the league. Bequette's biggest strength is that he never quits on a play and is always hustling to the ball.
He is very durable and has great intangibles. Bequette is better against the pass than he is the run, but that can improve once he gets to the NFL. I have also seen Bequette play on the right and left side of the defensive line, and that should help the Saints out a lot.
I believe that Bequette could change the entire atmosphere of the Saints. He could very well be the agressive pass rusher the Saints have been looking for.
Other options:
Ladarius Green, Tight End, UL-Lafayette
I am also extremely excited at the potential that Chandler Jones shows, and I would absolutely love for the Saints to pick him up with their fifth round pick.
This may be a bit of a stretch because Jones is seeing is stock rise a bit, but I think the Saints should find a way to land this guy in New Orleans.
Jones is one of those defensive end and outside linebacker hybrid-type players. He is not projected in the early rounds because most teams see Jones as a guy that is too small to play at defensive end, but too big to be an outside linebacker.
However, I think this kid could be one of the next big stars in the NFL. He reminds me a lot of the Giants' Jason-Pierre Paul because of the athleticism and high motor. Jones never stops on a play and is often seen making a tackle way down field.
His negatives are that he is too slow to play as an elite outside linebacker, but too small to play at the defensive end spot, but other than that Jones shows no real weakness. He is a great tackler and has shown good production throughout his career at Syracuse.
I would love to see Jones in the black and gold next year.
Other option:
Omar Bolden, Cornerback, Arizona State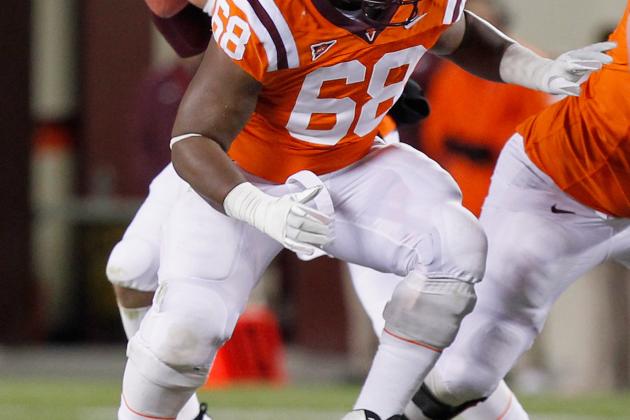 Geoff Burke/Getty Images

The New Orleans Saints will need to build some depth on the offensive line regardless of what happens with Carl Nicks in the offseason.
I think the Saints may end up keeping tackle Pat McQuistan, which would leave Matt Tennant as the only backup for the guard and center spots. That is why I think the Saints should bring in Virginia Tech guard Jayme Brooks with their first pick in the sixth round.
Brooks is an absolute excellent run blocker, similar to Nicks, and he has all of the toughness and intangibles needed in an offensive guard. Brooks' game is weak in one area, pass blocking.
This may throw up a huge red flag to most Saints' fans because, well, the Saints kind of like to pass the ball. However, chances are that Brooks would not start immediately, instead he would have at least a year to learn under a veteran offensive line.
Something tells me that they could teach Brooks a thing or two about pass blocking.
I think that Brooks is a quality, late-round pick up for a team that will be using the later round to build some depth.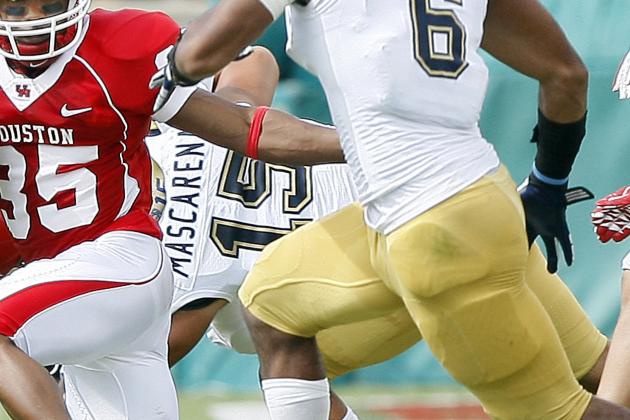 Bob Levey/Getty Images

The New Orleans Saints will be using the later rounds to build some depth and find quality players.
Safety Tony Dye out of UCLA could be exactly that. He fits the mold of what the Saints look for in a safety. Dye's strengths are that he can cover well in one-on-one situations and is great in run support.
Dye is known as one of the safeties that likes coming up to make hits on tailbacks. He is also a pretty good safety with regard to instincts and intangibles, but he is a little smaller than most teams want in their safeties.
Dye measures in at 5'10" 208 pounds. The Saints have two quality starters at the safety spot, but Dye could be a solid backup and special teams payer. He would likely be competing with the Saints' other backup safeties, if they are resigned.
The Saints can go a ton of different ways in these later rounds, but I would not be shocked to see Dye somewhere in their list of picks.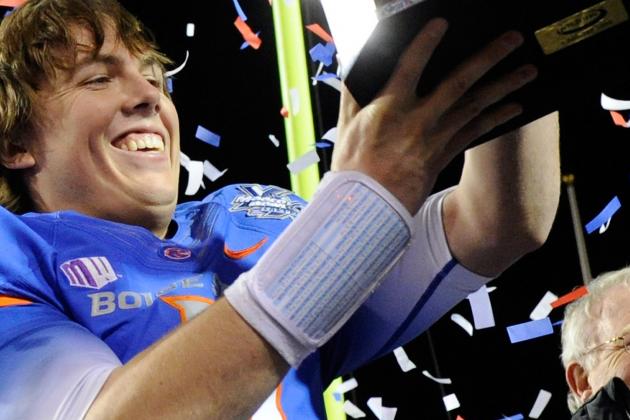 Ethan Miller/Getty Images

I would honestly love to see the New Orleans Saints bring in Kellen Moore in the final round of the 2012 NFL Draft.
Obviously, quarterback is not a position that the Saints need right now, but Moore could very well end up being the next Drew Brees.
Moore measures at 5'11" and 195 pounds, oddly similar to Brees and backup quarterback Chase Daniel.
At Boise State, Moore played one of the best college careers ever seen at the quarterback position. He was among the greatest ever in nearly every statistical category and he has all the makeup of a great NFL quarterback.
Moore undoubtedly has all the necessary intangibles to be a great player in the NFL and he can deal with the stress and mental tear that the game causes. Scouts begin to question Moore's ability to play the game when they see his height, arm strength, and release.
These are all the same questions that surrounded Brees and Daniel when they came out. Now Brees is a potential Hall of Fame player and Daniel is a very capable backup quarterback. Brees has at least four or five more years left in him, but Daniel could end up leaving this offseason or next to try his own at becoming a starting NFL quarterback.
This means that the Saints could use Moore. He would have no problem learning the system and could take Brees' place in the future. I believe any quarterback can succeed after studying under Brees for five years, and the Saints would be smart to give Moore a chance to do just that.