Philadelphia Phillies: Can Current Lineup Win World Series?
January 16, 2012

Doug Pensinger/Getty Images
Is South Philly a good place to get a cheesesteak?
The Philadelphia Phillies won 102 ballgames last year.  They remain the only team in the National League that matters, spending sprees in the nation's capital and the Sunshine State be damned. 
Clubhouse chemistry cannot be forced.  It is cultivated.  The Phillies render this evident.  With a core group in place, the team's winning percentage in the regular season has steadily improved, from .525 in 2006 to .630 in 2011.  Can this trend continue?
Can Chubby Checker do the Twist?
Jimmy Rollins is back.  The Phils' spark plug remains in place.  Of course, he is not the ideal leadoff man.  Rollins walks too little and swings too much.  This is hardly news. 
During his MVP season in 2007, Rollins walked only 49 times.  He went down swinging 85 times.  Last year Rollins had nine more walks and 21 fewer strikeouts.  His on-base percentage (.338) dipped little from 2007 (.344) and improved from 2010 (.320). 
Most importantly, Rollins reached base in the postseason nearly half the time he batted (.476).  Will Rollins get many playoff at bats in 2012?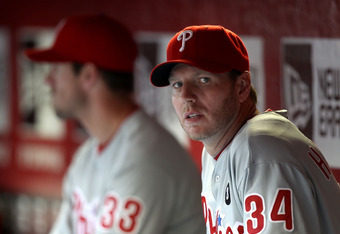 Christian Petersen/Getty Images
Do soft pretzels and mustard go well together?
Roy Halladay and Cliff Lee combined for 36 wins last season.  Cole Hamels contributed 14 more.  Each of the "Big Three" started over 30 games, topped 200 innings and posted earned run averages below 2.80. 
Hamels is a World Series MVP (2008).  Halladay threw a (near) perfect game against the Cincinnati Reds in the 2010 NLDS.  Lee has won seven of 11 postseason starts since 2009.  This says nothing about Vance Worley, who gave the Phillies 11 wins as a rookie.  Will the Phillies get the chance to deal their aces come October?
Is the Liberty Bell cracked?    
Enter Jonathan Papelbon.  Newly free from the Beantown circus, he now anchors the best bullpen in baseball.  Phillies relievers surrendered only 169 runs last year, fewest in the big leagues.  Replacing the departed Ryan Madson with Boston's former closer can only constitute a change for the even better. 
Papelbon has been there and done that—very well, thank you.  As the resident closer for the drama-laden Red Sox, Papelbon saved 219 games.  His postseason earned run average stands at 1.00.  For the World Series, it is 0.00.  Can the Phillies offense give Papelbon and Company a sufficient cushion?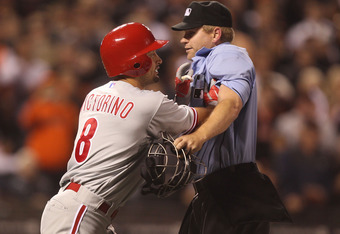 Jed Jacobsohn/Getty Images
Could the late, great Phillies announcer Harry Kalas call one that was "ouTTA HERE?"
If J-Roll sparks the Fightins, the Flying Hawaiian, Shane Victorino, is the piston that drives them.  He led the team in batting average last year and hit more home runs than any Phillie not named Ryan Howard or Raul Ibanez.  Victorino's average jumped 20 points last year.  A repeat performance is likely; 2012 is a contract year for Victorino. 
His teammates are hungry as well.  Healthy, Chase Utley and Placido Polanco will return to form.  Hunter Pence, acquired from the Houston Astros last summer, will spend the entire season this year in Philadelphia. 
All of this will alleviate some of the pressure felt by the "Big Piece," Phillies first baseman Ryan Howard.  As will the addition of power-hitting future Hall of Famer Jim Thome as a pinch-hitter.  In many ways, Citizens Bank Park is the house that Howard built.  Thome laid the park's foundation, though, before the Phillies traded him to make room for Howard. 
The sluggers are together again.  Citizens Bank is unlikely to contain them.   Can these Phillies deliver?
Is making scrapple pretty?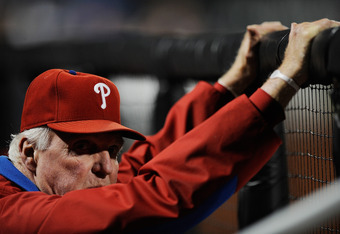 Patrick McDermott/Getty Images
No, but neither are manager Charlie Manuel's press conferences.  Manuel is comfortable in the dugout, not in front of a microphone.  That is how it should be. 
Manuel is the most underrated manager in baseball.  His Phillies have yet to win fewer than 85 games.  They are National League East winners for five years running.  They came within a game of winning 200 ballgames over the last two years.  This is in spite of Manuel's need to juggle an everyday lineup riddled by injuries. 
Since 2005, the year Manuel became the team's manager, no team in the National League has won more games (646).  Yet, Manuel has never finished higher than second in voting for National League Manager of the Year (2007 and 2008).  No matter. 
If Manuel had won it, he would have had to make a speech anyway.  That is not his style.  Manuel wins ballgames, not awards, and that is just how the Phillies like it. 
Are the Phillies good enough to win the World Series this year?  Yeah, they are.  When they do, it will be because Charlie sent them.