2012 NFL Mock Draft: High-Ceiling Prospects Who Will Be Overlooked
January 16, 2012

Patrick McDermott/Getty Images
Four teams remain in contention for the Lombardi Trophy—28 teams are already thinking about the draft.
With Conference Championship Weekend upon us, the draft order is almost set. A coin toss still needs to separate several teams, but only picks 29-32 truly remain in question.
The prospect rankings have also taken shape, and declaration day has come and gone.
The postseason collegiate All-Star games kick off with the East-West Shrine Game this week, and things only pick up from there.
One thing we'll hear a lot over the course of the next few months are words like "ceiling," "potential," "bust" and "upside."
Here are several players who won't don't have a ton of exposure, but have high ceilings.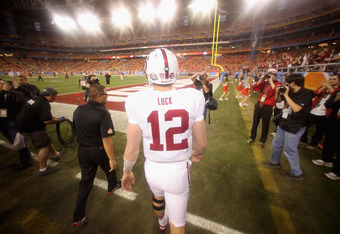 Donald Miralle/Getty Images
1. Indianapolis Colts (2-14): Andrew Luck, QB, Stanford
Top prospect in the draft is a lock for the No. 1 pick.
2. St. Louis Rams (2-14): Matt Kalil, OT, USC
The Rams have an entirely new regime taking over, so the safest pick is usually best pick. They should also entertain idea of trading down.
3. Minnesota Vikings (3-13): Morris Claiborne, CB, LSU
The Vikings have a number of needs, but none more important than out wide on both offense and defense. Claiborne is the top defensive prospect and a better value than Oklahoma State wide receiver Justin Blackmon.
4. Cleveland Browns (4-12): Trent Richardson, RB, Alabama
Drafting a running back in the top five isn't what teams want to do anymore, but the Browns desperately need a playmaker they can trust in the backfield.
5. Tampa Bay Buccaneers (4-12): Dre Kirkpatrick, CB, Alabama
The Bucs can afford to "reach" for Kirkpatrick here based on need and the junior's potential to develop into an elite talent.
6. Washington Redskins (5-11): Robert Griffin III, QB, Baylor
It is highly unlikely that the Redskins get lucky enough to draft RGIII at No. 6, but no team needs to land a the Heisman Trophy winner more.
7. Jacksonville Jaguars (5-11): Justin Blackmon, WR, Oklahoma State
Blackmon falls to a Jacksonville team that desperately needs his playmaking skills.
8. Carolina Panthers (6-10)*: Devon Still, DT, Penn State
Disruptive defensive tackle was close to earning recognition as not being recognized enough, but more and more people are getting familiar with his talents. The Panthers have a need for help at every level of their defense, and Still is the best available on the board.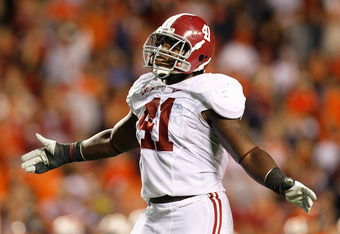 Kevin C. Cox/Getty Images
9. Miami Dolphins (6-10)*: Courtney Upshaw, DE/OLB, Alabama
The BCS Championship Game defensive MVP will continue to ride his Tide to a top-15 selection. Miami's need at pass-rusher bumps him into the top 10.
10. Buffalo Bills (6-10): Riley Reiff, OT, Iowa
Safe pick for an organization that has passed on a tackle for too many years now. Reiff's a solid technician with size and skill level needed to take over immediately.
11. Seattle Seahawks (7-9)*: Nick Perry, DE/OLB, USC
Speedy pass-rushing talent with the potential to be a dangerous sack artist.
12. Kansas City Chiefs (7-9)*: Jonathan Martin, OT, Stanford
Martin enters the NFL with a big frame, smarts and great feet. Excels in the run game and can help Chiefs get back to what they want to do with a healthy Jamaal Charles.
13. Arizona Cardinals (8-8): Melvin Ingram, DE, South Carolina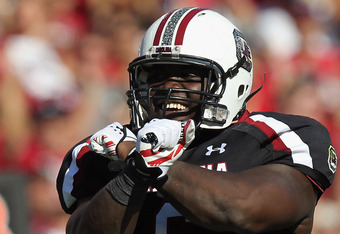 Streeter Lecka/Getty Images
The Cardinals can go in a lot of directions here, but they can help their front seven and secondary by bolstering pass-rush.
14. Dallas Cowboys (8-7): Luke Kuechly, LB, Boston College
Smart, instinctive and tough, Kuechly is simply a football player who makes tackles everywhere.
15. Philadelphia Eagles (8-8): Michael Floyd, WR, Notre Dame
Floyd is the most prolific receiver to ever wear the Golden Dome and is an ideal complement to the Eagles' speedy receivers.
16. New York Jets (8-8): Quinton Coples, DE/DT, UNC
Rex Ryan won't be able to pass up an opportunity to land a prospect with Coples' size and potential despite his sliding draft stock.
17. Cincinnati Bengals (via OAK 8-8): David DeCastro, OG, Stanford
The draft's top interior lineman can step in and aid Andy Dalton immediately.
18. San Diego Chargers (8-8): Alfonzo Dennard, CB, Nebraska
Dennard is a solid all-around corner prospect who can do a little bit of everything.
19. Chicago Bears (8-8): Peter Konz, C, Wisconsin
The draft's top center is a home run for a Bears team that can make their entire offensive line better with this pick.
20. Tennessee Titans (9-7): Vontaze Burfict, LB, ASU
Burfict's size, speed and athleticism will overshadow his maturity issues.
21. Cincinnati Bengals (9-7): Lamar Miller, RB, Miami
If Miller runs sub-4.4 in the 40-yard dash, he'll move up the board even more. Cincy will likely let Cedric Benson walk in hopes of getting a younger playmaker at the position.
22. Cleveland Browns (via ATL 10-6): Alshon Jeffery, WR, South Carolina
The big, athletic receiver could go much higher than this, but his consistency issues are a problem.
23. Detroit Lions (10-6): Mike Adams, OT, Ohio State
The Lions need to get younger at tackle, and Adams is one of the best left on the board. He comes with great size and good athleticism.
24. Pittsburgh Steelers (12-4): Cordy Glenn, OG, Georgia
Not many players stand 6'5", 348 pounds with the versatility that Glenn possesses.
The Georgia captain can play guard or tackle and is a complete football player.
Kevin C. Cox/Getty Images
He's willing to work hard for what he wants, and he's not the type of player to rest on what he has.
Glenn's potential at the next level with a team like the Steelers is extremely high. He was thrust onto the field early in his collegiate career and responded. 
He'll do the same in the NFL.
25. Denver Broncos (8-8): Jerel Worthy, DT, Michigan State
Worthy has proved himself worthy of first-round consideration once again. Helps the Broncos immediately.
26. Houston Texans (10-6): Mark Barron, S, Alabama
The Crimson Tide safety is the draft's complete prospect at the position, and he has the size and athleticism to take over right away.
27. New England Patriots (via NO 13-3): Mohamed Sanu, WR, Rutgers
In terms of numbers, the Scarlet Knights wide receiver was one of the best in the nation this year with 109 catches. It was the first season Rutgers let him solely play receiver, and he not only delivered, but excelled.
At 6'2", 215 pounds, Sanu possesses an intriguing combination of size, speed, athleticism and versatility.
He's played Wildcat quarterback, running back and wide receiver in his career and actually went to Rutgers with the intention of playing safety.
He can do it all and will do it all.

28. Green Bay Packers (15-1): Chris Polk, RB, Washington
The Packers secondary certainly needs help, but without a running game, we've seen what good defenses can do against them. Polk is a complete back who can help them immediately.
29. New York Giants (9-7): Zach Brown, OLB, UNC
Brown is a freak athlete with elite speed and potential to shine in the right system.
30. Baltimore Ravens (12-4): Dont'a Hightower, LB, Alabama
The Crimson Tide's least-known star from the dominating championship-winning defense is going to be a stud in the NFL.
Hightower comes with a great combination of size and speed at 6'4", 260 pounds, and can dominate on the inside.
He was an even better athlete before knee injury a few years ago, but he's since developed as a player with great instincts and a love for flying downhill and destroying ball carriers.
Hightower can make plays in coverage and can get after the quarterback as well.
Potential star replacement for Ray Lewis.
31. San Francisco 49ers (13-3): Kendall Wright, WR, Baylor
A big-play athlete with great production in his career.
32. New England Patriots (13-3): Janoris Jenkins, CB, North Alabama
Janoris Jenkins isn't truly going to be overlooked, but he is forced to put himself back on the map after getting kicked out of Florida last spring.
The 5'10", 182-pound cornerback could be an Asante Samuel-like game-changer at the next level if he keeps his head on straight.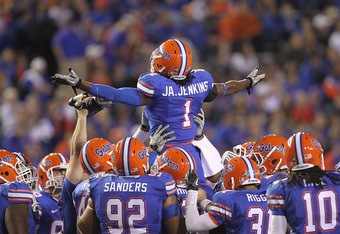 Mike Ehrmann/Getty Images
Jenkins showed an ability to match up with elite receivers when he played at Florida and is also a dangerous player with the football in his hands.
Teams with corner needs will regret passing on him.
*Order determined by coin flip at NFL Scouting Combine