Giants vs. Packers: Tiki Barber Trying His Best to Be a Distraction
January 15, 2012

Andrew Burton/Getty Images
The New York Giants are about to square off in a huge playoff game against the defending Super Bowl champion Green Bay Packers, and yet here we are talking about Tiki Barber.
I can't think of anything more annoying at the moment.
This has been a year in football that was dominated by drama.
First there as the lockout and all the drama that surrounded that. Then for the rest of the season we had to listen to people rant, rave and gush over a sub-par quarterback with an outspoken personality, and how he was the next best thing since the west coast offense.
Meanwhile we've seen some of the best quarterback play of all-time from Drew Brees, Tom Brady and Aaron Rodgers, and a Packers team that nearly ran the table.
We should be talking X's and O's and all the great playoff matchups that we are about to see, and up until this point that's what we were doing for this Packers and Giants matchup.
Enter in Tiki Barber though, who seems bent on somehow keeping himself relevant in today's football world.
According to Mike Mazzeo of ESPNNewYork.com, Barber is trying to set up a face-to-face meeting with Giants coach Tom Coughlin to sort out their differences:
Tiki Barber has tried to set up a face-to-face meeting with New York Giants coach Tom Coughlin in an attempt to bury the hatchet, but Coughlin won't accept one, the franchise's all-time leading rusher told ESPNNewYork.com's Ian O'Connor during an interview on ESPN New York 1050.

"We tried. He said no, through his agent, (Giants vice president of communications) Pat Hanlon," Barber said. "But one of these days I'm sure it'll happen, because as we know, time heals all wounds. And I think at the end of the day, Giants fans, despite their dislike of me at times, know that I was one of the guys that put (it) on the line every time I put on my uniform."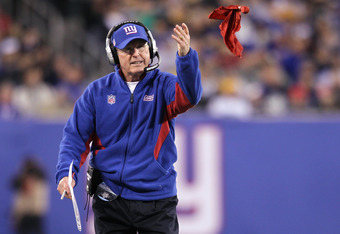 Nick Laham/Getty Images
It was a pretty well known fact that Coughlin and Barber were never really on the same page, and Barber has been open about his opinion on the Giants coach in the past.
While I understand and certainly respect Barber's desire to reconcile, he has to realize this is not the time.
Let's try to just imagine Coughlin's priorities for a second. I have a feeling the NFL playoffs and preparing for the 15-1 Packers is somewhere right up at the top.
I'm not sure where having a quaint little sit down with Tiki Barber ranks, but I have a feeling it's not the highest priority.
This is not the time nor the place, and if you're asking me this just seems like a desperate attempt to get his name back into the news and make himself relevant again.
Barber needs to go away.