MLB Free Agency and Trades: Ranking 10 Biggest Movers and Shakers of Hot Stove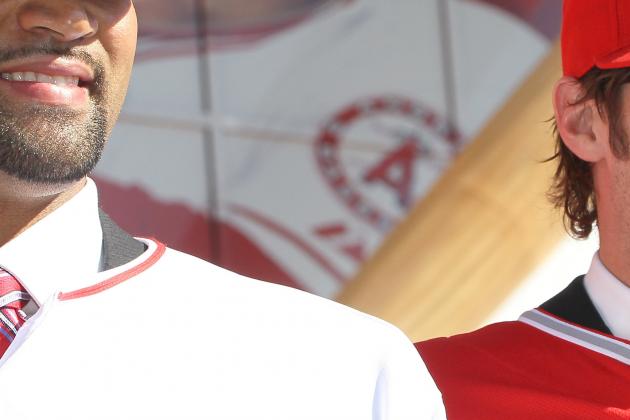 Stephen Dunn/Getty Images

The Texas Rangers finalized their deal with Japanese right-handed pitcher Yu Darvish Wednesday, but despite the $112 million total investment they made, they will not rank among the league's most active teams this winter unless they also add Prince Fielder via free agency.
It's been that kind of offseason in MLB, one in which a dozen or so teams have moved substantially in one direction or another. Where it is not uncommon for a team to pass through an entire winter having made just one or two minor trades, the San Diego Padres have already made seven separate trades this winter. The Colorado Rockies have added five potential starting pitchers to their roster, not to mention Michael Cuddyer and Ramon Hernandez through free agency.
That only covers the NL West. Around the league, teams have engaged one another in more interesting and more aggressive trades, and have approached free agency with a more strategic intent than they have in recent memory.
Here are reviews of each of the top 10 most active teams' winters thus far, plus a preview of one more move each could make in the next few weeks.
Begin Slideshow

»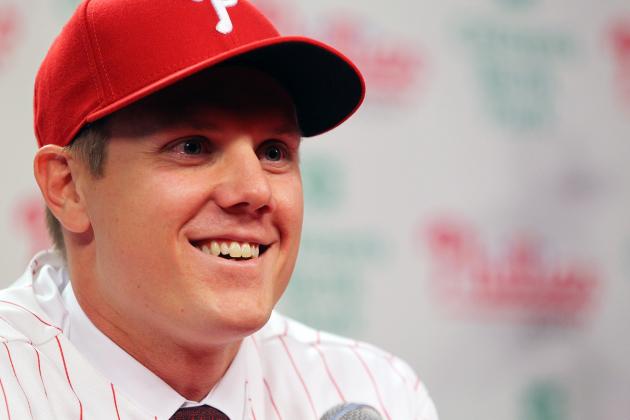 Len Redkoles/Getty Images

Not all activity is good activity, of course. Ruben Amaro has been as aggressive as ever this winter, given the constraints of being near the luxury-tax limit set by MLB for total payroll.
He has made a number of moves; they just haven't been the right ones.
Review
The Phillies may or may not have had a tentative agreement in place with Ryan Madson for four years and $44 million in November; it depends upon whom you ask. Either way, the deal never materialized, and they ended up signing Jonathan Papelbon for four years and $50 million instead less than a week later.
That was a nightmarish decision. It led to the loss of a first-round draft pick, which turned out to be totally unnecessary when the new Collective Bargaining Agreement was signed shortly thereafter. Madson would wallow on the market nearly two more months before landing a one-year deal at $8 million with the Cincinnati Reds.
Roy Oswalt, whose $14 million price tag fell casualty to the Papelbon addition, remains a free agent and will come in well under that cost when he does sign.
From there, things got a bit better. The Phillies brought back fan favorite (and Charlie Manuel protege) Jim Thome as a bench bat/replacement first baseman in the absence of injured Ryan Howard. They traded for Ty Wigginton, who will be the primary first baseman during Howard's recovery.
On a more critical note, Amaro got a fair deal with free-agent Jimmy Rollins, retaining the 2007 NL MVP for three years and $33 million.
Joel Pineiro came on board recently, too, giving the Phillies rotational depth, though they hardly need it. Cole Hamels signed only a one-year deal for 2012, putting him on track (for now, anyway) to be a free agent next winter.
Preview
Amaro said he wants to talk contract extension with Hamels during Spring Training, so a big story could break without having any effect on the team's 2012 prospects.
One prospect who could make his own news, though, is Domonic Brown. The talented but star-crossed outfielder sounds ticketed for the minor leagues again, and while that decision is virtually untenable on Amaro's part, it could be an opportunity for the right kind of GM to creep in and steal him.
Think Alex Anthopoulos of the Blue Jays.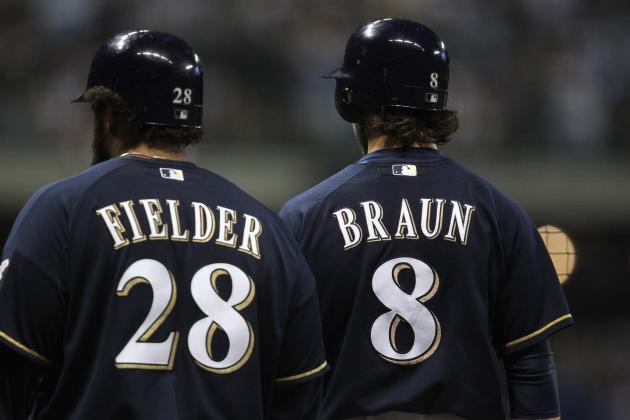 Jonathan Daniel/Getty Images

It's been a strange winter in Milwaukee, and it's probably going to have an unhappy ending.
Review
The Brewers will lose Prince Fielder this winter. That's not in question, and hasn't been but for a day or two all offseason. They expected as much. Fielder will sign elsewhere, and life will go on in Milwaukee.
Only it won't, or at least, it won't go on the way it was only a few months ago.
Shortly after the Baseball Writers' Association of America named Ryan Braun the NL MVP, the story began to spread: Braun had tested positive for PEDs in October. He faces what feels like an inevitable 50-game suspension, which he began appealing Thursday.
To patch the leaks springing prematurely in the hull of their ship, the Brewers signed Aramis Ramirez to play third base, replacing Casey McGehee. They also got Alex Gonzalez as shortstop, completing a full rebuild of what had been an utterly unproductive left side of the infield in 2011.
That was a nice rebound effort in the wake of the Braun news.
Milwaukee GM Doug Melvin then traded McGehee for bullpen help in erstwhile Pirate Jose Veras. He also got Francisco Rodriguez to agree to a surprisingly economical $8 million deal, ensuring a strong bullpen for the Brewers again next season.
Through the posting system, the team finally acquired Norichika Aoki, a left-hitting outfielder who should help fill the void while Braun is gone, and who might facilitate Corey Hart's moving to first base.
Preview
The Brewers virtually have to be done. Here's the pull quote from a recent interview Melvin gave Tom Haudricourt of the Milwaukee Journal-Sentinel: "We're way over what we projected our budget to be at this point. It's over $100 million. We hoped to be in the low 90s."
They still need some infield depth—ideally anyway—but they do have Cesar Izturis in the mix.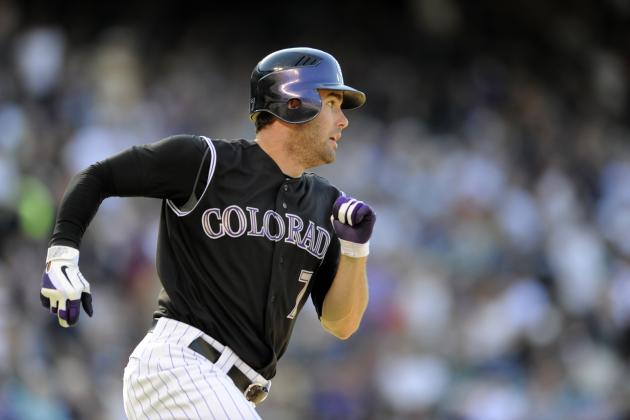 Jack Dempsey/Getty Images

It's hard to say what the Rockies are doing, but they're doing it big. That's a bad omen.
Review
The Rockies' winter has been a story of slow decline. Their first notable move was to swap catcher Chris Iannetta to the Angels for potentially promising ground-ball machine Tyler Chatwood, a risky but intriguing deal.
After that, things got confusing.
Huston Street went to San Diego for a player to be named later. Kevin Slowey came to the team at the same price. Then Ramon Hernandez signed as Iannetta's replacement, making the point of the Iannetta deal unclear.
The Rockies spent big money to land Michael Cuddyer for equally unclear reasons. They took on equal risk with less chance of reward by trading Ian Stewart to the Cubs for two iffy role players, then signed ancient Casey Blake to fill the void.
All those moves raised eyebrows a bit, but none on par with the move in which they sent Seth Smith to Oakland for two pitchers who have no business making the Rockies' pitching-rich roster.
After starting the winter involved in Jair Jurrjens trade rumors, it was a long fall in the esteem of other teams that made Smith worth only Josh Outman and Guillermo Moscoso.
Preview
Another shoe could drop yet before spring. With all the extraneous starting pitching they have amassed, they are well positioned to crowd in and swap for a major upgrade at either second base or third base.
For now, it's a bad winter, but that could change, somewhat.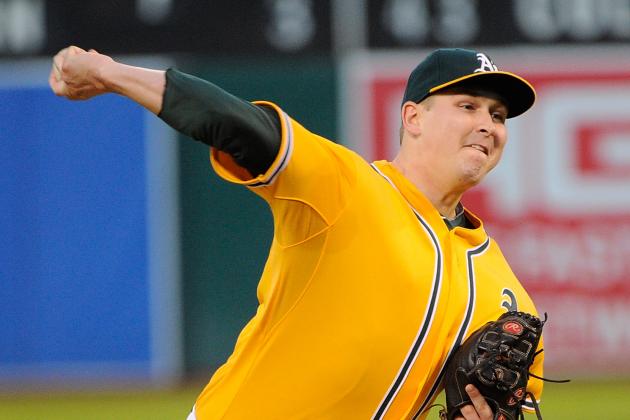 Thearon W. Henderson/Getty Images

The Diamondbacks consider 2012 part of their short window in which to win big, and to that effect, they have gotten aggressive this winter.
Review
The Arizona offseason began when they non-tendered Joe Saunders. At the time, the prevailing wisdom was that the southpaw would get a multi-year deal elsewhere, and that the Diamondbacks were signaling budget constraints that could haunt them all winter.
That soon went out the window, though. Aaron Hill re-signed at second base—a trade that sent away Jarrod Parker at least had the decency to bring back Trevor Cahill and reliever Brad Ziegler. Kevin Towers signed Takashi Saito to round out his bullpen.
Then things got weird.
Jason Kubel signed a two-year, $16 million deal to join up as the team's presumptive left fielder. A smarter deployment of resources would be to play Kubel at first base a bit and Paul Goldschmidt less, the better to keep Gerardo Parra in the lineup.
Still, the move completed a pretty sound lineup.
Finally, to make a nice book-end for their Hot Stove activity, the D'Backs improbably signed Saunders to a one-year deal at a very reasonable rate. They now have Cahill, Saunders, Daniel Hudson and Ian Kennedy, plus probably Josh Collmenter and a sprinkle of Trevor Bauer for their starting rotation.
This could be a very good team.
Preview
Ryan Roberts had a lovely career year in 2011, but should not be expected to repeat it. The team would be wise to diversify its infield portfolio and find something better than Willie Bloomquist as insurance there.
No move is likely on that front until the trade deadline, though.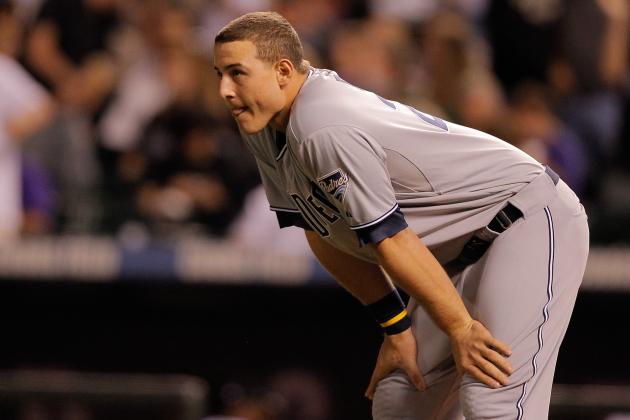 Justin Edmonds/Getty Images

The sheer turnover in Chicago may outpace the actual impact of the individual moves they have made, but a storm is brewing for the NL Central.
Review
It all began with the protracted wooing of Theo Epstein by Tom Ricketts and the Cubs' ownership team. Epstein came aboard around Halloween, and from then on, it felt like a press conference per week.
He hired Jed Hoyer and Jason McLeod to round out his front office. Dale Sveum got the manager's gig. Then the whole lot of them went to work.
David DeJesus may someday be the answer to a trivia question; he was the first meaningful addition under the new Cubs regime, on a steal of a free-agent deal. Next, the team traded Tyler Colvin and D.J. LeMahieu—Jim Hendry guys to the bone—for Ian Stewart and a pitching semi-prospect.
Sean Marshall, a short-term asset, turned into Travis Wood (a long-term asset, with five years of team control and a starting role to offer) and two solid upside guys. Carlos Zambrano netted the team gigantic Chris Volstad—three years from free agency as a back-end starter.
The coup de grace thus far came when Epstein, Hoyer and McLeod re-acquired a prospect they have coveted for five years in Anthony Rizzo, without even giving up Matt Garza.
Since then, it has been mostly filler moves—signings like Paul Maholm, Kerry Wood, Alfredo Amezaga, Rodrigo Lopez and Reed Johnson.
Preview
At the Cubs Convention last week, the team announced the imminent addition of a patio in right field, and an attendant LED scoreboard. That's one change coming; the other, bigger one could be a Matt Garza trade.
Such a deal would be the game-changing press conference Epstein has wanted to hold all along.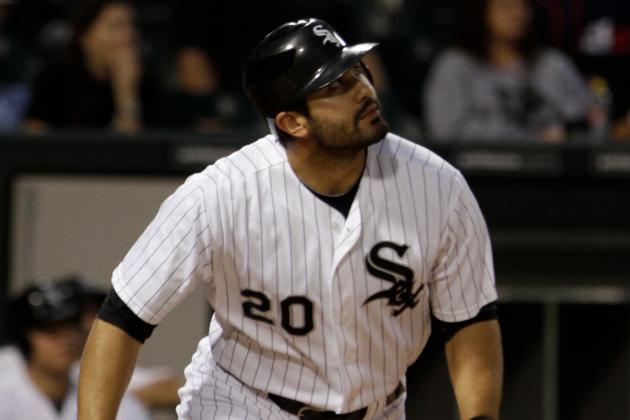 John Gress/Getty Images

There's no apparent strategic plan. They're not moving toward a specific window, at least not one I can see.
That said, the Padres have had a stellar offseason, and an active one to boot.
Review
Ravaged a bit by the departures of Hoyer and McLeod, the Padres front office refused to miss a beat. Josh Byrnes, an old compatriot of the trio now running the Cubs, got every bit as aggressive. He traded for Huston Street, then dealt Wade LeBlanc to Miami for John Baker.
He made by far his biggest splash, though, a week and a half after the Winter Meetings ended.
That's when the Padres dealt Mat Latos to the Cincinnati Reds for four players whose combined value to the team simply made the move irresistible. One of the players involved, Yonder Alonso made top prospect Anthony Rizzo available, which allowed Byrnes to flip him to Chicago for Andrew Cashner.
Carlos Quentin became the biggest-name external offensive addition in years for the franchise, and should be a good fit for even cavernous PETCO Park.
Beyond that, the team made mostly minor moves, but the overall picture is of a team changing everything, one step at a time.
Preview
Opportunities are always available for San Diego to grab pitchers with very low value, rehab them in the comfort of PETCO and flip them for a profit.
They should try that with a few pitchers in the mold of Ross Ohlendorf before spring.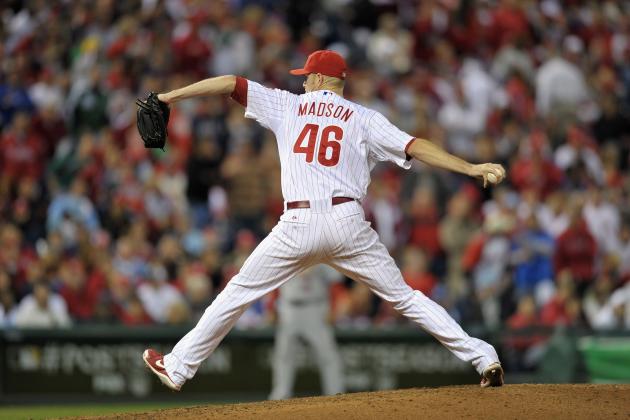 Drew Hallowell/Getty Images

Seeing the weakness of the Brewers and Cardinals going forward, and knowing they may not be able to keep Joey Votto past 2013, the Reds went all out this winter to change the odds and win the NL Central right now.
Review
Reds GM Walt Jocketty made no secret of his frustration early in the winter, when he felt the Oakland Athletics wanted way too much for Gio Gonzalez, and was unable to get the deal he wanted for an impact arm.
He got over it.
Jocketty ended up paying big for Mat Latos, but Latos is a worthy investment, and some of the pieces the Reds dealt would have been superfluous to the organization anyway. He also gambled on Aroldis Chapman by dealing Travis Wood as part of a deal to get elite left-handed reliever Sean Marshall.
Adding Ryan Madson and Ryan Ludwick on the cheap sets up the Reds with a very real chance to be NL Central favorites entering the year.
Preview
A little more left-handed help off the bench would be nice for the Reds. At this point, though, they need only sign insurance policy-type players—guys other teams have overlooked who can fill voids when injuries happen.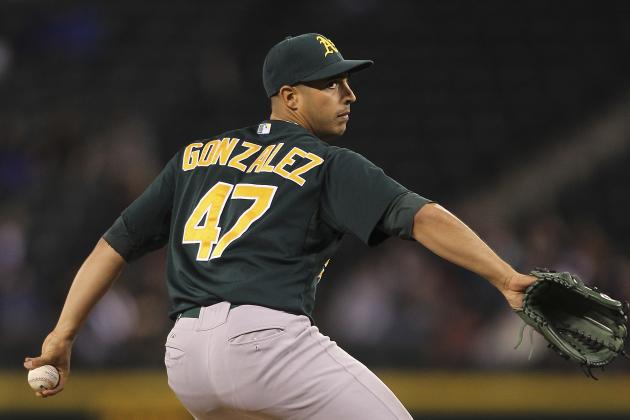 Otto Greule Jr/Getty Images

Expecting to hear they can move to San Jose soon, the A's have spent the winter unloading, rebuilding and looking toward the opening of a ballpark there. That could be around 2017, which helps explain why the team has divested itself so wildly.
Review
It was a series of sweepstakes from day one, a fire sale unprecedented under Billy Beane in Oakland. They would eventually turn Gio Gonzalez, Trevor Cahill, Craig Breslow, Guillermo Moscoso, Josh Outman, Andrew Bailey, Josh Willingham, David DeJesus and Ryan Sweeney into three extra draft picks, Seth Smith, Derek Norris, Jarrod Parker, Collin Cowgill, Ryan Cook, Tom Milone, A.J. Cole, Josh Reddick, Brad Peacock, Miles Head and Raul Alcantara.
That's turnover. Peacock, Norris, Parker and Cole are considered major prospects, while Smith, Reddick, Milone and Cowgill are MLB-ready mid-level talents. Head, Alcantara, Cook and the picks are essentially lottery tickets.
The net gains are probably quite large, but will not be realized until 2014 or so.
Preview
As a result of all those moves, the A's are an unstable and incomplete product at the moment. They have amassed depth, but seem to need one or two minor-league contract-type players to round out their roster going into the regular season.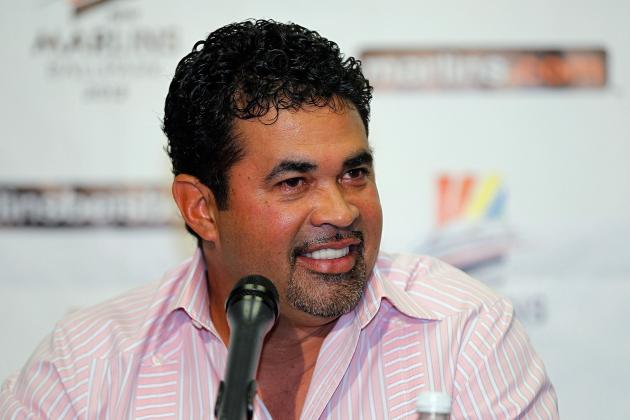 Mike Ehrmann/Getty Images

Changes this big have usually spelled big success for Marlins teams over the years, but this time, they have more than one team to leapfrog.
Review
Ozzie Guillen arrived in Miami on the final day of the 2011 season, all smiles. He would be the face of the new Marlins, nee Florida, now Miami, and he would put his stamp on the team.
New uniforms came on the heels of the Guillen hire. Though they have met generally with poor reviews, a uniform change is a cultural change, and that's what the Marlins needed. When they open a new ballpark next spring, the face lift will be nearly complete.
Heath bell started the ball rolling. Until he signed on with Miami, the prevailing wisdom had been that the Marlins were throwing up smokescreens, never really intending to spend the money they pretended to be ready to spend. Bell changed that overnight, and within 100 hours, the Fish landed him, Jose Reyes and Mark Buehrle.
Spending sprees like that are another fine way to change the culture of an organization.
Since then, the Marlins have been frustrated a bit. Buehrle was a consolation prize after Albert Pujols and C.J. Wilson spurned the Marlins at the Winter Meetings. Bringing in Carlos Zambrano could look brilliant if he gels nicely with Guillen, but the truth is the fire in his arm went out a few years ago.
Preview
With one last chance to make a huge splash and a hole in center field, the Marlins are virtually obsessed with Yoenis Cespedes. President David Samson said of the Cuban outfielder, "[W]e plan to be aggressive right to the point of stupidity."
He's right to think that way; Cespedes is the best chance the Marlins have to win in any of the next three years, given their stiff competition in the NL East.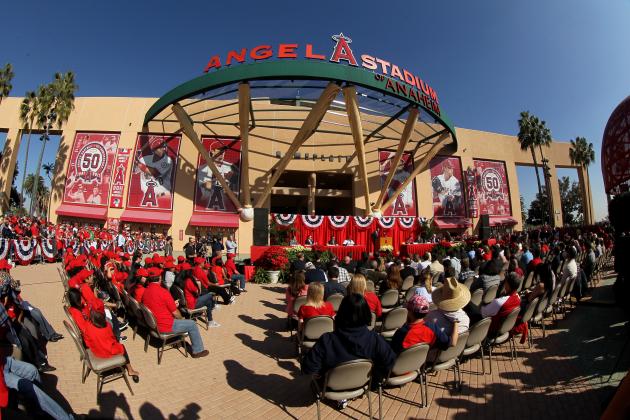 Stephen Dunn/Getty Images

If you don't know why the Angels are here, hey, welcome back. You'll never guess what Charlie Sheen did.
Review
It's not all about Albert Pujols and C.J. Wilson. The Angels kicked off the offseason by firing GM Tony Reagins, and got their guy when the Arizona Diamondbacks let Jerry Dipoto interview with the team.
Dipoto immediately went to work. He committed himself to finding a starting pitcher when he dealt for Chris Iannetta in November, a savvy move. Knowing what a temptation Jeff Mathis would still pose for Mike Scioscia, Dipoto traded Mathis.
Along with Pujols and Wilson, Dipoto brought home LaTroy Hawkins from the Winter Meetings. He also has locked Howie Kendrick into a very team-friendly four-year contract extension. Not a bad first winter on the job.
Preview
The Angels still need pitching. An extra starter, just as a fill-in, would go a long way.