Corey Hart to Play First Base After Milwaukee Brewers Sign Norichika Aoki
January 19, 2012

Jamie Squire/Getty Images
Ryan Braun seems a good bet to be absent from the Milwaukee Brewers' outfield at the outset of the 2012 season, so Corey Hart's presence there will be critical through the early going. Once Braun returns from his presumed PED suspension after 50 games, though, Hart might move semi-permanently out of the Brewers outfield himself.
That's because the team intends to ask Hart whether he will work out at first base, according to Tom Haudricourt of the Milwaukee Journal-Sentinel. Haudricourt tweeted Wednesday that Brewers GM Doug Melvin said Hart "will be asked" by the team to consider a move, though only "as backup for Mat Gamel."
That's well and good, but given the Brewers' recent moves, Hart might very well be the regular first baseman for the bulk of 2012.
Gamel, once a top-tier prospect, has succeeded only in proving he will never be able to play anywhere but first base in the field, hitting .222/.309/.374 at the bat in limited action over four seasons. There is unexplored potential there, as illustrated by his solid Triple-A numbers, but Gamel might never grow into a regular first baseman of any quality.
Meanwhile, the Brewers added a left-handed bat who could fill a very different but equally important role for them Tuesday. Milwaukee signed Japanese outfielder Norichika Aoki, a diminutive outfielder without much power or great speed, but who can put bat to ball and who owned a .329/.408/.467 career batting line during his tenure in Nippon Professional Baseball.
Aoki probably will play mostly right field if Hart moves to first, as the team already has two center fielders on the roster (Carlos Gomez and Nyjer Morgan).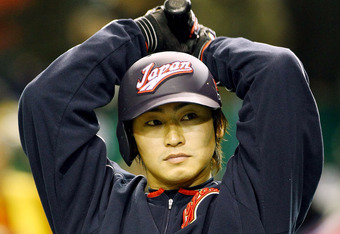 Junko Kimura/Getty Images
In addition, playing center field in MLB has generally been a tough transition for Japanese imports to make (notably Tusyoshi Shinjo and Kosuke Fukudome). It's unlikely Aoki would provide the same sort of offensive value as even Gamel, however, under any circumstances.
For the first time in five years or more, the Brewers seem not to have prioritized offense so completely as to have forgotten the flip side of the coin.
Whereas the 2011 Brewers were all about scoring runs and getting good starting pitching, the 2012 team might actually be defined first and foremost by run prevention.
Braun will miss the first eight weeks if his suspension holds up after appeal, but the Brewers now have sufficient depth to cover for him. When he does return, they could field an outfield of Braun, Gomez/Morgan and Aoki, with a starting infield of Aramis Ramirez, Alex Gonzalez, Rickie Weeks and Hart.
That would not be the league's best glove corps, but at first base and shortstop, and in right field, they would be substantially better than the 2011 club. 
Offensively, the Brewers will need to put together longer sequences of production in 2012. The imminent departure of Prince Fielder and the likely furlough of Braun will leave a large power burden on Ramirez, but with Gonzalez, Milwaukee likely replaced the production they got from Yuniesky Betancourt in 2011 and then some.
Meanwhile, a full season of Weeks' patience and bat speed, along with Aoki's addition, could give the Brewers more on-base threats than they have had since the end of the Robin Yount/Paul Molitor era.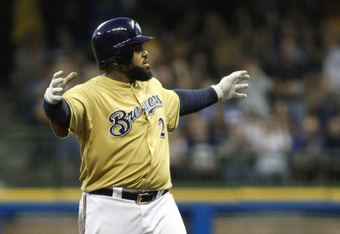 Mark Hirsch/Getty Images
Hart, in case you wondered, played 179 games at first base in the minor leagues. It's a position for which his length and good hand-eye coordination make him a natural fit. He's also become a more accomplished, better hitter over the past two seasons by trading a bit of contact for much better power.
Ultimately, Hart has better individual value in right field than at first base. Of that there is no doubt.
For the Brewers, however, the pertinent question is not where Hart has the greatest utility, but rather, what configuration provides the greatest composite team value. With such sterling starting pitchers atop their rotation, the best bet for the Brewers might be to save a few extra runs in whatever way they can, even if that means putting Hart at first base for much of the season.