2012 NFL Mock Draft: Projecting Landing Spots for Draft's Top Playmakers
January 16, 2012

Christian Petersen/Getty Images
This will be a different take on my most recent mock draft. Instead of having you go through 32 picks and another slide for the second round, I am going to give you the ability to look at where I have the top playmakers in the 2012 NFL draft going. 
So, let's take a look. 
17. WR Jarius Wright, Arkansas (Houston Texans) 
The Texans do have a nice amount of weapons on offense, but they could use that true No. 2 receiver opposite the amazing Andre Johnson. While some might think Wright would be somewhat of a reach here, it makes perfect sense to me. 
He is great on the outside and down the field because of an amazing burst off the line. This is a match made in heaven for the former Razorbacks playmaker and the Houston Texans toward the end of the second round. 
16. WR Rueben Randle, LSU (Denver Broncos) 
He might not have had a great performance in the BCS National Championship Game, but Randle is a solid player on the outside. He will give the Denver Broncos a player that could stretch the field on the outside, helping their running game.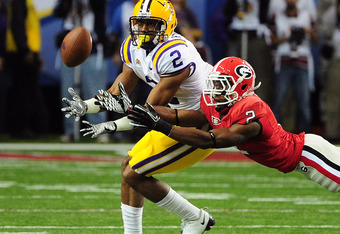 Scott Cunningham/Getty Images
He will be able to go into the slot and stretch the defense that way, as well as line up outside in man coverage and use his speed to get pass the defender. 
15. WR Nick Toon, Wisconsin (San Diego Chargers)
I am under the impression Vincent Jackson has played his final game with the San Diego Chargers. If this is the case, they are going to have to get another young weapon for Philip Rivers on the outside. While Malcom Floyd has played extremely well and Vincent Brown looks to be a keeper, they need another man. 
Toon has the ability to get past opposing defenders. More than that, however, he is a physical receiver that can use his frame to fend off corners on the outside. The former Wisconsin star has seen his stock drop this season, but he will be a major contributor at the next level. 
14. RB Doug Martin, Boise State (New York Jets)
To say Mark Sanchez needs a running game to succeed is an understatement. Whether it was Brian Schottenheimer going away from the run or a lack of trust in the Jets running back groups, this issue needs to be fixed. 
While Martin may not be your prototypical NFL running back and would be considered a reach in the second round, he would give the Jets that added dimension that is needed for their offense to succeed.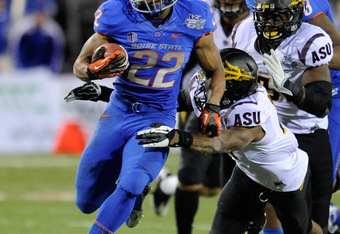 Ethan Miller/Getty Images
13. WR Mohamed Sanu, Rutgers (Kansas City Chiefs)
At this point I project the former Rutgers standout to be a second-round pick, but that may change in the future. Sanu has all the physical tools to be a dominating playmaker on the outside, something the Kansas City Chiefs need. 
We have no idea whether or not Dwayne Bowe will be back next season, but that really doesn't matter. The Chiefs could use another threat on the outside even if their No. 1 receiver does indeed return. 
12. RB David Wilson, Virginia Tech (Seattle Seahawks)
While Marshawn Lynch did go beast mode on us this season, he isn't getting any younger. Seattle would be well served to get a running back of the future in this deep draft class. 
Wilson might not be able to contribute immediately because he tends to struggle in pass protection, doesn't yet have the field vision up the middle and is relatively small, but the Seahawks can afford to take his potential and risk not having an impact performer as a rookie. 
11. QB Nick Foles, Arizona (Miami Dolphins)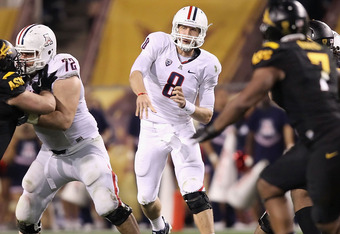 Christian Petersen/Getty Images
The Miami Dolphins are going to miss out on one of the top two quarterbacks in this draft unless they trade up. While Matt Moore played extremely well this season, he is in no way the long-term answer in South Beach. 
Foles has the tools necessary to be an elite quarterback at the next level. He can make every throw on the field, recognizes defensive schemes and has above-average pocket presence. This could be a pick similar to the one Cincinnati made with Andy Dalton in the second round last season. 
10. QB Ryan Tannehill, Texas A&M (Washington Redskins)
With Foles on the board, the Washington Redskins go with upside over proven success. Tannehill is less than two years removed from being a receiver for Texas A&M but seems to have all the skills you look for in a quarterback. He can rocket the ball 50 yards down field, is extremely accurate on the intermediate routes and has surprising pocket awareness. 
Technique and fundamentals are going to be issues for Tannehill moving forward, meaning that Miami will have to work with him in-depth. He is definitely not ready to contribute in 2012. 
9. TE Dwayne Allen, Clemson (Cleveland Browns)
The Cleveland Browns get an elite tight end for Robert Griffin III here. Dwayne Allen is tremendous up the seam, has soft hands and is an above-average blocker.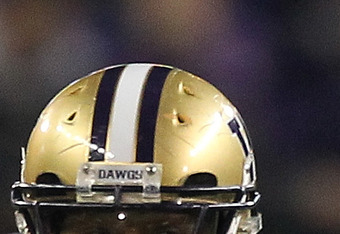 Otto Greule Jr/Getty Images
He is a difference-maker on the offensive side of the ball, plain and simple. Additionally, I have Allen with a first-round grade, so the Browns getting him in the second round would be a coup. 
8. RB Chris Polk, Washington (St. Louis Rams)
We all know Jeff Fisher loves to pound the ball. Steven Jackson probably doesn't have a lot of tread left on those tires, either. In short, the Rams need to find themselves a running back of the future. 
Polk is one of my favorite players in this entire draft. He has the ability to carry the ball 20-25 times a game and is extremely strong up the middle. One of my favorite aspects of Polk's game is that he is already pro-ready in terms of blocking ability, receiving out of the backfield and field awareness. He's really solid pick at a need position. 
7. WR Kendall Wright, Baylor (New England Patriots) 
While I do have the New England Patriots going defense with three of their first four picks, Wright might be too hard to pass up towards the back end of the first round. 
Despite having an amazing offense, the Patriots do lack that true downfield threat on offense. Additionally, Deion Branch is set to become a free agent. I think it is time the Patriots invest an early pick on a receiver. Wright would give them tremendous value here.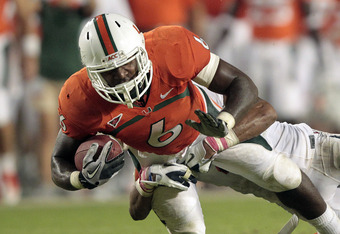 Joel Auerbach/Getty Images
6. WR Alshon Jeffery, South Carolina (Chicago Bears)
If Alshon Jeffery fell to the Chicago Bears here, I am pretty sure Jay Cutler and Co. would be doing back flips. There is no doubt in my mind the Bears need a go-to guy on the outside. While a little raw, Jeffery would provide them that burst that they have been missing. 
If selected by the Bears, look for Jeffery to make an immediate impact down the field and give them the weapon they have been missing. 
5. RB Lamar Miller, Miami (Cincinnati Bengals)
Cedric Benson has probably played his last game for the Cincinnati Bengals after struggling against the Houston Texans in their Wild Card loss. Even if Benson does return, the Bengals need to look to the future at running back. 
Miller is one of my favorite players in the entire draft. He has excellent field vision, understands protection and is extremely hard to bring down after initial contact. The former Miami star would give the Bengals another added dimension on offense with Andy Dalton and A.J. Green. 
4. WR Michael Floyd, Notre Dame (Washington Redskins)
Ronald Martinez/Getty Images
I am pretty sure the Washington Redskins will attempt to trade up for Robert Griffin III, but if that doesn't happen they are going to be in a difficult spot. 
Justin Blackmon will not be available and No. 6 is way too early to take a second-tier quarterback prospect. Floyd might be somewhat of a reach here, but he fills a need position for Washington. It makes much more sense than addressing needs on a strong defense. 
3. RB Trent Richardson, Alabama (Tampa Bay Buccaneers)
Tampa Bay needs all the help it can get on the defensive side of the ball, but it will not pass up on the best running back prospect to turn pro since Darren McFadden, or maybe even Adrian Peterson before him. 
The Buccaneers will get someone that can run the ball 25-30 times a game, dominate the trenches and be a game-changer. Additionally, Richardson would provide Josh Freeman some more balance on the offensive side of the ball. 
2. QB Robert Griffin III, Baylor (Cleveland Browns)
I know what some Browns fans are thinking. Why go after a quarterback when this offense lacks any weapons in the receiving game? Well, RG3 is the second-best player in the draft and does fill a need. Colt McCoy will never be anything more than pedestrian at the next level. The sooner Cleveland realizes this the better. 
RG3 will be an All-Pro quarterback, something the Browns haven't had in generations. 
1. QB Andrew Luck, Stanford (Indianapolis Colts)
Need I even say anything here? The Indianapolis Colts have made it pretty damn clear they intend on selecting Andrew Luck No. 1 in April, making this the earliest we can envision a draftee going to a potential team in the history of the common draft. 
Luck will start from day one and be a top three quarterback within two seasons. You can pretty much bookmark this page and get back to me then. 
Conclusion
I am extremely excited about some of the weapons that the offensive side of the ball has to offer in the 2012 NFL Draft. You are looking at two franchise quarterbacks, two future All-Pro running backs and the potential of three No. 1 receivers. 
Teams that are looking offense in April should be really excited about the amount of talent this draft is going to boast.