5 Reasons Why Maurice Jones-Drew Is the Best Running Back in the NFL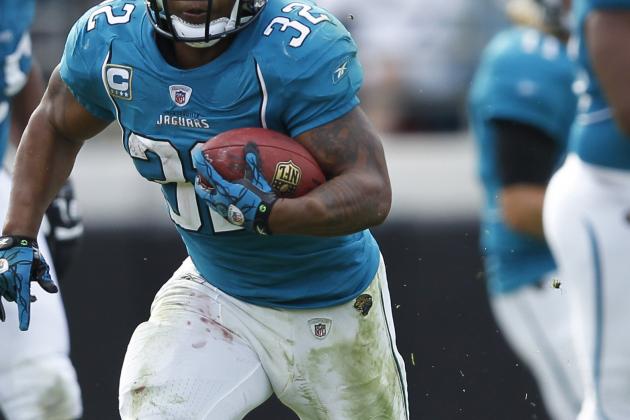 Joe Robbins/Getty Images

The Jacksonville Jaguars mustered five wins this 2011 season, and almost all of them came on the back of their superstar running back Maurice Jones-Drew.
MJD, as fans call him affectionately, is a workhorse back. He fights for every yard and earns the respect that comes with being the best player on his team.
In 2011, Jones-Drew has taken the league by storm and has proven that he's an elite runner.
There's no doubt in my mind that Maurice Jones-Drew is the best running back in the NFL.
And these are my reasons:
Begin Slideshow

»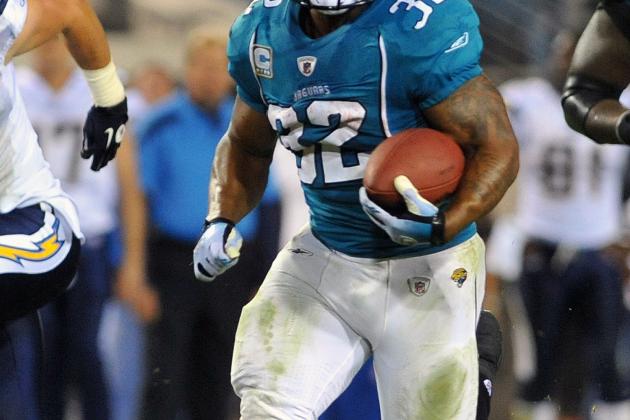 Al Messerschmidt/Getty Images

The whole purpose of a running back is to run the ball.
It sounds simple enough, but very few running backs can rush well. MJD has the most rushing yards in the league while winning the 2011 rushing title.
Jones-Drew finished the year with 1,606 yards. That effort is 242 yards better then Ray Rice, who came in second place. Usually the back that wins the rushing title is the best in the NFL. This year is no different.
MJD also averages 100.4 yards per game—an NFL best.
He's a cheetah when everyone else is a snail.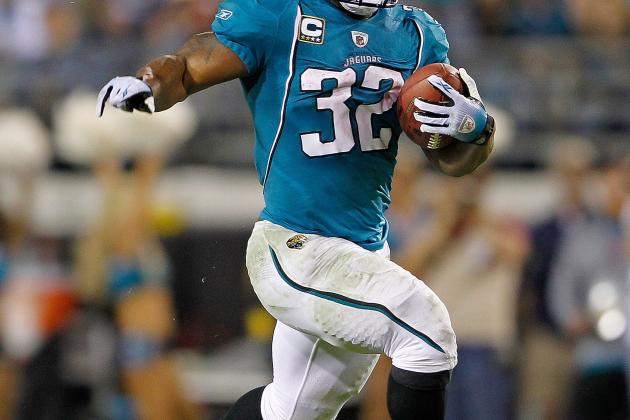 Mike Ehrmann/Getty Images

Maurice Jones-Drew is crushing defenses with no help from anyone.
He's rushing for 100 yards per game with nine defensive players in the box. Everyone knows that Jacksonville isn't going to pass it. The Jags are a one-trick pony. But what a trick MJD is.
While the other rushing leaders have the benefit of playing on a potent offense, Jones-Drew has gained his yards on the worst offense in the NFL.
Jones-Drew has accounted for 46.4 percent of the Jaguars' total offensive output this season.
Blaine Gabbert and the Jaguars are the worst team in the league when it comes to passing the ball.
Defensive coordinators write pages and pages to try and stop MJD. Jones-Drew makes like a shredder and destroys any game plan.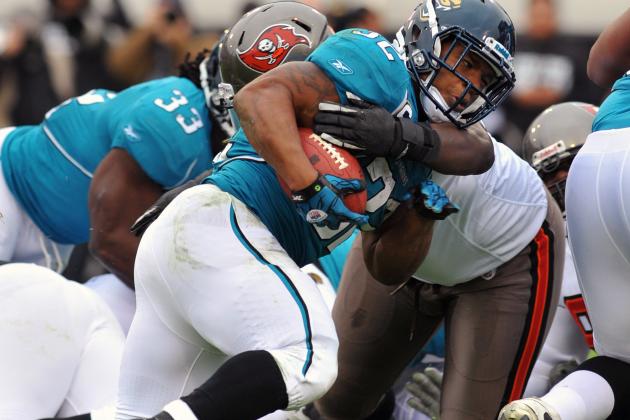 Al Messerschmidt/Getty Images

The only way to win a game is to get first downs. They keep the drive going and keep the offense in possession of the pigskin.
In 2011 MJD had 75 first downs. That's second only to LeSean McCoy of the Philadelphia Eagles. That knack of finding the yellow line is important to runs and helps his team.
Jones-Drew also has three runs of 40 yards or more. That's third in the league and cements his status as an explosive player.
Furthermore, MJD is one of the best blocking running backs in the NFL, and that unique ability makes him well-rounded and helps the passing game evolve to pick up first downs and more.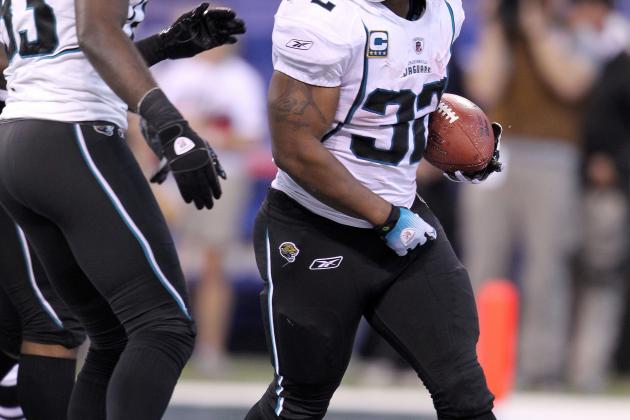 Andy Lyons/Getty Images

Maurice Jones-Drew is two-dimensional, and that second dimension makes it hard for opposing defenses to try and stop him.
He can run, and he can catch. Jones-Drew has 43 receptions for 374 yards and three scores.
Those numbers just add to what the back can do and makes him just that much better. The Jags don't have very many weapons at wide receiver, and having a running back who can catch and run for yards after the catch is helpful.
MJD tries as hard as he can to help his team to victory.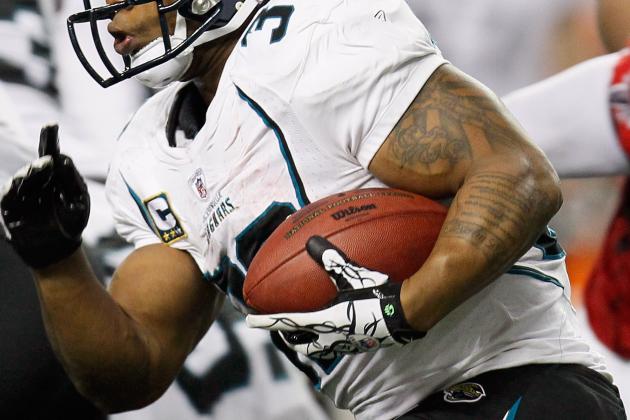 Kevin C. Cox/Getty Images

Having good protection is very important to a running back.
Some of the best backs are not able to reach their full potential because their offensive line cannot clear a running lane. The O-line is supposed to make holes and block for the running back.
Every time Jones-Drew steps on the field, it's like he's walking into a drug deal with no backup. Whatever yards that the Jaguar is able to muster, he's doing it alone.
The Jacksonville offensive line is ranked 31st in the league. This makes Jones-Drew and his stats even more impressive.
For comparison purposes, Ray Rice has the sixth-best line protecting him.
Frank Gore and his Niners have the ninth-best line.
The amazing year that Reggie Bush is having is behind the eighth-best line.
MJD is having a career year with his own skills.