New England Patriots Line Healthy as Pats Try to Solve Playoff Pressure Issues
January 11, 2012
Jim Rogash/Getty Images
If you ask Tom Brady how he feels now that it's finally playoff time in New England, you get the expected answer. The New England Patriots quarterback is ready to go, excited for the opportunity, eager to hunt down a fourth Super Bowl title.
Brady's body might feel otherwise. January has been a painful month for Tom Terrific, full of sacks, strips and hits, courtesy of 300-pound linemen and 250-pound linebackers. The last three playoff games for New England, spread out over four seasons, have had the same ending: Brady's gone down, and so have the Patriots.
The book on Brady has one chapter that opposing coaches and coordinators keep flipping to. It's become an axiom: Pressure Brady, and you've got a chance.
The playoffs, where all axioms, theories and cliches are tested, have borne this out. In Brady's first 16 games, he was sacked 23 times, less than an average of one-and-a-half per game, including a high of four. The Patriots went 14-2.
In the last three games, Brady was sacked 13 total times, including five times twice. The Patriots dropped all three. It's not a coincidence.
That's why the news from Tuesday had to be encouraging to Patriots fans. Tackle Sebastian Vollmer, whose regular season never got off the ground because of back problems, and star guard Logan Mankins are back in practice. The duo have three All-Pro selections over these past two seasons, and Mankins earned his third All-Pro selection this year.
The Patriots' line is the healthiest it's been since center Dan Koppen went down with a season-ending broken ankle in Week 1. Mankins and Vollmer are back, Matt Light returned in the season finale, Brian Waters is playing at a Pro Bowl level and impressive rookie Nate Solder, drafted to boost that leaky playoff line, is available in his role as a tackle/tight end hybrid.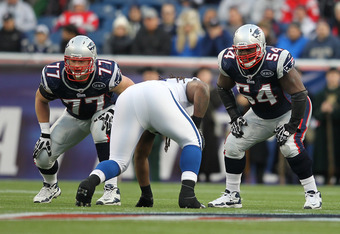 Jim Rogash/Getty Images
The Patriots are getting their horses back. They're getting stronger, just in time for the point in the season in which they've struggled the most.
The wild card in the Patriots' pass protection is Vollmer. Mankins is the best player on the line, but Vollmer's scant playing time this season will make him the player to keep an eye on going forward.
He should be good to go, or at least be close. Coach Bill Belichick normally has a quick trigger finger with injured reserve decisions, with Koppen, who went on IR immediately after his injury even though many predicted he could return, being a case in point. But Vollmer remained on the active roster, suggesting Belichick knew a return this year was probable.
If Vollmer and Mankins, who suffered a knee sprain on Christmas Eve against Miami, return and are healthy, the Patriots will be able to run a litmus test with the line. A productive outing would mean the last three playoff losses were a bad stretch; a poor showing would mean something's wrong with the unit as a whole. Rebuilding the line would go from being a gradual process to being an urgent task.
For the Patriots to have a chance at a Super Bowl title, pass protection has to be the utmost of their concerns. It's Brady or bust from now on, and he can't do anything if he's hitting the ground as often as he's hitting his targets.
This January needs to be a pain-free one for Brady. With New England's top linemen getting healthy again, they'll try to help him out. We've seen what happens when they do.