St. Louis Rams: Mike Martz Could Make Sense as Quarterback Coach for Bradford
January 9, 2012
NFL Photos/Getty Images /Getty Images
Jeff Fisher and the potential of him becoming the next head coach in St. Louis is the focus of most St. Louis Rams fans right now as reports indicate that could come to fruition by Tuesday or Wednesday.
If and when he is ultimately announced as the eighth head coach since the move to St. Louis, the next step is assembling a coaching staff.  
It has been reported by the St. Louis Post-Dispatch that Fisher wanted assurance from the Rams that he would have the available budget to seek a strong, veteran coaching staff.  That was not always the case in Tennessee under Bud Adams, an owner who was known in some circles as "cheap."
Late last week, Jason La Canfora of NFL Network reported that some within the Rams coaching search/consultant group feel that it would make sense to consider Mike Martz for a position here, most likely, as offensive coordinator.  
Since that report, Martz has been a hot topic on multiple Rams message boards.  The debates over the pros and cons of the "Mad Scientist" are always intense.  He is somewhat of a polarizing figure in St. Louis and is either loved or hated by the masses.  Few are neutral towards Martz.
Former players like Kurt Warner have spoken highly of him.  It is also obvious, though, that his system tends to put his quarterbacks in the line of fire more frequently than would ideally be preferred.
Although Martz is given ample credit for the development of the undrafted all-time great Kurt Warner, the former sixth-round pick and two-time Pro Bowler Marc Bulger, a couple of enhanced years with Jon Kitna where the journeyman threw for 4,000 plus yards twice, and, to a lesser extent, some of the better play yet seen from Jay Cutler, his offense, at the same time, got each of these quarterbacks beaten, bruised and injured.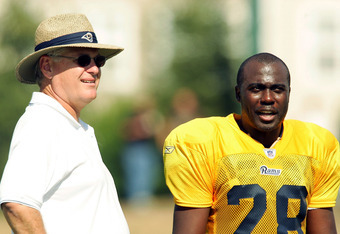 Elsa/Getty Images
So, I suggest a "best of both worlds" approach:
Hire Martz as quarterback coach.  
This move will keep him away from play-calling to help protect the long-term health of Sam Bradford while aiding the development of potential franchise quarterback Sam Bradford, who the Rams hope turns into a Peyton Manning, Tom Brady, or Aaron Rodgers type signal caller.
In this role, Martz could work one-on-one with Bradford and nurture his development just as he aided the maturation and growth of Warner, Bulger and Kitna.  
As quarterback coach, the "Mad Scientist" could focus solely on Bradford's mechanics, his delivery, ensuring that he is progressing through his reads and guiding his overall development.  At the same time, Fisher's offensive coordinator could focus entirely on running an efficient, productive offense. 
In 2010, the first overall pick out of Oklahoma flourished while going on to win the NFL Offensive Rookie of the Year Award.
Perhaps not coincidentally, he was tutored constantly through the week and on game day by then quarterback coach Dick Curl.  Unfortunately for Bradford and St. Louis, Curl decided to retire in January, 2011.
I am not suggesting that losing Curl and the Rams failing to replacing him as being the only reason for Bradford's diminished play, but I am asserting that having a quarterback coach to interact with during the game and throughout the season was helpful for the young Bradford, and would be again.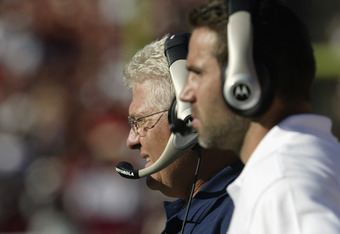 Stephen Dunn/Getty Images
In my mind, if Martz truly does "make sense" to some in the Rams coaching search/consulting group, this would be the ideal (and safest) role for the Rams and Sam Bradford.
One might ask, why would Martz consider coming back as a quarterback coach after more prestigious roles as head coach and offensive coordinator?
For one, he had tremendous success here and in affinity for St. Louis.
Two, after leaving Chicago and a sometimes rocky ride there, Martz may not be in demand as an offensive coordinator going forward.
Thus, it is conceivable that the option, if presented, might appeal to Martz, who could take advantage of the opportunity and help restore his reputation.
If the Rams were so inclined, they could sweeten the pot by naming him as assistant head coach to boot, throwing Martz a more prestigious title and at least the look of a more prominent role under the Gateway Arch.  
Although Martz to St. Louis in any capacity is probably unlikely, if he were to return to the city where he once lit up NFL defenses in a dizzying and historic fashion, this would be the ideal manner in which to return.   

Shane Gray covers the St. Louis Rams year round. To check out the rest of his work, go here.  You are also encouraged to follow him here on Twitter.