NFL Draft 2012: Why the Cleveland Browns Should Trade Down in the First Round
January 8, 2012
Christian Petersen/Getty Images
The Cleveland Browns will enter the 2012 NFL draft with a surplus of draft picks and very high expectations after their blockbuster trade with the Atlanta Falcons last April. Cleveland currently holds the fourth overall selection in the draft and another selection late in the first round that is dependent on the postseason success of the Falcons.
The Browns should be in prime position to draft a high-quality player and could even be a keystone in the quarterback lottery that has become the draft in recent seasons. Andrew Luck is expected to be off the board with the first overall selection, but Robert Griffin III has been gaining momentum by the day with Matt Barkley and Landry Jones returning to college.
Two of the three teams drafting in front of the Browns, St. Louis and Minnesota, are relatively sound at the quarterback position and will likely look to build in other areas rather than spend their time on another young signal caller. The Browns' quarterback situation is very different from those teams as Cleveland is continuously looking for a solid quarterback prospect and refuses to endorse any quarterback on their roster as the quarterback on the future.
The Browns franchise will have to do some large-scale evaluations over the next few weeks in order to determine what direction the team should go this spring. However, to an outside source looking in, it seems that Cleveland could benefit greatly from not selecting a quarterback with the fourth pick and trading down with a team that is willing to overpay.
Colt McCoy is still a young prospect who can develop into a solid player and has not had an offseason program yet in his NFL career. McCoy has also been forced to play in two offensive systems that were completely foreign to him when he entered the NFL last year, and posted numbers that were better than other Browns quarterbacks from recent seasons.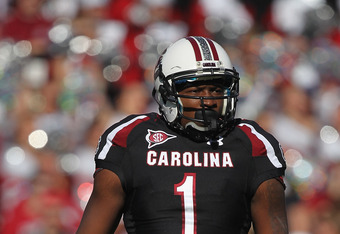 Streeter Lecka/Getty Images
Cleveland's biggest needs at this point in the draft process have to be the wide receiver position. Justin Blackmon is the best overall receiver prospect in the draft, but will likely come off the board with the second or third pick. The next-best option for the Browns is a toss up between Alshon Jeffery and Michael Floyd.

Both receivers are better options than what the Browns currently have, but are not exactly worthy of a fourth overall selection. Jeffery and Floyd have been interchangeable on many draft boards the last few weeks, and both players are projected near the middle of the first round.
Cleveland would be in a prime position to draft either one of those players if they should trade down into the No. 5 through 12 range of the first round. They could also continue to build draft picks for upcoming seasons as they continue their youth movement within the franchise.

Atlanta took a huge risk by trading Cleveland multiple picks last season, and Cleveland managed to have one of their best drafts since 1999. It would be easy to assume that Cleveland could have the same success if they could lock in any type of top-tier receiver.
It is also worthy to note that the quarterback class in 2013 is expected to be much deeper than in this upcoming draft. If McCoy should happen to fail with better offensive weapons around him, Cleveland should be in a position to draft a quarterback surrounded by talent in 2013.
There are many of teams that could be willing to trade up for Robert Griffin III, but the two that are the most intriguing would have to be the Washington Redskins and Miami Dolphins. Both the Redskins and Dolphins have top-10 selections at their disposal and also have a history of making big deals in order to "improve" their franchise. The Dolphins continue to seem like they are the more likely candidate to trade but will have to find a head coach before they continue to plan for the draft.
Cleveland has made some smart draft decisions in the last few seasons and have produced multiple starters through their drafting methods. The best teams in the NFL continue to make good draft day deals and always seem to have the upper hand in April.

Cleveland has a unique possibility this season to address a key team need while still building picks for the future. It will be interesting to see how the team uses all of the picks they have already acquired and it is certain that Browns fans will be watching closely on draft weekend.