NFL Draft 2012: Colts Owner Jim Irsay Will Reportedly Draft Andrew Luck
January 7, 2012
Christian Petersen/Getty Images
The Indianapolis Colts apparently don't need a general manager to figure out that they want to take Stanford quarterback Andrew Luck with the first pick of the 2012 NFL draft.
Most draft experts would agree that Luck is the consensus No. 1 overall pick, and after the year the Colts had without Peyton Manning, it would make sense to draft his successor.
The Colts don't even have a general manager right now, but according to Pro Football talk via ESPN's Chris Mortensen, owner Jim Irsay already knows that he wants to draft Luck.
With the health of Manning still up in the air, and the rave reviews of Luck and his NFL potential, frankly this is a decision that the Colts don't even need a general manager to make.
For all intents and purposes, Luck is the perfect NFL quarterback prospect.
At 6'4", 235 pounds he has excellent size for a quarterback, and coupled with all of his intangibles, he's a force to be reckoned with coming out of college.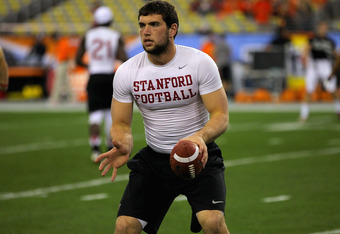 Doug Pensinger/Getty Images
He can make every pass on the field, has great field-vision and solid throwing mechanics. What might make him the most appealing though is his quarterback smarts.
Obviously, playing at Stanford required him to keep a certain high level of academic prowess, and that's a quality that translates onto the field.
Bleacher Report's NFL draft lead writer Matt Miller actually compares Luck's quarterback IQ to that of Manning's, who is notorious for his cerebral play at the NFL level:
Both players are incredibly intelligent, and if anyone can come close to the level of Football IQ that Manning showed at Tennessee, it's Luck. Both have run complex offensive systems that require more from the quarterback than your average college spread option. Luck and Manning have learned to be thinkers on the field. 
Many quarterbacks struggle transitioning to the NFL game right out of college. The playbooks are thicker, defenses are much smarter, and the overall speed of the game is much faster.
Luck has all the makings of a quarterback that can step right in and be successful right away.
No offense to whichever general manager the Colts eventually bring in, but Irsay doesn't need them to make this decision.
It's a rather simple one to make.
Luck is the best player in the draft, and he's reportedly going to be a member of the Indianapolis Colts.