Aaron Rodgers Tops List of NFL Jersey Sales: Where Does Tim Tebow Rank?
January 4, 2012
Jonathan Daniel/Getty Images
Not everything that we the fans do makes a lot of sense. This is a problem that's by no means limited to football. Still, time and time again, we see it in fan voting, jersey sales and Madden covers. There always seems to be a head-scratching element or two. As strange as things often are, the NFL fans came through and made Aaron Rodgers' jersey the top one sold in 2011.
CNBC's Darren Rovell released the list of top sales. While there are a few head scratchers in there, it's not a bad representation of how how season went.
Key Omissions
Any Running Back
I suppose it's just a sign that the NFL is a passing league. They also now place an emphasis on platoons, and not individual featured backs. But there is not one running back on this list. 
Calvin Johnson
Megatron clearly belongs. There is not a better receiver in the NFL right now, and it's not even close. Give him a year with the Lions as a team on the national radar going into the season, and we'll see how much this changes.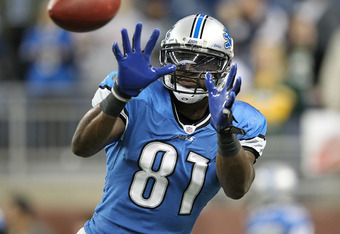 Leon Halip/Getty Images
Cam Newton
OK, this is something of an unfair comment. He wasn't even drafted until almost four full months of the year had taken place. But Newton lit the world on fire in 2011. Look for him to be on lists like this for a long time.
Rob Gronkowski
What a phenomenon this man became. It's not often that a tight end would belong on a list like this, but his season was too good to ignore. I don't know of one man who wouldn't want to be Gronkowski. In time, his jersey sales will reflect that.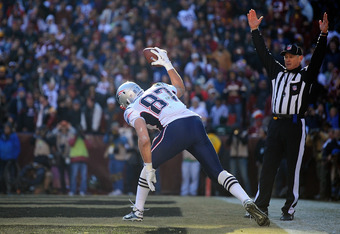 Patrick McDermott/Getty Images
Now, to the actual list itself.
10. Miles Austin
Austin is a nice receiver, but he doesn't quite belong on this list. It just goes to show you what playing for the Cowboys will get you. Oh, and I hear he's popular with the ladies. 
9. Tony Romo
Say what you will about Romo, but he belongs on this list. The Cowboys missed the playoffs, but he's not to blame. Not by anyone paying attention anyway. Romo played hurt and played when he had very little around him at times, and managed an 8-8 season. He is Dallas' franchise quarterback.
8. Eli Manning
I guess there had to be a Manning on the list. With Peyton not playing at all in the 2011 season, Eli had to be the man. 
It helps that he plays in a big market and had a tremendous 2011 season. This is another sign that Eli is getting his due as one of the game's best quarterbacks.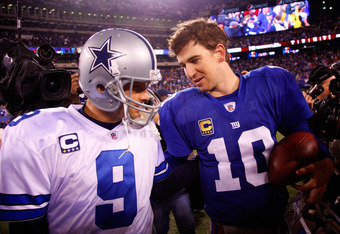 Jeff Zelevansky/Getty Images
7. Michael Vick
Still one of the more polarizing players in the game, and the only player on this list to be on a team eliminated from playoff contention in the 2011 calendar year (Cowboys weren't eliminated until New Year's Day). 
But remember that the NFL season makes up only the last few months of the calender year. The rest of the year is spent anticipating the season. The Eagles certainly entered it with a lot of hype.
6. Clay Matthews
The first of two defensive players to make the list. Matthews certainly attracts the attention of anyone watching. He's got the long hair, the crazy celebrations and is extremely good. On top of all of that, he plays on the defending Super Bowl Champions, who also sport the NFL's best record. 
If Matthews' name really surprises you, what rock do you live under?
5. Tom Brady
The NFL's Golden Boy certainly can't be a surprise. He seemed a little low at first, but then I thought about it. Brady has been on the same team for more than 10 years and has been a star the whole time. People already have his jersey.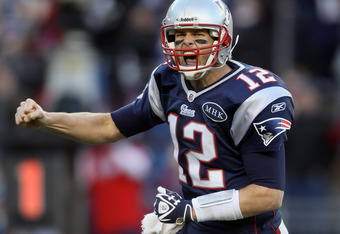 Elsa/Getty Images
4. Drew Brees
Brees took another step towards immortality this season. He broke Dan Marino's long-standing season passing record and broke it rather emphatically. In a perfect world, he would be in one of the top two slots, but No. 4 is certainly nothing to sneeze at. It shows that nice guys are appreciated, as long as they are tremendous quarterbacks.
Another defensive player in the top 10, which is something nice to see. Offensive players tend to get the glamour, so seeing a defensive player like Polamalu get love is nice to see. Given what he's done in his career and continues to do, no defensive player should be higher on this list.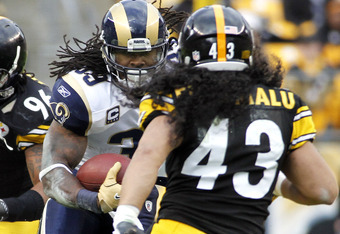 Justin K. Aller/Getty Images
2. Tim Tebow
No player in the NFL gets more loaded opinions on one side or the other. It only makes sense that his jersey sales would be one of the tops in the league. And while Tebow's certainly not a classical quarterback, something needs to be said. 
When he took over from Kyle Orton, the Broncos looked hopeless. They were 1-4 and headed for an early draft pick. Now that the regular season is over, this team is 8-8 and actually headed for the playoffs. 
Tebow's not the second best player in the league, but this news doesn't come from out of nowhere.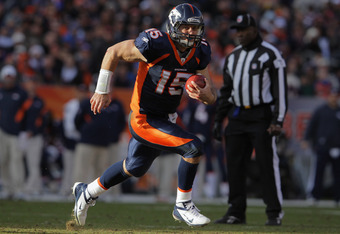 Doug Pensinger/Getty Images
1. Aaron Rodgers
Aaron Rodgers is the only possible No. 1 answer on this list. Since we said goodbye to 2010, Rodgers has won a Super Bowl (and Super Bowl MVP), had one of the best individual seasons in NFL history and led his team to one of the best team seasons in NFL history. They are now in great position to win another championship in Green Bay.
Rodgers is the best player in the NFL this year, and his jersey sales should reflect that fact.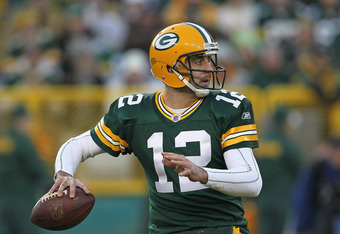 Jonathan Daniel/Getty Images