2012 NFL Draft News and Notes: Andrew Luck, Underclassmen Watch and More
January 4, 2012
Chris Trotman/Getty Images
The 2011-2012 college football bowl season is sadly winding down to its end, but that means that the 2012 NFL Draft watch is on!
There are a bevy of storylines surrounding the upcoming draft, such as Andrew Luck to the Indianapolis Colts and the possible ramifications, underclassmen watch and more. I am here to discuss them all.
Read on to see my 2012 NFL Draft News and Notes.
The Andrew Luck Conundrum 
Stanford Cardinal quarterback Andrew Luck is widely considered to be the grand prize of the 2012 Draft, as the well-documented comparisons to fellow Stanford signal-caller John Elway, as well as other football greats, continue to surface.
Luck boasts excellent mechanics, decision making, arm strength, serviceable mobility and the all-important accuracy, elements that have made Luck the best NFL prospect since current Indianapolis Colts quarterback and future first ballot Hall-of-Fame inductee, Peyton Manning. 
However, as a result of Manning's inability to properly rehabilitate from a second neck surgery because of the five-month NFL lockout, the NFL "ironman" who previously held the second longest games-started streak in the history of the sport missed the entire Colts' season, which led to a 2-14 record and the No. 1 overall selection for the previously proud franchise. 
Now, the Colts face a possible franchise-shifting decision, whether to draft Andrew Luck with the No. 1 pick or explore other options. This future decision has led to heated debate, and ESPN NFL Draft expert Todd McShay made the boldest declaration regarding the biggest story in the draft thus far.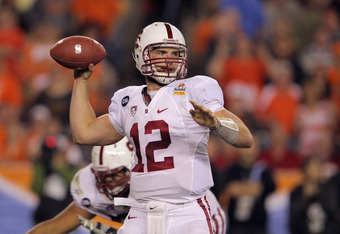 Doug Pensinger/Getty Images
McShay said that the Indianapolis Colts should not only acquire Andrew Luck, but cut future Hall of Famer Peyton Manning and hand Luck the keys to the Indianapolis franchise. Although this opinion could be dismissed as pure blasphemy upon first glance, judging from current events within the Indianapolis brass, that could be a possibility.
Indianapolis Colts owner Jim Irsay shook up the NFL football landscape yesterday when he fired vice chairman Bill Polian and Bill's general-manager son, Chris Polian. He retained head coach Jim Caldwell, but said his future with the team was still under evaluation.
The senior Polian was considered one of the best executives in the NFL throughout his tenure, and although Indianapolis finished a disappointing 2-14 this season, the moves came as a shock to many, including Peyton Manning, who said he was "stunned" when he learned of Irsay's decision.
Because these firings were such a shock, this proves that Irsay is more than willing to execute franchise-changing moves, and drafting Luck and cutting Manning would definitely be classified as that type of a move.
In the end, I believe that the Colts will ultimately draft Luck, but Indianapolis will keep Manning on the roster for Luck to learn the system under him until Manning's eventual retirement.
Underclassmen Watch
All of the following players have announced that they will enter the 2011 NFL Draft, so I will discuss their NFL futures and which teams could select them come draft day.
Justin Blackmon (Oklahoma State WR)
As I wrote last night on my article at RantSports.com, Oklahoma State wide receiver Justin Blackmon officially announced that he will enter the 2012 NFL Draft. Blackmon looks to be one of the best wide receiver prospects in the NFL Draft and could end up being a top-10 selection when the draft kicks off April 26.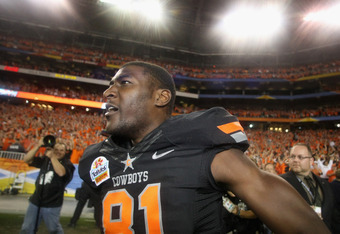 Donald Miralle/Getty Images
With many wide receiver strapped teams owning a top-10 selection in the 2012 annual selection meeting, including the St. Louis Rams (No. 2), Cleveland Browns (No. 4), Jacksonville Jaguars (No. 7) and Miami Dolphins (No. 8), odds are that Blackmon will be picked by the Jacksonville Jaguars, as St. Louis needs offensive line help and Cleveland could be looking for a quarterback despite having former Texas Longhorn Colt McCoy on the roster.
Robert Griffin III (Baylor QB)
Robert Griffin III was not considered a Heisman contender before the 2011 college football season began, but RG3 ended the year as a Heisman Trophy winner and one of the more interesting prospects in the upcoming NFL Draft.
Griffin has electrifying speed, similar to Philadelphia Eagles quarterback Michael Vick, and he can also effectively throw within the pocket with accuracy, making him a tantalizing prospect.
One team that immediately comes up when pondering Griffin is the Cleveland Browns. Cleveland is not only seeking a quarterback, with Colt McCoy having an injury-plagued season, but Griffin can fill the seats in Cleveland.
Since LeBron James left the NBA's Cleveland Cavaliers a few years ago for the now-vilified Miami Heat, Cleveland sports fans are definitely looking for a spark, and Griffin can definitely fill the void. In addition, Cleveland can utilize him every now and then in the Wildcat offense because of his versatility. 
Mohamed Sanu (Rutgers WR)
Sanu is an unheralded prospect in the draft, but the junior wide receiver can make a good contribution to an NFL team. Sanu, although not exceptionally fast, has reliable hands, and he would definitely serve as a decent slot receiver for an NFL team.
Although I do not see him becoming the deep threat he was at Rutgers in the NFL, he can easily be a solid wide receiver in the league in a few seasons.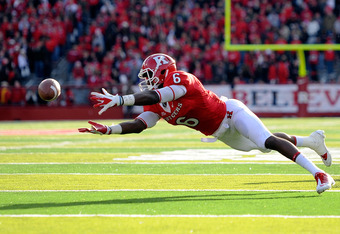 Patrick McDermott/Getty Images
Vontaze Burfict (Arizona State ILB)
Vontaze Burfict is one of most intriguing prospects in the upcoming draft. He is one of the top three linebacker prospects talent wise, as he is very effective in coverage and is a good pass rusher, although his attitude is a major red flag.
Burfict has the talent to be a top 10-15 pick. However, his prevalent character concerns, including but not limited to being one of the "leaders" in personal foul penalties in college football, multiple rifts with head coach Dennis Erickson, including one which led to him being suspended for the 2011 Maaco Las Vegas Bowl, is a concern for multiple NFL teams.
Ultimately, I see Burfict slipping to the second round of the draft as a result of his well-documented character concerns.