10 New Year's Resolutions for the NFL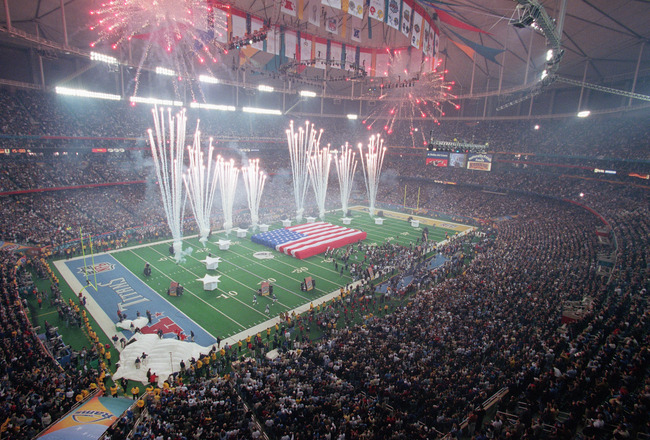 Tom Hauck/Getty Images
As we say goodbye to the football that was played in 2011, it's time to do what most people do around this time—make some resolutions.
And while the NFL can't eat better or exercise more, there are areas where improvement is much needed. I've put together the NFL's 10 New Year's resolutions for 2012.
If the NFL follows resolutions like the ones you've just made for yourselves, these 10 resolutions won't see the light of day. Just like you won't see the inside of that gym's locker room after January.
Bang it below to see how the NFL can be a better league in 2012.
Resolution No. 10: Be Nicer to Each Other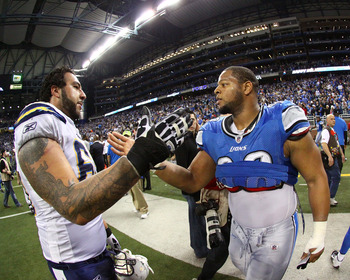 Dave Reginek/Getty Images
This resolution is mainly for the Detroit Lions.
Whether it's pushing a referee, throwing a ball at an opponent or Ndamukong "Big Foot" Suh stomping on someone, the players—ahem, Lions—need to play a bit nicer.
This is not to say players need to be softer—let's just avoid those unnecessary, team-defeating acts of aggression.
Playing dirty has no place in the NFL. And besides, is pushing a player really worth $7,500?
In 2012, let's make those penalties count. And not just count against the players' bank accounts.
Resolution No. 9: Better Use of Flex Scheduling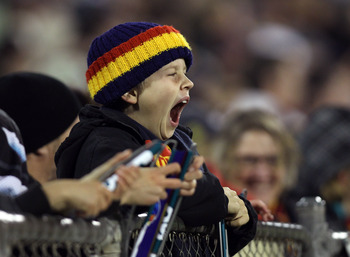 Morne de Klerk/Getty Images
December 12, 2011, a day that will live in infamy.
It was a Monday night, and the NFL powers that be decided it was time to torture the fans.
They made us sit through a Monday Night Football game between the St. Louis Rams and Seattle Seahawks.
I want to know who thought this would be a MNF-worthy matchup when they first set the schedule.
The NFL needs to make it a New Year's resolution to apply flex scheduling to Monday night games and stop torturing fans with the likes of Tarvaris Jackson on prime time.
Resolution No. 8: Give Everyone a Chance to Play
It never fails.
Every year, a few unknowns replace the starters ahead of them on the roster.
We saw it with the Felix Jones/DeMarco Murray exchange and the Mario Manningham/Victor Cruz swap.
In 2012, NFL teams should vow to be more open to giving guys a shot at taking over a position.
I think we'll see it with Dane Sanzenbacher in Chicago, and we should see it with Kevin Smith in Detroit.
And of course, anyone who is backing up Chad Henne deserves a starting position. He's just awful.
The John Beck/Rex Grossman conundrum is a little more difficult to figure out. Neither should be starting, yet they keep supplanting each other as the starter. Maybe Santana Moss under center?
Resolution No. 7: More Airtime for Cheerleaders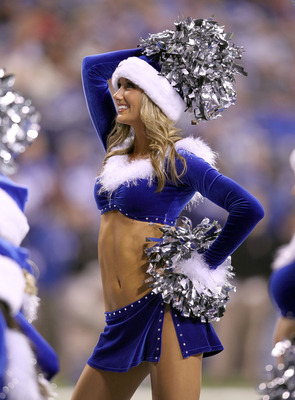 Andy Lyons/Getty Images
The worst part of watching an NFL game is after a touchdown they break for commercial, then come back to the game for the kickoff and then break again for a commercial.
If networks are going to make fans sit through the same lame commercials over and over again, at least when they cut back to the game they could give us something to look forward to.
What they have to stop doing in 2012 is stop showing that annoying robot actually doing the robot and give a little airtime to the cheerleaders. Trust me, guys wouldn't mind the commercials as much.
If I have to look at that robot put up his shield or play his air-guitar one more time, I think I might vomit.
Hey, if this Colts cheerleader can still be smiling after their season, then she deserves the limelight.
Resolution No. 6: Don't Let the Moss Grow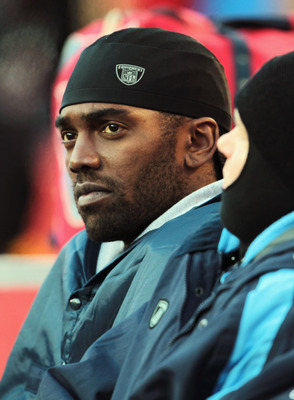 Jamie Squire/Getty Images
It's not often that a New Year's resolution is to keep doing the same thing, but this one deserves it.
In 2012, the NFL needs to continue to freeze Randy Moss out of the league.
We don't need him or his temper tantrums over food that he finds disagreeable to his sensitive palate.
Good job, NFL, for keeping this quitter out of the league.
Resolution No. 5: Live and Let Live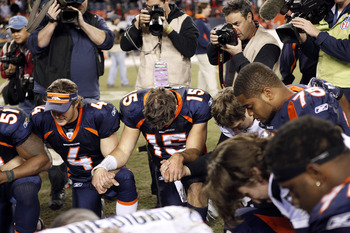 Marc Piscotty/Getty Images
If you take a look at the picture to the left, you can find Tim Tebow. He's No. 15.
He plays for the Denver Broncos. Some of his teammates are holding hands with him. You'll also notice that some of the New England Patriots are in that prayer circle holding hands with Broncos.
Wait a sec. You mean Tebow isn't the only religious guy in the NFL?!
Nope, people just act like he is.
In 2012, it's time for fans, commentators and everyone else to leave Tebow and his beliefs alone, like they do for everyone else.
If you watched the Green Bay Packers slice up the Chicago Bears in Week 16, then you saw Packers receiver James Jones score two touchdowns. After both of his touchdowns he stopped, took a knee and looked identical to Tebow when he takes a knee. No one but Jones knows if he was saying a prayer, but no one is bothering him about it.
That's the way it should be—for everyone, including Tebow.
So in 2012, let's just watch football and let these guys pray, point to the sky, cross themselves before a punt return or have prayer circles after games.
If the NFL is getting too religious for you, then it's time to stop watching. Lord knows, we shouldn't cut the religious stuff out because of people's delicate sensibilities.
Resolution No. 4: Bring Back Peyton Manning
Rob Carr/Getty Images
Nevermind that the man looks like a horse that got hit with a frying pan.
Nevermind that he sounds like he should have a straw hat on with a piece of hay sticking out of his mouth. This man can play football.
Peyton Manning is the Indianapolis Colts—plain and simple. One injury has never cost a franchise more than Manning's neck injury.
Not only did the Colts pay him gobs and gobs of money to man the sidelines this year, they also couldn't win a game without him. Manning's injury exposed how weak the offense is without him, as well as how weak the defense is.
And besides, it's always nice to watch a field-general like Manning when he's calling a few audibles every play because he knows the defenses better than the defense knows their own defenses.
Resolution No. 3: Better Use of Social Media
Doug Pensinger/Getty Images
With the rise of social media in today's world, the NFL needs to better incorporate sites like Facebook and Twitter into games.
One potential use is to have fans be able to have their say about whether or not a wide receiver made a catch or if the ball broke the plane of the end zone.
NFL fans would love to have some influence over whether or not a replay challenge gets denied. After all, the NFL uses fan votes to determine which players go to the Pro Bowl.
Resolution No. 2: Revise the Review Process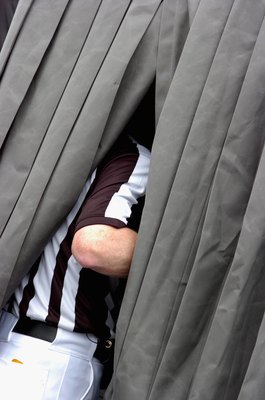 Al Messerschmidt/Getty Images
If you ask avid fantasy football player Bobby Dick from Columbus, Ohio, he'll tell you he's grown tired of waiting to see if every one of his player's touchdowns is actually a touchdown.
What's he waiting for? The referees to confirm, via the instant replay review process, that his player scored a touchdown.
In other words, in 2012, the league needs to do away with reviewing whether every touchdown is a touchdown.
Also, Bobby thinks that the reins on coaches should be loosened a bit when it comes to what plays they can challenge. I tend to agree.
Among the plays they can currently throw the red flag on, coaches should be permitted to review pass interference calls. Helmet-to-helmet penalties and roughing the passer calls should be reviewable, as well.
Players would surely support coaches being able to review illegal hit plays because that could mean the difference between whether they are fined or not.
So in 2012, the NFL needs to be more efficient with the review process and expand it a smidgen to include penalties.
Resolution No. 1: Handle Concussions Better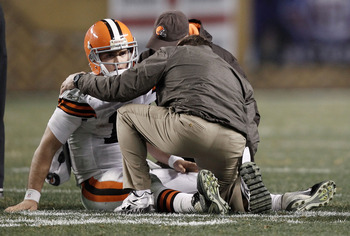 Jared Wickerham/Getty Images
In 2012, the NFL needs to take concussions more seriously.
The onus is on league officials to closely examine and monitor concussion situations, because oftentimes players won't report them and will attempt to hide concussions.
Take the Colt McCoy situation. After being leveled by Steelers linebacker James Harrison, McCoy was back in the game a play later. He was clearly knocked out and should've sat out the rest of the game. Just ask his dad.
I agree with McCoy's dad. In 2012, the NFL needs to handle concussions with better diligence. Especially considering the emphasis they are placing on player safety.
After all, the NFL fines players when they put other players at risk, but who fines the NFL for putting players at risk? I guess that's where Jamal Lewis and other ex-players come in with their lawsuits. But at that point, the damage has been done.
Still, the lawsuits may have gotten the NFL's attention when it comes to concussions. At least Jaguars running back Maurice Jones-Drew thinks so. Jones-Drew thinks that the NFL's new-found priority on concussions is a direct result of the Lewis-type of lawsuits.
While the NFL is taking the issue more seriously, McCoy's situation shows that they have a long way to go.
In 2012, it is imperative to have independent doctors at the game to properly evaluate players after taking a head-shot.
Keep Reading