Chris Paul Lakers: Haters Should Blame David Stern and Owners for NBA Mediocrity
December 9, 2011
Patrick McDermott/Getty Images
Even as a lifelong fan of the Los Angeles Lakers, I can understand why haters of my beloved team may still be snickering about NBA commissioner David Stern nixing a blockbuster trade that would've landed Chris Paul in the same backcourt as Kobe Bryant while diminishing the frontline by sending away Pau Gasol and Lamar Odom.
I get that we Lakers fans (usually) get what we want—great players and the championship rings that they afford.
But understand, too, that the Lakers' plight here is yours as well, that Stern stumbling over Dan Gilbert's outstretched leg and falling onto the panic button only encourages deep-pocketed owners in small markets to sit on their fortunes and wait for the NBA to make it easier for them to win (or not) on the cheap.
See, as easy as it is to rip the Purple and Gold for their free-spending ways, need I remind you that Dr. Jerry Buss, who owns the team, isn't some mega-millionaire or billionaire like Gilbert in Cleveland or Robert Sarver in Phoenix or Paul Allen in Portland or Donald Sterling in LA.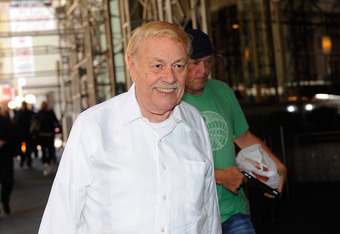 Patrick McDermott/Getty Images
The benevolent Dr. Buss, he off the poor-man's-Donald-Trump coiffure and the Andrew Bynum-loving son and the Phil Jackson-loving daughter, was a chemist who turned to real estate investing after a happenstance run of success at it in the 1960s. He then went on to buy the Lakers, the LA Kings and the Forum, along with some other land, from Jack Kent Cooke in 1979.
Just before some guy named Earvin Johnson jumped into the NBA draft.
Since then, the Lakers have served as Dr. Buss' primary business, to which he and his family have tended carefully, investing and reinvesting in what is by far their most valuable asset.
Not like some of these new-school NBA owners, who buy up franchises more as trinkets of personal validation than as actual organizations that have to, you know, be run competently in order to turn a profit.
The Lakers have won 10 titles under Buss' stewardship, far more than any other franchise over that 32-year period. Sure, the team has been the benefactor of a ton of good luck, from ending up with Magic after letting Gail Goodrich sign with the Jazz in 1976 to acquiring Kobe Bryant in a draft-day trade in 1996 to landing Pau Gasol for what looked like peanuts but turned out to be his brother Marc, who may yet be a max free agent when all is said and done.
But none of those things would've occurred without bright minds, careful management and reinvestment in the team. Jerry West was the architect of two separate LA dynasties—the Showtime Lakers of the 1980s and the Shaq-Kobe Lakers of the 2000s. His protege, Mitch Kupchak, patched together another and came within a dramatic David Stern pen stroke of cobbling together another with Kobe, CP3 and, perhaps, Dwight Howard.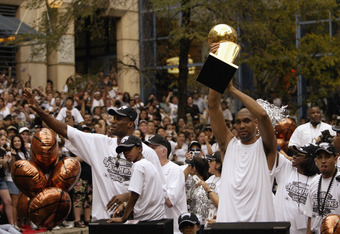 Ronald Martinez/Getty Images
And it's not as though small-market teams haven't had similar strokes of luck and subsequently smart management. The Spurs turned futility in the 1990s into the serendipity of David Robinson and Tim Duncan. The Thunder followed up Kevin Durant with Russell Westbrook. Even the Utah Jazz were able to rebound from the end of the John Stockton-Karl Malone era.
All the while, the Busses have turned the Lakers into a highly profitable venture, despite dipping deeper into the luxury tax than any team in the league each and every year. They recently inked a new 20-year, $3 billion TV deal with Time Warner Cable that will keep the team in the family for decades to come.
Should it come as any surprise that Buss, an poker enthusiast, has played his cards right for more than three decades as the owner of the Lakers?
Granted, it helps that the team plays in the second-largest media market in the country, but, as the Dodgers have shown, even that is hardly a guarantee of success and booming profits.
As with any business, success and profitability with an NBA franchise is not and should not be guaranteed. It should not be a "birthright" of franchise ownership.
Even though Gilbert and his ilk seem to think otherwise. Those ridiculously wealthy individuals who prolonged the lockout and created this mess need not point their fingers at a well-run shop like the Lakers and cry foul.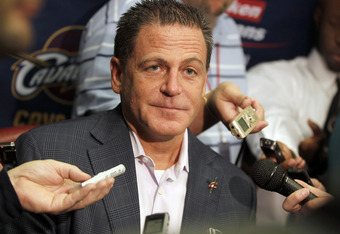 Gregory Shamus/Getty Images
They'd do much better looking in the mirror at their own failures—hiring incompetent general managers who lack the ability to negotiate fair deals with player's agents, not knowing when to hold 'em and when to fold 'em and start over—to figure out where the bodies are hidden. They'd do much better looking at the cyclical success that the San Antonio Spurs have enjoyed, that the Oklahoma City Thunder are enjoying and that the Philadelphia 76ers will soon enjoy.
Of course, those other owners won't do that. They're too proud (and too cheap) to admit that they've mismanaged their Mona Lisas, that they've done little to prime the pump.
That there are start-up costs to success, in the NBA as in any business.
So, Lakers haters across the country, you can envy LA's success, but you must also understand why there is such a disparity. Your snickering and bickering would be much more effectively aimed at your owners, in Sacramento and Phoenix and Cleveland and Indiana and Minnesota and Charlotte and elsewhere.
Remember, star players may like big cities, but what they really love is winning and playing for organizations that will do whatever it takes to do just that.
Don't hate the Lakers for going out of their way to win. Don't hate the Lakers for doing what the Yankees do in baseball—reinvesting profits back into their product rather than pocketing the money for themselves.
Hate the system for enabling cheapskates across The Association to get by without trying.
Hate David Stern for going Hank Paulson on his league's marquee franchise, thereby setting a horrendous precedent that he might just do it again and bringing the business of player movement to a screeching halt as a result.
Hate Stern for enabling the owners the same way Dan Gilbert enabled LeBron James during his time in Cleveland.
Hate the owners who wanted (and still want) a hard cap AND salary rollbacks AND to prevent superstars from working where they want to, even after putting in years of service in smaller markets.
Hate Gilbert and Sarver and the Maloofs and all those other egomaniacs for screwing up YOUR favorite teams and then blaming their own missteps and bad contracts on their well-payed employees.
Hate those owners for calling players and their agents "greedy" when it was their own greed that led them to drive YOUR teams into the ground, thinking that cost-cutting is the way to victory in the NBA when it clearly isn't.
In other words, don't hate The Player; hate The Game, the very same game that YOUR owners pushed for and that will ultimately cost YOUR teams in their pursuit of big-name free agents and NBA championships.