Why LeBron Wouldn't Be Playing for Title If He'd Joined Amare Stoudemire, Knicks
June 21, 2012

In an alternate universe, LeBron James doesn't play for the Miami Heat and isn't on the brink of earning his first NBA title. Rather, in this particular universe, he suits up for the New York Knicks, having followed Amar'e Stoudemire to the Big Apple while succumbing to his fondness for playing at Madison Square Garden.
And, in this universe, LeBron is currently sitting at home, watching another team—perhaps the Wade-Chris Bosh Miami Heat, (a healthy) Derrick Rose's Chicago Bulls or the Big Three's Boston Celtics—tangle with the Oklahoma City Thunder or the not-broken-up Dallas Mavericks in the NBA Finals, while he and STAT stew over their decision to join forces with a wayward franchise.
Luckily for LeBron and the Heat, they don't live in Bizarro World (not that this world isn't bizarre in its own right). Thanks to the way history actually played out, they now find themselves one win away from lifting the Larry O'Brien Trophy.
But, for the sake of entertainment (and argument), what if the Summer of LeBron had turned out differently? What if LeBron had opted not to fill this seat between Wade and Bosh when all was said and done? What if the PowerPoint presentation from then-head coach Mike D'Antoni and then-general manager Donnie Walsh had convinced King James to settle his throne in the Empire State? What if he'd ditched Cleveland and taken his talents to Madison Avenue rather than South Beach?
Building a Roster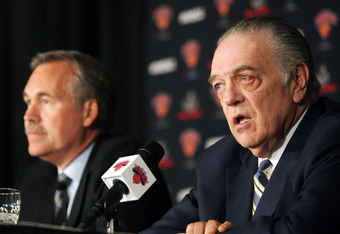 Mike Stobe/Getty Images
Before we can even begin to figure out how the Knicks might've fared with LeBron, we must first determine who they would've had on their roster before securing James' signature and how they might've used the leftover cap space to stack the bench. This is what New York's roster looked like on July 7th, 2010, the day before LeBron's "Decision":
(Note: salary figures are taken from ShamSports.com)
| | | |
| --- | --- | --- |
| Player | Position | 2010-11 Salary |
| Amar'e Stoudemire | Forward | $16,486,611 |
| Eddy Curry | Center | $11,276,863 |
| Danilo Gallinari | Forward | $3,304,560 |
| Wilson Chandler | Forward | $2,130,482 |
| Toney Douglas | Guard | $1,071,000 |
| Bill Walker | Forward | $854,389 |
| Andy Rautins | Guard | $600,000 |
| Landry Fields | Guard/Forward | $473,604 |
Still a long way from a world-beater, but that's to be expected for a team with only eight of 15 roster spots filled at a total cost of $36,197,509, 31.2 percent of which is consumed (all too appropriately) by Eddy Curry.
More importantly, with the salary cap set at $58,044,000 for that year, the Knicks are left with $21,846,491 to spend on free agents.
Now, let's say (for whatever reason) that LeBron signs a deal with New York that's identical to the one he inked with Miami. That puts him on the books for $14.5 million during the 2010-11 season and leaves Donnie Walsh with $7,346,491 in cap space with which to work.
As such, Raymond Felton, at two years and $15.8 million, is now out of New York's price range, and any hope of signing-and-trading David Lee for Ronny Turiaf, Anthony Randolph and Kelenna Azubuike goes kaput. 
Who would the Knicks bring in then? Well, they can still afford to sign Roger Mason for $1.4 million and Shawne Williams for $850,000 as they actually did, pushing their bill to $52,947,509 for 11 players and leaving just $5,492,491 with which to fill the final four spots.
For the sake of argument, let's say the Knicks then lure in some of the cheap, veteran free agents that ended up flocking to South Beach in reality—Eddie House ($1,352,181 in 2010-11), Carlos Arroyo ($1,223,166), Juwan Howard ($1,352,181) and Zydrunas Ilgauskas ($1,352,181). That fills out the roster with just over $200,000 to spare.
Whew! That was close.
The Starting Five and the Bench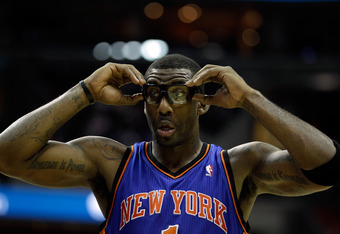 Rob Carr/Getty Images
Now that all the boring number-crunching is out of the way, how might D'Antoni shape his rotation? He'd obviously put LeBron and Amar'e in the starting lineup, but that's pretty much where the certainties end. Gallo's good enough—and liked enough by his coach—to crack D'Antoni's top five, but he's not going to start if James is at small forward.
That is, unless Amar'e slides over to center and Gallo bumps LeBron to power forward, a position in which he's flourished at times in Miami. In the back court, D'Antoni can stick with Fields at shooting guard, as he indeed did, and, at point guard...Carlos Arroyo? Toney Douglas? Not exactly enticing options.
Either way, this particular lineup would allow the Knicks to play small and fast, as D'Antoni has been known to prefer.
But if D'Antoni wants Amar'e at the four, alongside Gallo at the three and Fields at the two, he could opt, instead, to start Big Z in the middle and try LeBron in more of a point-forward role at the one, not unlike that which James inhabited during his early years with the Cavaliers.
Either way, D'Antoni could call upon Eddie House, Shawne Williams, Roger Mason and Wilson Chandler as shooters and scorers off the bench. Not bad, overall.
How the LeBron-Amar'e Knicks Stack Up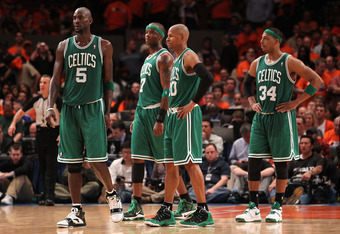 Nick Laham/Getty Images
But would this roster have been good enough to win a title?
If we assume that the rest of the major moves and most of the lesser free-agent signings hold, the Knicks would presumably capture no worse than a top-four seed in the Eastern Conference, with a spot in the top three contingent on how well they hold up against the battle-tested Boston Celtics in the Atlantic Division.
It's safe to imagine, if not to assume, that Pat Riley would've used the funds previously earmarked for LeBron to upgrade the rest of the Heat's roster, perhaps even with Felton at the point. 
Once the playoffs start, New York's Flying Death Machine, with LeBron and Amar'e leading one of the league's most lethal fast breaks, would more than likely win a playoff series for the first time since 2000, be it against the Orlando Magic, the Atlanta Hawks, the Philadelphia 76ers or the Indiana Pacers.
After that, things get a bit trickier. These Knicks may be able to score with the best of 'em, with all manner of shooters and slashers.
But defense? That's a different story.
STAT has long been known as one of the worst front-court defenders in The Association, and D'Antoni isn't exactly Tom Thibodeau when it comes to concocting dumbfounding defensive schemes. LeBron would be the only All-Defensive player at his disposal, and might even be wasted if he were forced to defend bigger power forwards rather than shut down perimeter scorers.
And who on this team is going to protect the rim? Big Z? It's not exactly wise to count on a guy in his mid-to-late-30s to be a consistent shot-blocker, even one whose 7'4 stature doesn't shrink with age.
These are the sorts of shortcomings that would come to the fore against dynamic defensive teams like the Heat (with Wade and Bosh surrounded by a deeper, more balanced roster), the Bulls and the C's.
Those teams may not be able to light up the scoreboard like LeBron's Knicks, but putting up points doesn't matter as much in the postseason, where possessions are at a premium and stopping one's opponents from putting the ball in the basket is the key to long-term success.
Not that D'Antoni's teams haven't done well in the playoffs. He guided the run-and-gun Phoenix Suns to back-to-back Western Conference Finals in 2005 and 2006, albeit without advancing to the NBA Finals in either case.
It's difficult not to imagine that pattern holding for the Knicks against the other beasts of the East. And even if it didn't, was anyone really going to stop the Dallas Mavericks from rolling to the title like they did last year?
What Then?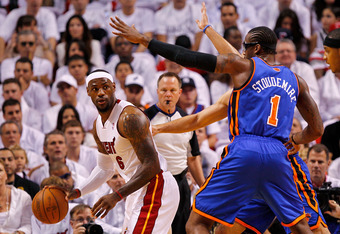 Mike Ehrmann/Getty Images
If the Knicks nab LeBron, do they still go after Tyson Chandler in free agency? Or do the Mavs make a more concerted effort to keep him in Dallas to help defend their crown? What other moves might the Knicks contemplate to upgrade their roster once Eddy Curry's contract comes off the books? Does Jeremy Lin factor into the equation?
Even before that, where in the world does Carmelo Anthony wind up? Does he stay with the Denver Nuggets now that the Knicks can't quite afford him and/or don't have the necessary assets to make a deal feasible? Or does 'Melo say "Screw it!" and join the Nets as the centerpiece of their big move to Brooklyn? If that happens, does Deron Williams stay put with the Utah Jazz?
And what about Mike D'Antoni? Does he keep his job, or does Phil Jackson start snooping around in earnest?
These are all hypotheticals and counterfactuals, unanswerable and unknowable in the affirmative because we can't call up Doc Brown, rev up the DeLorean to 88 and fiddle with history as we see fit.
Then again, so is the prospect of LeBron ever choosing Amar'e, Donnie and "clumsy" Knicks owner James Dolan over returning to Cleveland or joining Wade, Bosh, Pat Riley and Heat owner Micky Arison in Miami.
In reality, none of this matters, and it'll all matter even less if/when LeBron and his buddies celebrate their first NBA title together.
More importantly, none of this serves as anything more than cold comfort for all those tortured Knicks fans holding out hope that 'Melo and STAT can make it work, with Linsanity or (fingers crossed!) Steve Nash running the show up top.
Or maybe they can...in an alternate universe.